Home / News / Environmental News / Outdoors
'Snagging' on the Cedar River
The Nature Call: Author learned a new technique and savored the time spent fishing
John Lawrence Hanson - correspondent
Apr. 26, 2023 4:39 pm, Updated: Apr. 26, 2023 9:00 pm
Two points for style, nine points for effectiveness.
We were about as far as you could get from fly fishing and there was nothing wrong with that.
A couple of years ago a friend suggested I join him riverside for some alternative fishing. Finally, I made the time and here we were. The Cedar beckoned and stout rods were at hand. I just didn't have on any terminal tackle — yet.
Russell had already tested the waters by the time I arrived. He walked over with a set of ghastly large treble hooks for me to tie on. A meaningful hunk of lead weight completed the outfit.
I was about to go "snagging" for the first time. A method of fishing where one hurls a large bare hook into the water and then retrieves with sudden rips of the rod. The lead weight provides the inertia to jerk against. A fish between the angler and the hook is liable to get caught, no biting required.
Russell used two treble hooks, about 18 inches apart followed by a foot of line and then the weight. I opted for one treble hook — first time and all.
My gut level reaction to the prospect of snagging was mixed. I'd alway associated snagging with a mistake while normal fishing or something suspect, as I've read plenty of accounts of guys getting busted for snagging in the "Collars and Cuffs" section of Outdoor News. All true, but there's a third way and that was to snag for "rough fish," species unlikely to get caught with the typical angling methods.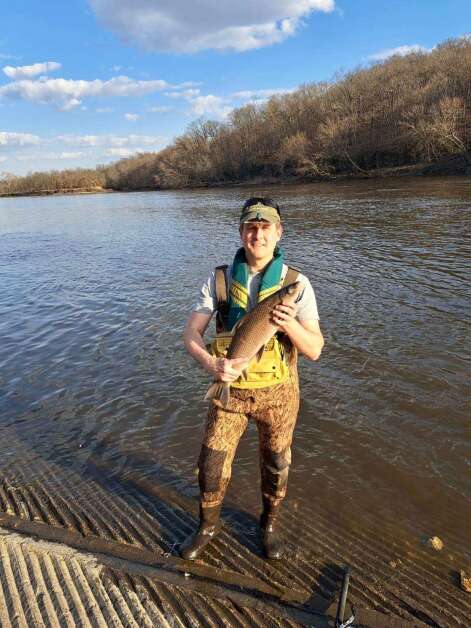 Fish like the native bigmouth buffalo or the exotic silver carp won't "take the bait." Rough fish have liberal legal allowances, as long as you've got a fishing license.
Russell was the first to connect. The tubular fish splashed at the surface in resistance. For a hot second I thought he had a northern pike. The pike is a game fish and cannot be kept if snagged.
Ashore, the slender and toothy snout ended any debate; it was a shortnose gar. A descriptively named fish, prehistoric in lineage and looks. This specimen went about 20 inches, its Texas cousin, the alligator gar, can stretch past eight feet and push 300 pounds.
Snagging was a surprising core workout. The technique was to cast, let the weight sink for a few seconds, and then reel in the slack. And just when you got the line a little taught, you'd quickly jerk back the rod with a sweeping motion to get as much acceleration for the hooks as possible. Then repeat.
It didn't take too long for my arms and midsection to notice the effort. Because of the exercise, snagging encouraged a lot of chatting. We'd take a pause to chat for the joy of conversation as much as to get a break.
Snagging was to a marathon as general casting was to a 5K.
The diverse fishery of the Cedar River at Palisades State Park heightens excitement. While you really never know what you'll catch, the tackle you choose will narrow your options. A small hook, worm and bobber catches sunfish. A big spinnerbait catches bass and pike. With snagging, truly anything was possible.
In fact, snagging is such an effective method of take it is prohibited below many large dams. Again,snagging is for rough fish only.
The ultimate in Iowa snagging must be the paddlefish. It's another relic from the time of the dinosaurs. Aside from their flesh, their roe is a common substitute for caviar.
The curiously constructed fish likes big water. Fishermen need to try the lower Des Moines River or the Mississippi to have a chance. Paddlefish alone require a separate license and have strict limits, a little like pursuing the wild turkey.
It was just about too nice an early spring afternoon to quit. There was a warm breeze, a warm sun, and warm conversation beside the cold water. I was up to my knees on purpose to feel the contrast.
Fish on. A roll of silver frothed the water and then I had a two foot white sucker ashore. They make fine fish cakes, but I was feeling too good to interrupt the mood with thoughts of gutting fish so back it went.
Satisfied with a fish apiece, and knowing our arms would start complaining, we called it good. I trudged out of the river. Russell came off the high shore and we met on the level of the parking area to say goodbye.
Snagging describes many undesirable situations: a sweater or a fingernail to name a few. But give it a try for fishing and you will add one positive example to your dictionary.
Looking up, looking ahead, and keeping my pencil sharp.
John Lawrence Hanson, Ed.D., of Marion, teaches U.S. history with an emphasis on environmental issues at Linn-Mar High School and is past president of the Linn County Conservation Board.