Home / News / Environmental News / Outdoors
A good day on the river
The Nature Call: A trip down Maquoketa River was just what was needed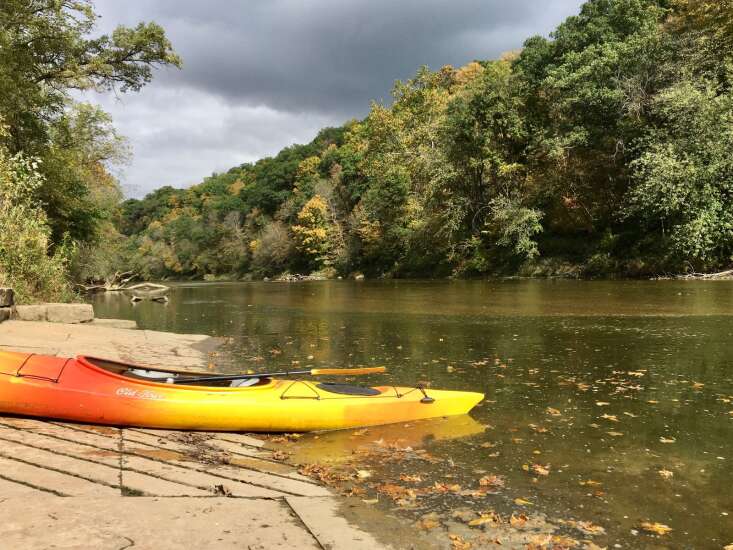 Compared to what?
My friend and paddling companion told me about the upstream river gauge. It was in Manchester, we were going to paddle starting at Monticello.
On Saturday noon that gauge read 111 cubic feet per sec (cfs). I didn't know what that meant. He related it meant the river was pretty low. As in, be prepared to get out and drag the boats.
Cool water be darned, I planned to wear my river sandals accordingly.
You know our rivers run year-round. But how often do people interact with our rivers after Labor Day besides just looking at them?
Our interior rivers generally flow from the northwest to the southeast. Many of them drain our magnificent yet degraded "Prairie Pothole Region." The Maquoketa doesn't drain the Prairie Pothole Region from the last glacier, but an area to its east from a much more ancient ice sheet.
The stretch from the Mon-Maq dam in Monticello to the Painted Rocks landing is a popular summer float. On a given summer weekend hundreds of canoes, kayaks, and even tubes, put in for the almost eight mile lubricated gravity ride.
That's not my scene. I wanted an empty river.
About 11:30 Sunday morning, I managed to plop into the kayak with only getting one foot wet. Brian launched his one-man canoe and kept both his feet dry. That is all you need to know about the gulf between his skill level and mine.
With one wet foot and one dry, I took notice of the launch site. It too was a study in contrasts. The gust and sound of water over the dam contrasted with the smooth and gently flowing water taking us downstream. And then we were away and I heard the dam no more.
Would we see anyone else on the river? Would I get a full baptism treatment this Sunday? The former question was trifling, the latter was realistic — my life jacket was fastened accordingly.
I later learned the Manchester gauge that day was 109 cfs. Two fewer cfs is the difference of about 13 gallons. Maybe that doesn't seem like much, but a faucet that puts out just that volume would make short work of filling the bathtub.
The Maquoketa has a sister river, the Wapsipinicon. It parallels the Maquoketa and seems similar in so many ways. On the same day, the Wapsi was flowing at 245 cfs according to the Independence gauge, a difference of 225 percent.
Compared to what? Well, here was my answer.
The flows for both rivers were in the normal range for October, despite the drought. The Cedar River by comparison was flowing at 1,640 cfs by way of the 5-in-1 Dam gauge. Compared to the Red Cedar, the Maquoketa was just a stream. But a stream with enough water to float a kayak and soak a Continental Marine.
Birds were the active feature: shorebirds, wood ducks, eagles and vultures abounded. And just when they thought they had the place to themselves.
I thought the kingfishers stole the show. They are flamboyant birds in dress, dance and voice. I counted 10 but then stopped keeping track because I ran out of fingers. I suppose I could have employed my toes. But my feet were deep in a kayak and I was determined to keep them there and dry as they had become.
Paddle, pay attention, watch my line, repeat, became my unspoken mantra.
The river was quiet, it flowed lazily. Calm winds made it easy to hear all the nothing I so coveted. I anticipated noise from farm machinery harvesting nearby fields, there was none. No modern sounds at all save a moment when a small airplane passed at a distance.
The river felt so real and authentic instead of the backdrop for summer carnivals. Serene.
And then it happened. The weight of my backside pressed the kayak's bottom into a rifle from whom the now insufficient draft became an immovable impediment. I was stuck.
Efforts to push a little with my hands and "sit light" were futile and undignified. Brian glided by.
With two wet feet I was back going with the flow. I chalked that up to hopefully the only unplanned exit of the kayak I needed.
At 12:44 a chipmunk passed in front of my bow as it swam from bank to bank. Compared to me, that chipmunk was crossing a mighty and vast river.
We neared the Painted Rocks area and the depth of the forest grew. Now and then an especially large tree stood out among the second and third growth. In particular one was a sycamore, another was a cottonwood.
The high palisades of ancient coral reefs were just gaining more visibility from their screen of trees, some leaves had fallen, some had turned colors. In another week or two, I'm sure it'd be even prettier.
At 1:46 I rewet one foot and then stood on the landing. It was glorious all the same. The sun was overtaking the clouds, the clear water had been a gentle transport, and a good paddling companion made memories to share.
I suppose a lot of people have a glorious experience in the summer. But you need to try the river at both times or you might be left asking about the quality of your experience — "compared to what?"
Looking up, looking ahead, and keeping my pencil sharp.
John Lawrence Hanson, Ed.D., of Marion teaches U.S. history with an emphasis on environmental issues at Linn-Mar High School and sits on the Linn County Conservation Board