United in war, divided in defeat: How Iowans responded to the Sept. 11 terrorist attacks
The longest war in American history, bookended by patriotic outpourings and a whole lot of apathy in between.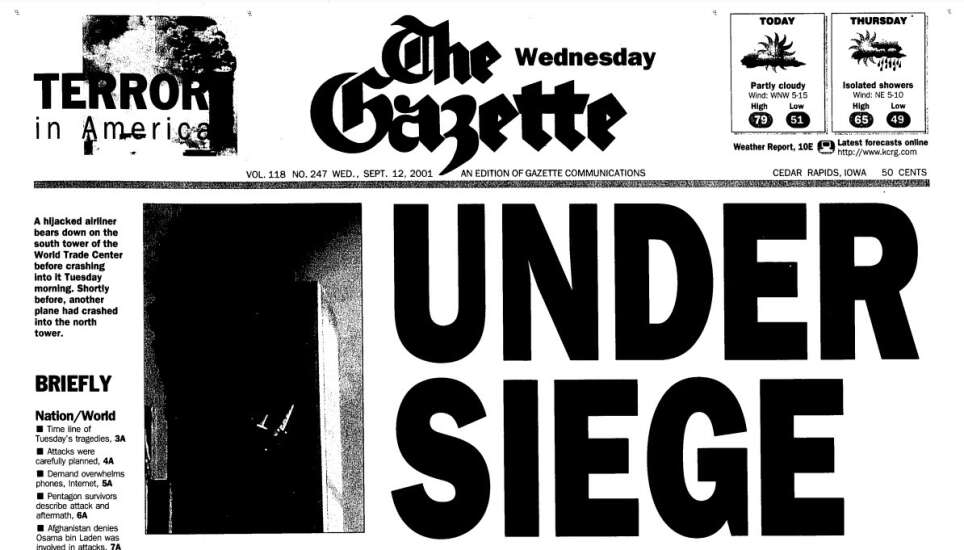 Even as debris at ground zero was still burning, it was clear America was going to war.
The goal of the war in Afghanistan was always nebulous. Our nation set out to kill the planners of the Sept. 11, 2001, terrorist attacks and punish the government that shielded them — but then what? Two decades later, the United States left in defeat and handed the country back over to the old regime.
Everybody wanted to start the war, but few wanted to see it through. That should give us pause the next time we think about going to war.
In the days following the attacks, The Gazette covered the news with bold front-page headlines. They were paired with subheads charting the path to war as narrated by President George W. Bush's talking points.
Sept. 12: "UNDER SIEGE," "Bush vows U.S. will retaliate"
Sept. 13: "MANHUNT," "The nation will fight back against 'acts of war,' Bush declares"
Sept. 14: "5,339," the number of people reported dead or missing. "Bush calls terrorist attacks the 'first war of the 21st century'"
Sept. 15: "DAY OF SORROW," "Congress OK's use of force, $40 billion for aid and manhunt"
Sept. 16: "FOREVER CHANGED," "Pakistan agrees to demands for possible attack on Afghanistan"
The terrorist attacks killed nearly 3,000 people. The ensuing conflict killed more than 6,000 Americans and tens of thousands of Afghan civilians.
Armed with American flags, we were all in it together — until we weren't.
At the outset, there was no significant resistance to the war from the public, the media or the political class. The enemy was elusive and it could require a prolonged conflict, we were told. Some politicians were all too eager at the prospect of global war, no matter the cost.
Republican U.S. Sen. Chuck Grassley said the military response to the attack "should be outside the debate about money."
"In righteousness," said then-4th District Republican U.S. Rep. Greg Ganske, as if God endorsed the war. "The United States government will hunt down to the ends of the earth the assassins of our innocent kin and strike them down."
A few Iowa politicians urged restraint, such as U.S. Sen. Tom Harkin, a Democrat, and U.S. Rep. Jim Leach, a Republican. American military action "must be carefully targeted against terrorists and their harborers, not Islam or innocents," Leach said.
By the end of that week, though, Leach and Harkin and almost every single one of their colleagues voted to pass the Authorization for the Use of Military Force in Afghanistan, which led to an open-ended and ill-defined war against "terror" at home and across the world. The authorization still is in place and has been used by presidents since as a justification for numerous operations that have nothing to do with Sept. 11.
Iowans were determined to extract something good and wholesome from a national tragedy. So many people showed up to donate blood in the hours after the attack that many reportedly were "turned away in droves." Democratic Gov. Tom Vilsack called for Iowans to observe a National Day of Prayer and Remembrance.
Students and staff at McKinley Middle School in Cedar Rapids erected banners declaring "McKinley supports USA" and "America 4-ever." One seventh-grader was quoted in the paper saying it helped show that "the terrorists didn't destroy our patriotism."
Armed with American flags, we were all in it together — until we weren't.
For most of the 20 years since, the war in Afghanistan has seldom been more than an afterthought in American public life, save for a few fits and starts of outrage when it was seen as politically expedient.
The nation rekindled a small spark of that post-Sept. 11 vibe in recent weeks as the U.S. exit from Afghanistan led to televised chaos and bloodshed. It's the longest war in American history, bookended by patriotic outpourings and a whole lot of apathy in between.
Last month, 13 U.S. military personnel were killed near the airport in Kabul as part of the evacuation mission. Some Americans paid tribute by buying a round of drinks for the fallen service members to be displayed on tavern tables and shared through social media.
What struck me is that some of the Americans killed in last month's bombing were too young to legally sit in a bar and have a beer back home. They literally were babies when the twin towers fell.
Maybe if we had shown that kind of concern any time in the last 20 years, their generation could have been spared from this unwinnable conflict. Maybe if we had thought twice before instigating a unwinnable nation-building war, the previous generation wouldn't have had to go either.
(319) 398-8262; editorial@thegazette.com
Opinion content represents the viewpoint of the author or The Gazette editorial board. You can join the conversation by submitting a letter to the editor or guest column or by suggesting a topic for an editorial to editorial@thegazette.com