Slater Field at the University of Iowa's Kinnick Stadium: A symbolic but important change
Iowa's Duke Slater was a trailblazer for Black athletes at a time when Black Americans faced widespread state-sponsored discrimination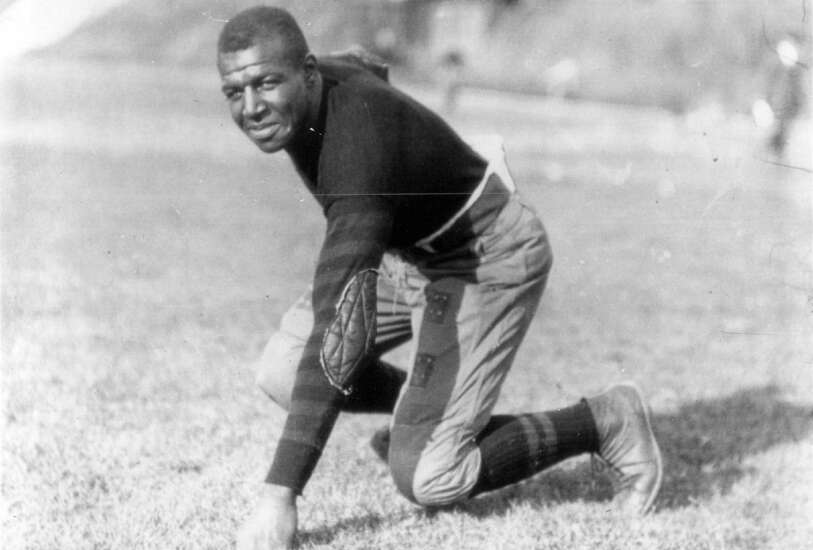 The University of Iowa is taking a small but important step to honor its Black history: Officials recently approved naming the football field at Kinnick Stadium as Slater Field.
On their own, Duke Slater's accomplishments either on the football field or in life would be worthy of recognition. Taken together, it's the stuff of legends.
He was a trailblazer for Black athletes at a time when Black Americans faced widespread state-sponsored discrimination. When Slater attended UI, Black students weren't allowed to live in white residence halls.
Calling it Slater Field may be a symbolic gesture, but symbols are important.
Slater helped lead the Hawkeyes to an undefeated season in 1921 and a share of the national title. He is recognized by the National Iowa Varsity Club Hall of Fame, the Iowa Sports Hall of Fame, the College Football Hall of Fame and as of last year the Pro Football Hall of Fame.
"He was really the first Black player in college football history to play a prominent role for a legitimate national-championship contender," Neal Rozendaal, author of a book about Slater, said on The Gazette's On Iowa Sports podcast.
After his college career, Slater played in the NFL while earning a law degree from UI and later became a prominent judge in Chicago.
Nearly 50 years ago, UI President Willard Boyd proposed renaming the historic football facility Kinnick-Slater Stadium, to honor both Slater and Heisman Trophy winner Nile Kinnick, who died during his military service. Leaders at the time settled on Kinnick Stadium. We see naming the field as correcting their mistake from half a century ago.
It must be acknowledged that this change comes at a time when institutions are struggling to make amends for their racist histories — including the university and the football program itself.
UI has struggled the past several years to attract and retain diversity and inclusion staff and administrators. Last year, UI parted ways with a longtime member of the football coaching staff after multiple former players said he made racist remarks to them. There is an ongoing racial discrimination lawsuit against the university brought by eight Black former football players.
Clearly, the Hawkeyes have a long way to go. Cynics wouldn't be totally wrong to criticize the naming as a symbolic half-measure.
Calling it Slater Field may be a symbolic gesture, but symbols are important. The names we hold up in our public spaces are a reflection of our history and our values. Duke Slater earned his place in history and he's finally getting the recognition he deserves, decades late as it may be.
(319) 308-8262; editorial@thegazette.com