Plasticity in June: Superficial support for LGBTQ+ Iowans
Industries do not let people who occupy minority identities tell their own stories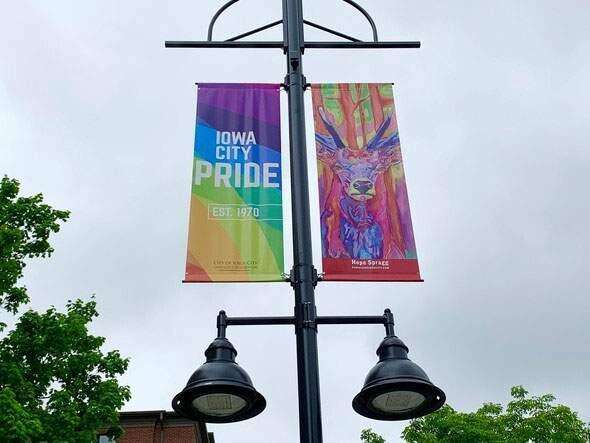 Pride month is upon us with the beginning of June, and I can't wait to see what kind of plastic representation companies engage in this year to "show their support" for members of the LGBTQ+ community.
If plastic representation is an unfamiliar term, let me enlighten you. It was popularly coined by scholar Kristen J Warner in her Film Quarterly article "In the Time of Plastic Representation." According to her, plastic representation is "a combination of synthetic elements put together and shaped to look like meaningful imagery, but which can only approximate depth and substance because ultimately it is hollow and cannot survive close scrutiny."
In layman's terms, plastic representation essentially means a production or performance put together with superficial markers of diversity and inclusion. However, when one unpacks that production or performance, little is found to show true diversity and inclusion, as there are wage gaps, or less social progress than a consumer was led to believe. Such representation undermines authentic and impactful structural change because these superficial markers lessen public expectations for growth while complacency is established with the way companies function to provide diversity and inclusion.
June is a particularly salient month to pick apart companies for their plastic representation as the rainbow flag flies high and is printed on alcoholic beverages among other goods to promote sales and posit a certain sense of camaraderie with the LGBTQ+ community. What's interesting, though, is that brands will use the rainbow flag and other symbols of queer culture for corporate profit at the expense of isolating queer people even more when the month of June is over.
Come July, the LGBTQ+ are left wondering where all that so-called support went as they're unpaid and overworked, although "celebrated," while companies go back to their normal exploitations.
While it is true that mainstream media consistently tends to rely upon narrow and incomplete representations of minority identities, succumbing to a certain "plasticity," as pointed out by Warner, still has merit because it forces a mass audience and the dominant in-group to acknowledge the existence and activity of the out-group. That representation obviously has work to do in terms of including a researched and accurately contextualized depiction of minority history. Once that work is done, contemporary interests like establishing equitable pay and recognition can be realized.
There isn't a larger ecosystem shift happening to provide authentic representation and structural growth to matters of diversity, equity and inclusion — at least not yet recognizably in filmmaking (except for perhaps Netflix), among other industries, according to the latest reports by the Inclusion Initiative at the USC Annenberg School for Communication and Journalism. In most creative media industries, the most popular media promoted are still in the domain of white, straight, able-bodied men, both in front of and behind the camera, mic, pen, computer, what have you.
Historically and contemporarily, industries do not let people who occupy minority identities tell their own stories. In the film "Call Me by Your Name," two straight men played the lead character roles of gay men. The casting of straight actors in prominent LGBTQ+ roles has become a theme, with films like "Brokeback Mountain," "Milk," "Howl," "I Love you Philip Morris," "Kill Your Darlings," "A Single Man," "Philadelphia" and many others. These movies were oftentimes directed by, shot by and played by straight white men who don't fully understand the identity they're hoping to represent on screen. While these movies were legendry for giving the queer community a visual representation on screen, and some of them were positive for the most part, they don't fully encompass the complexities and multiplicities of queer identities.
Media today means to look like meaningful imagery — and it was when movies like the aforementioned first started coming out to give LGBTQ+ identifying individuals a visible reference for themselves. However, a straight, white man can only approximate the depth and substance of these identities, because it is ultimately hollow and cannot survive close scrutiny.
In the end, we as an audience and consumers should demand more from the media and products we spend our time, attention and money on, as far as representation goes. While current bench marks for representation do matter as a baseline for the visibility of identities that have been historically ignored or demonized, in 2021 those bench marks should be more accurate and fully encompassing. There should be a full investigation into the multiplicity and complexities of an identity people declare — representation is good, but it is not enough to give tokenism to those few exceptions. The full story of marginalized identities must be fleshed out and represented in the fullest possible way through the acknowledgment of their history and current contemporary interests.
Performance is an inherent adoption by those who are subjugated and oppressed in multiple spheres, as I am. I adopted this fate in order to find a safe place, even though it might not be a space in which I could simply exist as my true self. I had been hiding for so long to protect myself, but that protection was killing me, stripping me of any semblance of ownership I had over my identity.
Judith Butler suggests in "Performative Acts and Gender Constitution" that gender is a performative act through the societal conditioning an individual is subjected to in the socialization of their identity in relation to others. However, I would suggest that not only is gender a performative act, so is race. Race is something the public recognizes as a social construction, and for that reason, it is also performative in the ways that it forces individuals of a subjugated status, especially multiracial women, to act as outsiders-within in not only their own racial community, but in their gender community as well. They are outsiders-within that are constantly performing to their Blackness and their whiteness and their woman-ness, never escaping the oppression they face, but aiming to make it more bearable.
That performativity is represented well in "Paris Is Burning," as the drag queens and drag mothers consistently perform socialized gender norms in order to feel comfortable in their own skin and the relationships they form with those around them. It is in the voguing of Willi Ninja with performances so spectacular the world careened around him in his choreography of Madonna's "Vogue." Ninja's performance saved him in spectacular moments, moments in which he could be recognized as a revolutionary, a symbol of creative wonder to combat the dangerous reality of ignorance and bigotry a lot of white and Black, cisgender, heterosexual men harbored.
I wanted to Ninja my way into recognition and praise. For that I had to perform in a different way — a way that actually allowed me to open the doors to Blackness and bisexuality that I had been repressing for years, perform from the soul and the heart of my identities, instead of hiding behind the plastic representation of one. I wasn't going to practice the kind of homogenous performance Kristen Warner critiques, "swapping in and out racial groups with little adjustment to the parts themselves retains the original work as the primary driver and as a result marks the changes as superficial … As a consequence, the performances feel like hollow experiments produced in a laboratory; they feel plastic." I am not hollow. I am not an experiment — and so my time of plastic performance was over.
It is here I recognized the pervasive and inherent racism and homophobia that society ingrains into the susceptible minds of the privileged, those who never have to skip meals, work 18-hour shifts to keep a motel roof over their head, put on a performance of gender to avoid being subject to a hate crime, and subvert their personality to that of a submissive child when pulled over by a cop because you don't want to upset the white officer and make him shoot. And so, as so often happens in places that remain boldly tethered to their traditional way of life instead of embracing change, the public continues to see what they want: plastic representation. And those who fit outside the box are left to figure out how to exist in a space that doesn't welcome them, except in times where their presence secures some monetary profit.
Nichole Shaw is a Gazette editorial fellow. Comments: nichole.shaw@thegazette.com
Opinion content represents the viewpoint of the author or The Gazette editorial board. You can join the conversation by submitting a letter to the editor or guest column or by suggesting a topic for an editorial to editorial@thegazette.com