Democrats pushed their own 'Back the Blue' agenda in the 2021 Iowa Legislature
Grasping for straws and facing lopsided GOP majorities in both legislative chambers, Democrats repeatedly pulled the cop card in Des Moines this session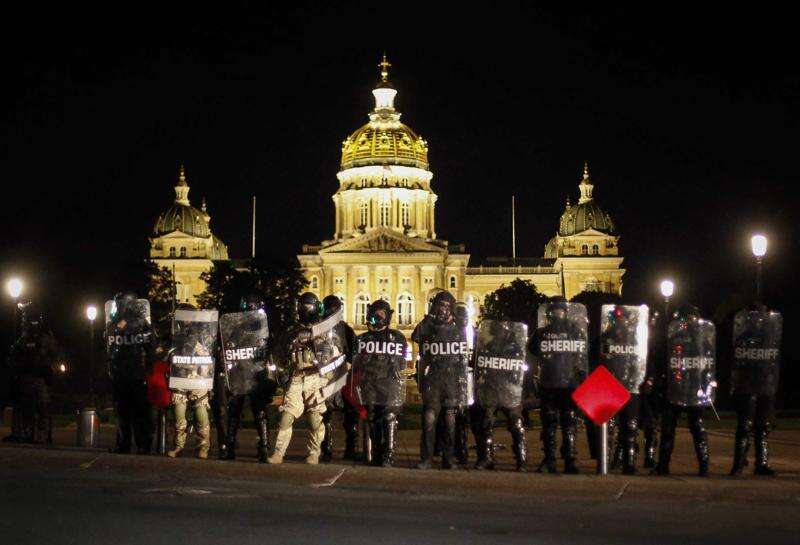 Republicans' chest-thumping embrace of tough-on-crime policies has been a key storyline from this year's legislative business across the country.
In response to last year's renewed Black Lives Matter protest movement, GOP statehouse leaders have been introducing bills to restrict demonstrations and beef up protections for police. In Iowa, they passed an unnecessary and overstepping "Back the Blue" bill, which most Republicans supported and most Democrats opposed.
But Iowa Democrats this year offered their own tough-on-crime policy agenda. It's different from Republicans', but no less belligerent or politically opportunistic. Grasping for straws and facing lopsided GOP majorities in both legislative chambers, they repeatedly pulled the cop card.
Tax cuts, gun rights and limits on surveillance? That's all anti-cop, Iowa Democrats argued on the House and Senate floors this year.
"Defund police" has been used as a boogeyman by the right, but Iowa Democrats made clear this year they are staunchly supportive of endlessly increasing law enforcement budgets.
"We reject the slogan 'defunding police.' We want better policing, not less policing," state Sen. Herman Quirmbach, D-Ames, said during a debate in March on a stand-alone bill to withhold state funding from local governments that reduce police budgets. " … Nobody in this body wants to defund the police."
So, they didn't oppose the defunding ban because they're against reduced police spending. Instead, Quirmbach said the bill would make it harder for cities to do temporary budget increases for special enforcement projects. It's more policing they want, not necessarily better.
Far short of police abolition, they could at least advocate to stop inventing new crimes and enforcement projects. They chose not to.
Also this year in the Iowa Legislature, Democrats opposed a bill to ease permitting requirements for handgun buyers. Even though analysts said it would save the state money and have a beneficial racial justice impact, Democrats cried that it would take enforcement tools away from police.
They fiercely defended one of the state's most controversial policing-for-profit projects. When Republicans made another attempt to restrict local governments' use of automated traffic enforcement, Democrats proposed amendments to backfill the money cities make from surveilling and automatically ticketing motorists.
When Republicans moved to codify qualified immunity — a legal doctrine that gives police special legal cover when they break the law — Democrats didn't propose abolishing the practice, like their peers in New Mexico did this year. Instead, they offered language that would keep qualified immunity intact and shield it from court challenges. They also pitched amendments to increase benefits for police officers, positing police unions are not strong enough.
On at least seven bills passed this year to create new crimes or increase charges for existing ones, Democrats in both chambers unanimously joined Republicans in voting yes.
Particularly insidious is a new law that encourages police to root out human trafficking in the massage business and provides more severe penalties, even though legislative analysts reported Iowa has no recent human trafficking convictions. It's part of a national witch hunt that thrives on misinformation and racist tropes. Consenting sex workers and legitimate massage therapists are most likely to be criminalized by such a policy.
Not a single Democrat in the Iowa Legislature was willing to stand up and question whether a constantly expanding criminal code is an effective way to address crime. Far short of police abolition, they could at least advocate to stop inventing new crimes and enforcement projects. They chose not to.
What we're left with is two major political parties made up of people who have rarely seen a police budget increase or new criminal offense they didn't like.
Iowa Democrats are miles away from the activists they claim to support, the ones who forced police reform onto the agenda last year. I went to a couple protests last summer and saw photos from dozens more and I never saw signs that said "Criminalize sex work" or "Reform, don't abolish, qualified immunity."
adam.sullivan@thegazette.com; (319) 339-3156