Challenging Iowans to act on climate change
The climate crisis intersects with gender, racial justice and faith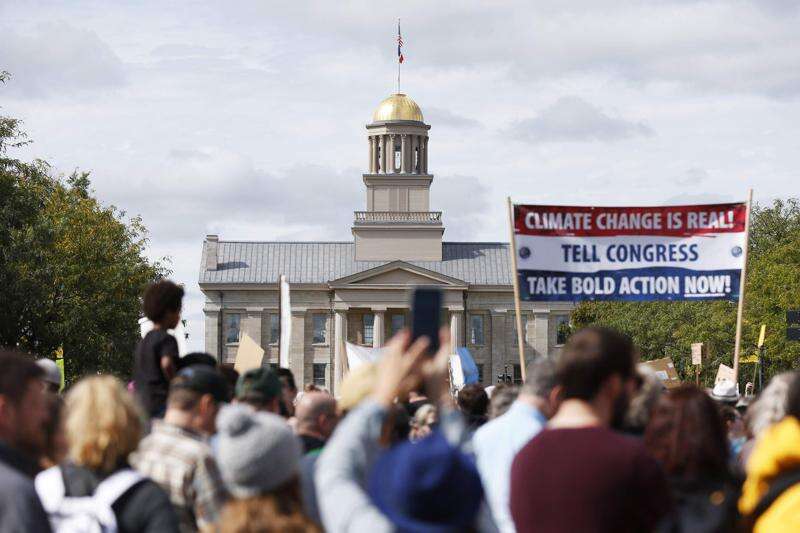 Sitting in class my first year of college, I was itching to learn. As a biology major, I wanted to think about something besides science. I wanted more challenge than high school provided. When I arrived at Graceland University, I was excited to learn such a vast variety of topics through the general education requirements known as "Essential Education." However, I realized my essential education wasn't just about taking classes. It was about developing my own curiosity and desire to learn.
Through this transformation, I've come to understand that I can't be a good citizen without being willing to continue to step outside of my comfort zone to learn, and as a country we've been our best when we've been willing to learn and grow.
At college, I started to see connections between climate change, gender and sexuality, racial injustices, bias, religion and interfaith, politics, and other topics that challenge. I realized if we can figure out how to come together to create change and provide action on the topics that are most important to us, we can change the world for the better.
In the past year, I've been creating my own essential education class that I call "Exploring the Climate Crisis." I'm diving into the major topics of climate change and global warming, but also questioning the effects the climate crisis has on health care, BIPOC communities, low-income neighborhoods, poverty, religion and politics. I have realized that no matter how hard I think or talk with my peers about how terrible these things may be, they don't go anywhere without action. Solving climate change isn't just avoiding harm and reducing carbon but instead about making a better future.
Last summer I was chosen to participate in the Iowa Interfaith Power & Light Called to Climate Action leadership program. Along with four fellow student leaders, I experienced the relationship between education and action. We reached out to Iowa colleges and universities, religious leaders and people of faith and conscience to engage in conversations about the climate crisis. After watching a message from atmospheric and political scientist Katharine Hayhoe we realized that reaching out and talking to other people about climate change is climate action.
We also wanted to find solutions. We organized a student-focused training, initiated campus actions, wrote editorials and planned a public event with Harry Smith of NBC news as the keynote speaker. In these efforts I realized the most important way I can make a difference is to act.
I've grown in my faith, continually had deep conversations with my peers and sought out experiences that challenge me. After last summer, now in the spring semester of my senior year and in the opening months of a new presidential administration that has made climate action a priority for this country, I think about the ways I've changed from my freshman year, sitting in my official Essential Education class. I see a new way forward for our divided country. We must find ways to have challenging conversations, explore differences, open our minds and be more understanding. This is what I learned through my education at college and not just in class.
Experiences and faith are helping me use my education to start taking action. As a country we can do the same. We've experienced an election with high turnout, a lot of passion and some significant divisions. We can't remain stuck in the divide. We have to be willing to embrace a collective curiosity and desire to learn. We need to be vulnerable, open-minded and challenged to step out of our comfort zones.
As Americans we need to find the courage to engage in deeper thinking, to grow in our faith and to enter into more challenging conversations so that together we can act to shape the future our country needs. In this way we will be able to solve the climate crisis, end poverty and suffering, prevent diseases and have greater diversity in leadership.
Kennedy Warner is a senior at Graceland University majoring in biology with minors in chemistry and Hispanic studies. She is from Elk River, Minn. and was a 2020 Called to Climate Action leader with Iowa Interfaith Power and Light.