Capitol Ideas: Ernst quote on sexual assaults reverberates
She comes at the issue from a singular vantage point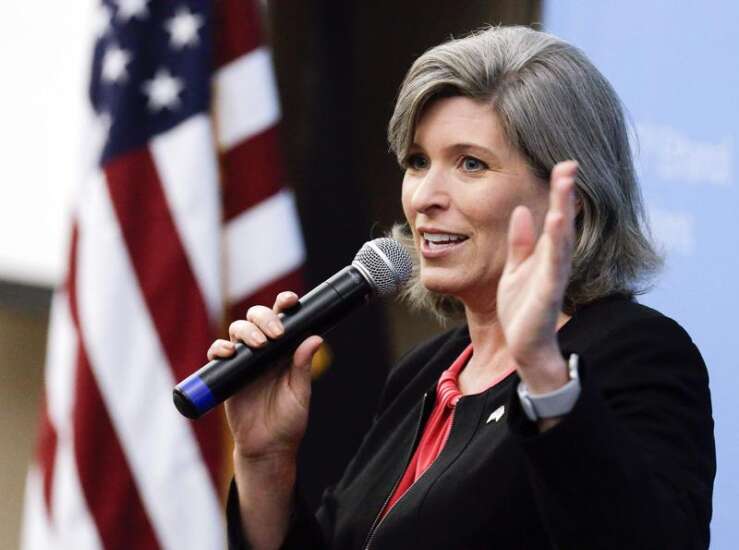 Something U.S. Sen. Joni Ernst said during a news conference last week shook me.
It wasn't the type of comment that automatically leaps off the page. I didn't even use it in my article on the news conference and its topic: new legislation designed to address sexual assault in the military.
But it stood out because of its raw, personal nature and how showed exactly why sexual assault is a scourge that we must constantly combat.
The news conference, held outdoors Thursday in Washington, D.C., was called to highlight the legislation introduced by U.S. Sen. Kirsten Gillibrand, a Democrat from New York who has been working on the bill — and the issue. The chief provision, among many in the bill, would remove the decision whether to prosecute a sexual assault allegation in the military from the chain of command, handing it instead to an independent military prosecutor.
Ernst, an Iowa Republican who comes at the issue with a unique perspective because she is both a former military commander and a sexual assault survivor, has lent her support to the legislation and spoke at the news conference. It was when a reporter asked Ernst about her evolution on the bill — Ernst in the past did not support it — that Ernst said something that stuck with me.
"I can tell you, Amy (Marsh, a victim of sexual assault in the military who also spoke at the news conference) can tell you that once that sexual assault has occurred, you can't go back. You can't change what has happened. As a survivor, you will relive that moment of your life over and over again, and I can tell you, it's not positive," Ernst said.
That's gut-wrenching enough, but it may not have even been the most striking part of the quote. Ernst then added, "I guarantee Amy and I would have a much more positive outlook on life and relationships if that sexual assault had never occurred."
Let that one sink in.
Sexual assault is a crime well worth working to prevent anywhere, including in the military. But if you needed one more reason, think about that Ernst quote. Think about the lasting damage those experiences have on victims.
A 2020 New Hampshire University study determined sexual assault survivors' intimate relationships are clearly impacted. The study said some survivors were apprehensive about or avoided dating; others ended up in abusive or unhealthy relationships, some of whom viewed the abusive behavior as normal; some were re-victimized; others said they were unable to emotionally connect with their partner, and they viewed sex as insignificant or something that should be dangerous.
As awful a crime as sexual assault is, the victim's pain does not end after the assault. It can be a lifetime's worth of torture.
As Joni Ernst and Amy Marsh can attest.
Ernst's comment was striking; so, too, was Marsh in the background, nodding along with every word.
Gillibrand praised Ernst for lending her support, as well as Sen. Chuck Grassley, R-Iowa, for his longtime support of the effort. Both Iowa Republicans returned the praise to Gillibrand, who has — to borrow a word used regularly during the news conference — relentlessly pursued legislation to address the topic.
Here's hoping that, if the bill passes, it makes a dent in this plague on our society and our military, for many reasons, including those Ernst chillingly described.
Erin Murphy covers Iowa politics and government. His column appears Monday in The Gazette. Reach him at erin.murphy@lee.net and follow him on Twitter at @ErinDMurphy.
Opinion content represents the viewpoint of the author or The Gazette editorial board. You can join the conversation by submitting a letter to the editor or guest column or by suggesting a topic for an editorial to editorial@thegazette.com