The Gazette publishes obituaries on a daily basis. Use the search field above to search for obituaries by name or keyword. Readers can submit an obituary or submit a milestone to The Gazette. The obituary must be submitted before 1 p.m. for publication online and in the newspaper the next day, with the exception of obituaries for Sunday publication, which must be submitted by 1 p.m. on Fridays.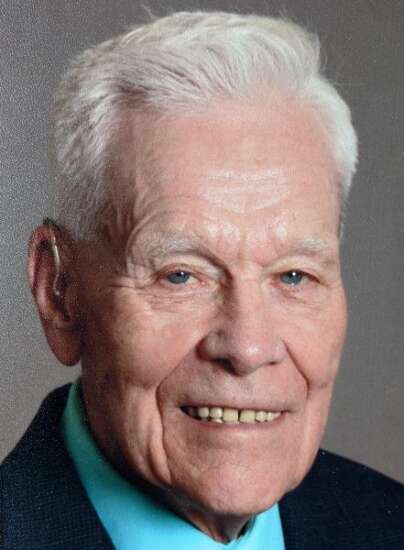 Wesley "Wes" Marion Follensbee
Age: 95
City: Marion
Funeral Date
10:30 a.m. June 30, Marion Methodist
Funeral Home
Murdoch Funeral Home & Cremation Service
Wesley "Wes" Marion Follensbee
Wesley "Wes" Marion Follensbee
Marion
Wesley "Wes" Marion Follensbee, 95, of Marion, Iowa, passed away Wednesday, June 22, 2022, at the Views of Marion. Family and friends will gather for a visitation from 4 to 7 p.m. Wednesday, June 29, 2022, at Murdoch Funeral Home & Cremation Service, 3855 Katz Dr., Marion, Iowa. Funeral services will be held at 10:30 a.m. on Thursday, June 30, 2022, at Marion Methodist, 5050 REC Drive, with Pastor Mike Morgan officiating. Graveside service will follow at Evergreen Cemetery, Vinton, Iowa, at 2:30 p.m.
Wes was born Dec. 22, 1926, on a homestead outside of Locate, Mont., to Frances Mary (Koll) Follensbee and George Wesley Follensbee. Wes was the oldest of four sons born of this union. As a youth in Montana, Wes, along with his brothers, spent time collecting dinosaur bones for change so they could purchase candy. Without complaint he walked the 10-mile round trip to Knowlton school with perfect attendance. In the winter, he stayed overnight on the porch across from the school so he would not miss anything. When Wes was 13, the family lost the homestead during the Depression and moved to the Chippewa Falls, Wis., area to live with family.
While attending his senior year in high school, he completed radio classes and upon graduation enlisted in the Navy on June 12, 1944. On further training he became part of the first crew of the USS Princeton CV-37 and spent most of his time in the Atlantic, in Cuba and finishing at Treasure Island in San Francisco. He was honorably discharged with the rank of Electron ic Technicians Mate 2nd Class on June 18, 1946. As a member of the first crew of the newly commissioned ship, he became a "plank owner" of the USS Princeton.
Through the GI Bill, Wes was able to attend the University of Wisconsin, Madison (Go Badgers!) and graduated with a bachelor's degree in electrical engineering. His professor specifically asked him to stay and become a professor of mathematics, but he decided to accept a position working with Arthur Collins at Collins Radio in Cedar Rapids, Iowa.
He frequented the Armar Ballroom in Marion with his friends where he met the love of his life, Evelyn. Wes married Evelyn Yvonne Forsyth on May 26, 1956, in Vinton, Iowa. With their two children, Carla and Bryon, they lived on an acreage outside of Marion for many years, where he loved to garden and raise sheep. Wes made sure the family took a vacation every year to places like Yellowstone, Mesa Verde, and Mount Rushmore, for example. Often the vacations were centered around camping and fishing, as Wesley loved to be outside. He joined the Marion Methodist Church in 1960 and attended regularly until his illness.
While at Collins Radio, he worked as engineer and was responsible for the DEW-Line (Distant Early Warning Line that ran in the northern arctic region of Canada and Alaska during the early days of the Cold War). He also worked on and sometimes lead a team with radio and electronic work on NASA programs such as Mercury, Gemini and Apollo. He took great pride in working on the radio systems used by the astronauts to speak to Mission Control to and from the moon. He also worked on the North American X-15 (rocket plane) and other government projects. He retired after 35 years in 1985, and started traveling the country in his newly purchased RV with Evelyn. During their travels, they hiked with their dog and collected agates, geodes and fossils. Most of all, Wes loved fishing in the gulf with Evelyn and Tippy by his side.
Wesley is survived and lovingly remembered by his wife of 66 years, Evelyn; daughter, Carla of Marion; son, Bryon of Winterset, Iowa; brother and sister-in-law, Jim and Marjorie Radcliffe, Florida; one special niece, Kim (Denny) Kaiser of Chippewa Falls and many other beloved nieces and nephews.
He was preceded in death by his parents; his three brothers, Douglas Loring Follensbee of Salem, Wis. Marvin Lee (Delores) Follensbee of Chippewa Falls and Kenneth Allen (Mary) Follensbee of Kenosha, Wis.; along with his half-siblings, Donald Raymond Kimpton, Robert Owen Kimpton, Harold Alvin Kimpton, Virginia Ione Kimpton, Margaret Evelyn Wikin and Ruth Frances Kimpton, who died as an infant.
Memorials may be directed either to the First United Methodist Church of Marion or UnityPoint Hospice.
Please share a memory of Wes at www.murdochfuneralhome.com under obituaries.