Possible changes to service times: Because of concerns over the novel coronavirus, events like visitations and services may be rescheduled or canceled. Please check with the funeral home or church before leaving to attend an event.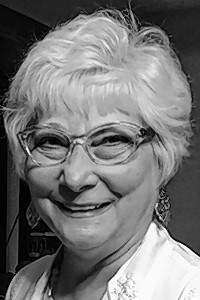 Sheryl Ann 'Sherrie' (Mollenhauer) Olson
Minneapolis
Sheryl Ann 'Sherrie' (Mollenhauer) Olson
SHERYL ANN "SHERRIE" (MOLLENHAUER) OLSON
Minneapolis, Minn.
Sheryl Ann "Sherrie" (Mollenhauer) Olson passed away peacefully on March 24, 2020, in Minneapolis, Minn., with husband, Neil, stepdaughter, Theresa, and son, Jeff Kinney at her side. She was born Aug. 6, 1946, daughter of Glen and Anna Mary Mollenhauer. She grew up in Marion, Iowa. She was a devoted wife and mother, also working as a receptionist for several different companies in Marion, Cedar Rapids and Minneapolis.
She is survived by her husband, Neil; son, Jeff Kinney, wife Kelly of Princeton, Minn.; daughter, Jennifer Kinney of Lakeville, Minn.; sister, Trudy Carroll, husband Terry; and brothers, John Mollenhauer, wife Sharon of Morton, Ill., Jim Mollenhauer, wife Darlene of Marion, Iowa, Gene Mollenhauer, wife Joan of Toddville, Iowa, and Steve Mollenhauer, fiancee Linda Anderson of San Diego, Calif. She will be missed by many cousins, nieces and nephews who loved her dearly. Special cousins, Mary Burns, husband Steve, Donna Sue Kinney, and dear friend Cathy DeMoss, who were like sisters to her.
She was preceded in death by parents, Glen and Anna Mary Mollenhauer; and sister, Joanne.
A Celebration of Life service will be planned in the future in Minneapolis.