Possible changes to service times: Because of concerns over the novel coronavirus, events like visitations and services may be rescheduled or canceled. Please check with the funeral home or church before leaving to attend an event.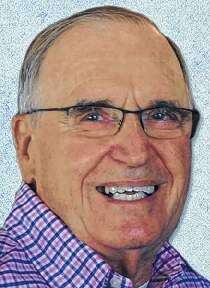 Richard J. 'Dick' Venteicher
Cedar Rapids
Funeral Home
Cedar Memorial Park Funeral Home
Richard J. 'Dick' Venteicher
RICHARD J. "DICK" VENTEICHER
Cedar Rapids
Richard J. "Dick" Venteicher entered into his eternal rest on April 6, 2021, at home and surrounded by family.
Private family Mass at All Saints Catholic Church. Following the continued guidance from health officials, physical distancing must be practiced, which requires the use of face masks or shields.
Dick was born March 6, 1935, in Carroll, Iowa, son of John and Silvina Venteicher.
Dick proudly served and was educated in the U.S. Air Force from 1955 to 1959, serving in Japan for two years. Upon his return from service, he was employed by Collins Radio until his retirement, and was most proud of his involvement in the historic Apollo program.
Dick was united in marriage to Mary Pat Mergen on Nov. 8, 1958, and to this union four children were born: Gwen (Tim) Strellner, Cedar Rapids; Laurie (Scott) Konecny, Fairfax; Matthew (Donna) Venteicher, Scottsdale Ariz.; and John (Jodi) Venteicher, Cedar Rapids.
Dick was a giant in his dedication and loyalty to his family and faith and was very proud to be "Papa" to 11 grandchildren and seven great-grandchildren. Very attentive to their Papa were: Jamie, Ben and Jack Strellner; Luke, Abbey and McKenna Miller; Faye, Isabel and Olivia Venteicher; Emma and Nile Venteicher. Some of his favorite visits were from his great-grandchildren: Paisley, Barrett, Emmy, Marlo, Murphy, Cameron and Baby Haas (July2021).
He was an avid Iowa State and Cubbie fan. But more than this, he was the biggest fan of his children and grandchildren. Every event was a priority. Dick was always ready to go!!
Dick was preceded in death by his parents and his sister, Ginny Lynch.
In lieu of flowers, memorials can be made to All Saints Church and the Mercy Foundation.
The family would also like to thank all of the dedicated caregivers of Hall Perrine and Mercy Hospice.
Please leave a message or tribute to Dick's family on our website, www.cedarmemorial.com under obituaries.