Possible changes to service times: Because of concerns over the novel coronavirus, events like visitations and services may be rescheduled or canceled. Please check with the funeral home or church before leaving to attend an event.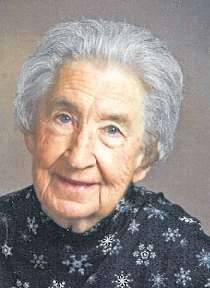 Wednesday, September 15, 2021
Maxine Hennessy
Age: 97
Solon
Funeral Date
11 a.m. Thursday, Sept. 16, St. Mary?s Catholic Church, Solon
Funeral Home
Brosh Chapel
Wednesday, September 15, 2021
Maxine Hennessy
MAXINE B. HENNESSY
Solon
Maxine B. Hennessy, 97,
of Solon, passed away peacefully, while under the care of the Solon Retirement Village, on Saturday, Sept. 11, 2021. Funeral Mass will be
11 a.m. Thursday, Sept. 16, at St. Mary's Catholic Church with Father Charles Fladung officiating. Burial will follow in St. Mary's Cemetery. Visitation will be from 9 a.m. until service time Thursday, Sept. 16, at the church. Brosh Chapel and The Avacentre in Solon is in charge of arrangements.
Maxine was born May 5, 1924, in rural Solon, the daughter of Louis and Libbie (Kasparek) Kohout. She attended the Stone Academy and Solon High School. Maxine was united in marriage to Raymond Hennessy on May 14, 1946, at St. Mary's Catholic Church in Solon. She worked at Collins Radio for many years, where she maintained many lifelong relationships with her co-workers. She enjoyed supporting Solon Spartans, and going to Iowa Hawkeye games, where she was a member of the I-Club. Ray and Max loved to travel and enjoyed many trips together. They opened up their home to host many large holiday celebrations and were known as a third set of grandparents. Maxine's family, friends, special friends and neighbors were very dear to her. She will be especially remembered for her love of her husband, Raymond.
Maxine is survived and lovingly remembered by her brother, Donald Kohout of Solon; nephews, Paul (Betty) Kohout of Lisbon and Terry Kohout of Cedar Rapids; niece, Jean (Steve) Novak of Cedar Rapids; and her eight grand-nieces and nephews.
She was preceded in death by her parents; her husband, Raymond; her brother, Milver (Marjorie) Kohout; and her nephew, James Kohout.
Memorials may be directed to the family.
Online condolences may be expressed to the family at www.broshchapel.com.