Possible changes to service times: Because of concerns over the novel coronavirus, events like visitations and services may be rescheduled or canceled. Please check with the funeral home or church before leaving to attend an event.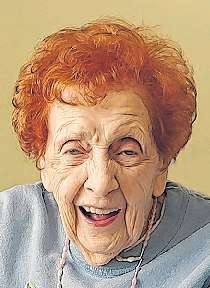 Mary Sgroi
Age: 91
Marion
Funeral Date
10:30 a.m. Saturday, May 8, St. Joseph Catholic Church, Marion
Funeral Home
Stewart Baxter Funeral & Memorial Services
MARY MERCEDES SGROI
Marion
Mary Mercedes Sgroi, 91,
of Marion, Iowa, formerly of Omaha, Neb., and Fontana, Calif., died Saturday, May 1, 2021, at The Villages at Marion. Funeral Mass: 10:30 a.m. Saturday, May 8, at St. Joseph Catholic Church, Marion, by the Rev. David O'Connor. Burial at a later date at Victoria Lawn Cemetery in St. Catharines, Ontario, Canada.
Survivors include her children, Judy Borchers and Frank (Mary Ann) Sgroi; grandchildren, Tara (David) Schneider, Adam Borchers, Ryan Borchers, Erin Borchers, Kyle Borchers and Michael Sgroi; and great-grandchildren, Hayden, Hayes, Andrew, Charlotte and Abigail.
Mercedes was born Feb. 24, 1930, in Glace Bay, Nova Scotia, Canada, the youngest of 10 children of Maurice and Mary Jane (Cairns) Hurley. She earned a bachelor's degree from St. Francis Xavier University in Antigonish and a master's degree in management from the University of Redlands. Mercedes loved her career as a nurse. She worked in pediatrics and intensive care, retiring as the associate director of nursing for Kaiser Permanente Medical Center in Fontana, Calif.
Her passion for caring and giving was an integral part of her life. She was generous with her time and talents with the Salvation Army, Fontana We Care and the Lydia House. Mercedes was always looking for ways to help others. She also loved animals, cooking, spending time with her family and living her faith.
She was preceded in death by her parents and her siblings, Bert, Ben, John, Mary, Elizabeth, Maurice, Margaret, Patricia and Geraldine.
Memorials may be directed to the Nebraska Humane Society.
Please share your support and memories with Mercedes' family on her tribute wall at www.stewartbaxter.com under obituaries.