Possible changes to service times: Because of concerns over the novel coronavirus, events like visitations and services may be rescheduled or canceled. Please check with the funeral home or church before leaving to attend an event.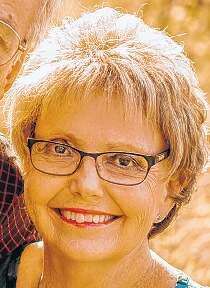 Linda A. Moore
Age: 65
Winthrop
Funeral Date
10:30 a.m., Monday, 4/19, at St. Patrick's Catholic Church, Winthrop
Funeral Home
Fawcett Funeral Home
LINDA A. MOORE
Winthrop
Linda A. Moore, 65, of rural Winthrop, Iowa, died peacefully on Wednesday evening, April 14, 2021, at her home with her family by her side, following a courageous battle with pancreatic cancer.
Mass of Christian Burial: 10:30 a.m. Monday, April 19, at St. Patrick's Catholic Church, Winthrop, with the Rev. David Beckman and Deacon Tim Post officiating. Visitation: 2 to 5 p.m. Sunday and for one hour before the service on Monday at St. Patrick's Parish Center in Winthrop. The family will have a rosary and scripture service. Interment: St. Patrick's Catholic Cemetery, Winthrop. Fawcett-Schmitz Funeral Home, Winthrop, is assisting the family. Condolences may be directed to Michael Moore, P.O. Box 178, Winthrop, IA 50682. Online obituary at www.jamisonschmitzfuneralhome.com. Due to recommendations from state and federal health officials guests are required to wear a mask and social distance.
Linda Ann Hogan was born May 10, 1955, in Independence, Iowa, the daughter of John Clarence and Margaret Ann (Brickley) Hogan. She graduated from East Buchanan High School in Winthrop in the class of 1973. Linda continued her education at the University of Northern Iowa in Cedar Falls, where she earned her B.A. in Education. Linda was united in marriage to Michael James Moore on June 7, 1980, at St. Patrick Catholic Church in Winthrop. They made their home south of Winthrop, where they were blessed with two children, Michelle and Matthew. Linda taught 5th and 6th grade at East Buchanan Elementary School for 35 years, where she was especially known for trips to Camp Wapsi Y. Following her retirement, she continued as a substitute teacher due to her love of teaching.
Linda was a member of St. Patrick's Catholic Church, where she was a lector and sang in the choir. She was an avid sports fan of the Iowa Hawkeyes and East Buchanan Buccaneers and was also an American Legion supporter. One of her favorite memories is when she was able to accompany her father on an Honor Flight to Washington, D.C. She was proud of her Irish heritage and enjoyed spending time with her family and especially her grandchildren.
Linda is survived by her husband of 40 years, Michael Moore of Winthrop; daughter, Michelle (Mitch) Miller of Independence; son, Matthew Moore (Leighton Chau) of Johnston; her grandchildren, the three little loves of her life, Remington, Ryleigh and Maisie Miller; mother, Margaret Hogan of Independence; three sisters, Mary Kay (Mark) Luloff of Aurora, Janet (Alan) Cook of Winthrop and Shirley (Kyron) Cocking of Winthrop; and many nieces and nephews and extended family.
Linda was preceded in death by her father and her mother-in-law, Patricia Moore.