Possible changes to service times: Because of concerns over the novel coronavirus, events like visitations and services may be rescheduled or canceled. Please check with the funeral home or church before leaving to attend an event.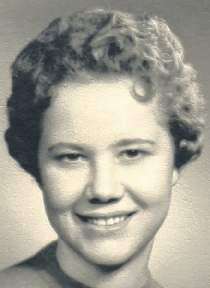 Jo Ann (Conner) Ronnenberg
Age: 85
Cedar Rapids
Funeral Date
11 a.m. June 14, at Trinity Lutheran Church, Cedar Rapids
Funeral Home
Cedar Memorial Park Funeral Home
Jo Ann (Conner) Ronnenberg
JO ANN (CONNER) RONNENBERG
Cedar Rapids
Jo Ann (Conner) Ronnenberg, 85 passed away June 8, 2021, at Mercy Medical Center surrounded by her family. Jo Ann was born on St. Patrick's Day, March 17, 1936, at the University of Iowa Hospital. She was the daughter of Marion Conner and Irene (Finley) Conner. From fourth grade on she lived in Millersburg where she attended school, graduating in 1954.
Visitation will be held from 2 to 5 p.m. on Sunday, June 13, 2021, at Cedar Memorial Park Funeral Home. Memorial services will be Monday, June 14, at 11 a.m. at Trinity Lutheran Church, 1363 First Ave. SW, Cedar Rapids, Iowa. A luncheon will be served following the service at the church.
In November 1957 she met the love of her life, Bill Ronnenberg, soon after he separated from the Air Force. They were married on July 25, 1959, at Trinity Lutheran Church in Cedar Rapids, Iowa. Pastor Koberg presided. They would have celebrated their 62nd wedding anniversary this July.
To their union three children were born, William Jr. and wife Chiara Giuliani, and their children, Sofia and Luisa, all of Washington, D.C.; Julie Bode and husband Dwight of Coralville, Iowa, and their children Courtney, Alex, and Elle; and Michael and wife Dr. Grace Wang-Ronnenberg, and their children Quinn and Rhett, all of Manchester, Iowa. She also is survived by her sister, Barb Conner; brother-in-law, Bill Stone; sister-in-law, Rose McDonald; special cousin, Shirley Henderson; and numerous nieces and nephews.
Jo Ann was preceded in death by her parents; stepfather, Walker Whitmore; brother, Marion Conner; sister, Joyce Stone; sisters-in-law, Shirley Conner and Violet Haerther; and brothers-in-law, Donald Haerther and Doug McDonald.
In her early married years Jo Ann was very dedicated to her family. She stayed home with her three children and attended their many activities. After her children were older, she worked at Roosevelt Junior High. She then attended Kirkwood Community College, where she received her Library Sciences Certificate. She worked for 18 years at the Cedar Rapids Public Library in the Children's Department. One of her many responsibilities was story time. Occasionally, children in public would say to their mother, "look Mommy there's the story lady."
Jo Ann's faith was very important to her. She was a very active member of Trinity Lutheran Church. Through the years she taught Sunday School, helped with Vacation Bible School, visited care centers, served at church functions, attended bible study, and was instrumental in setting up the church library.
Jo Ann's family was very important to her; she strived to be a good wife, mother and grandmother. She will be remembered for her amazing cooking, love of children's books, her warm smile and kindness to all!
They would also like to thank the healthcare providers and staff at West Ridge Care Center for their tender loving care given to Jo Ann.
In lieu of flowers, the family requests memorial donations be made to the Alzheimer's Association in Jo Ann's honor at https://act.alz.org/site/Donation or Trinity Lutheran Church, Cedar Rapids.
Online condolences may be directed to the family at www.cedarmemorial.com under Obituaries.