Possible changes to service times: Because of concerns over the novel coronavirus, events like visitations and services may be rescheduled or canceled. Please check with the funeral home or church before leaving to attend an event.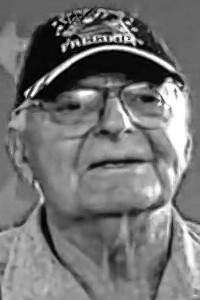 Monday, September 13, 2021
Edward Miller
Age: 92
Marshalltown
Funeral Date
10 a.m., Tuesday, 9/14, at Anderson Funeral Homes, Marshalltown
Funeral Home
Anderson Funeral Homes
Monday, September 13, 2021
Edward Miller
EDWARD MILLER
Marshalltown
Edward Miller, 92 of Marshalltown, Iowa, passed away Sunday, Sept. 5, 2021, at the Iowa River Hospice Home in Marshalltown. Funeral services will be 10 a.m. Tuesday, Sept. 14, at Anderson Funeral Homes in Marshalltown. Visitation will be 9:00 a.m. until the time of the service. The interment will be held at the Iowa Veterans Cemetery in Van Meter, Iowa. In lieu of flowers, memorial may be directed to the Iowa River Hospice House and the Wounded Warriors Project. Online condolences may be sent to www.andersonfhs.com.
Ed was born on Dec. 16, 1928, in Marshalltown, to John and Elizabeth (Shank) Miller. Ed served his country from 1952 to 1954 in the Korean conflict. He achieved Sergeant First Class as an Army combat veteran. He worked long hours for years to achieve what he had done with the crops he produced. Ed married Mary Ann and spent 60 years together before she passed away in 2012. He then Married Carol Weidner and had seven wonderful years. At 92 he achieved so much to be proud of. Ed was very proud to be able to attend and be a part of an Honor Flight and Veteran Talk as a proud veteran. Ed and Carol talked for many hours about ways to use his farm equipment better. He worked very hard to be a good father and husband. Ed always expressed he wanted a simple funeral, just a simple pine box. He worked long days and hard every minute saying God was always with him in the fields during planting and harvest seasons. Ed always would say that he would sing while on tractors to keep him company. Carol, as Ed's second wife has been blessed to be his wife, never getting in an argument and always smiling. On Sunday early afternoon Carol sat with Ed holding hands as he was going to be going to the Iowa River Hospice House. As they sat together he told Carol to rest and sleep and he was going to be okay.
Ed is survived by his wife, Carol Miller; seven children, David (Mary) Miller, Debra (Gary Gibson) Miller, and Todd (Cheryl) Miller, Rhonda (Kevin) Lassen, Regina (Scott) Smith, Renae (Roger) Blink and Robin (Barb) Weidner; six grandchildren, Nathan (Kristi), Amanda, Bryan, Jacob (Emmy), Jeff (Stephanie) and Joshua; numerous great-grandchildren; sister, MaryLou Speas; and his brothers and sister-in-laws, Gary (Joyce) Granneman, Wally (Joyce) York and Linda Sanders.
Preceding him in death is his late wife, Mary Ann; and two siblings, John Miller and Betty Weeden.