Possible changes to service times: Because of concerns over the novel coronavirus, events like visitations and services may be rescheduled or canceled. Please check with the funeral home or church before leaving to attend an event.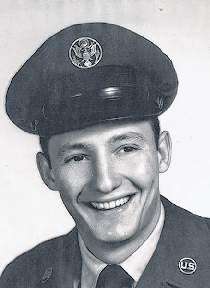 Bernard Erenberger Sr.
Age: 88
Solon
Funeral Home
Brosh Chapel
BERNARD J. ERENBERGER SR.
Solon
Bernard J. Erenberger Sr., 88, of Solon, Iowa, passed away peacefully at his home May 9, 2020, surrounded by his loving family.
Bernie was born in Cedar Rapids, Iowa, on Jan. 30, 1932, to George and Georgia (Rushek) Erenberger. He graduated from Wilson High School in 1950, and was a member of the 1950 Wilson state baseball championship team. He served in the Air Force, Unit 133 AC&W Squandron during the Korean War. He was employed as a painter, estimator and then eventual owner of Broulik Painting Inc. in Cedar Rapids, for more than 70 years.
He married Sally Fellwock on Nov. 5, 1953, in Cedar Rapids. They had four sons, Bernard Jr. of Milwaukee, Wis., Gary G. of Cedar Rapids, Joel D. of Iowa City and Larry D. of Marana, Ariz. They later divorced.
He married the former Jo (DeSutter) Broulik on Jan. 22, 1985, in Austin, Texas. They had one son Tim J. of Des Moines, Iowa.
Bernie was a member of the Solon American Legion and served in the Color Guard, PDCA, Scottish Rite Temple, the Masons, Odd Fellows of Ely, El Kahir Shrine and a 70-year member of Painters Local No. 447. He served on the Solon school board and various organizations throughout his lifetime.
Bernie is survived by his wife, Jo; his five sons, Bernard Jr. and wife, Elizabeth, Gary and wife, Linda, Joel and wife, Suzanne, Larry and wife, Carol, and Tim; grandchildren, Chiara Erenberger, Trey Erenberger and Paul Erenberger; four stepgrandchildren, William Thompson, Michael Thompson, Matt Ritchard and Nicole Ritchard; 10 great-grandchildren; his sister, Carol Stodola and husband, Kenneth, and their sons, Doug and Steve; sister-in law, Jean DeSutter and daughter, Erin Rangel and husband, Mike; and brother-in-law, John DeSutter and son, Zach. He also is survived by numerous relatives and friends, by whom he will be deeply missed.
He was preceded in death by his parents and his Baba Fannie.
Bernie was involved with basketball, football and baseball throughout his young life, and was the pitcher for the Wilson Ramblers baseball team of Cedar Rapids. Later he enjoyed fishing, especially at his home in Minnesota, hunting and golfing. He enjoyed playing sports and many teammates were lifelong friends. He loved listening to good polka music, but hated to dance.
Bernie had a vast knowledge of local history and heritage and would love to visit with friends and family. He also met so many people with his interest in their history and families. He lived by the rule that your word and a handshake was a commitment to be honored.
In lieu of flowers, memorials may be given to the Solon American Legion Color Guard, El Kahir Transportation Fund in Cedar Rapids or the Solon Fire Station Building Fund.
A private family service will be held at this time with military rites at Oakland Cemetery in Solon. A Celebration of Life will be held at a later date when such events are again allowed.
"Sometimes you want to go where everybody knows your name, and they're always glad you came."
Online condolences may be expressed to the family at www.broshchapel.com.