Possible changes to service times: Because of concerns over the novel coronavirus, events like visitations and services may be rescheduled or canceled. Please check with the funeral home or church before leaving to attend an event.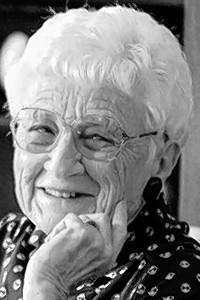 Alberta Joyce Svoboda
Age: 88
Mechanicsville
Funeral Date
10:30 a.m., Tuesday, 10/8, at United Methodist Church, Mechanicsville
Funeral Home
Fry Funeral Home
ALBERTA JOYCE SVOBODA
Mechanicsville
Alberta Joyce Svoboda, 88, of Mechanicsville, passed away at her home Friday, Oct. 4, 2019, surrounded by loving family members. Visitation takes place from
9:30 to 10:30 a.m. Tuesday, Oct. 8, followed by a funeral service at 10:30 a.m., both at the United Methodist Church in Mechanicsville. A luncheon will follow.
Alberta was born June 19, 1931, on the family farm in Mechanicsville. She graduated from Mechanicsville High School and took business college classes in Cedar Rapids and worked as a legal secretary there and in Mechanicsville before marrying her husband, Vern (Bud) Svoboda, on Aug. 25, 1950. She worked alongside Bud on the Heritage family farm for more than four decades and worked in the central business office at Cornell College from 1965 to 1972. In addition, she and Bud worked as a team during 22 years selling Pioneer Seed Corn.
The couple traveled extensively in the United States and Europe with friends and family who shared their interest in seeing new places. Among their adventures were trips taken with their son, Wayne, and his wife Marla, to Maine, Montana, the Outer Banks of North Carolina, London, Scotland, Paris and Brooklyn, where Alberta led trips on the subway to Times Square. She and Bud kept up with the travels of her daughter, Sally, and her husband, Joe, as they moved around while Joe was in the U.S. Air Force. They made countless trips to spend time in the Des Moines area home of their daughter, Joy, and her husband, Al. They also visited grandchildren in their homes around the country.
As grandchildren came, camping trips with the little ones became a special activity. Anyone who knew Alberta knew that her "grands" and "great-grands" were her pride and joy. She taught the lot to make kolaches, homemade noodles and favorite Christmas treats. Many wonderful holiday meals were celebrated around her dining room table.
Alberta is survived by her three children, Wayne Svoboda (Marla Stewart) of Brooklyn, N.Y.; Joy (Al) Root of Pleasant Hill, and Sally (Joe) Hunt of Mechanicsville. Alberta has five grandchildren, two of whom reside in Iowa and the three others in Wisconsin, Colorado and California; and 10 great-grandchildren who stole her heart. She also is survived by two sisters, Patricia (James) McGlasson of Tucson and Verla (LeRoy) Johnson of Phoenix; and her many nieces and nephews were important to her.
Alberta was preceded in death by her husband of 63 years, Bud, who died in 2014, and her parents.
Memorial conributions may be directed to First United Methodist Church or Hospice of Iowa.