Possible changes to service times: Because of concerns over the novel coronavirus, events like visitations and services may be rescheduled or canceled. Please check with the funeral home or church before leaving to attend an event.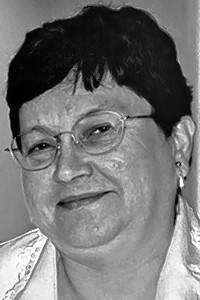 AGNES ANN O'CONNELL
Monticello
Agnes Ann O'Connell, 76, died Wednesday, July 29, 2020, at the Monticello Nursing and Rehabilitation Center following an extended illness.
A visitation will be held from 9 to 11 a.m. Wednesday, Aug. 5, at Goettsch Funeral Home, with a Scripture service starting at 11 a.m. Father Paul Baldwin will officiate at the services. A Mass of Christian Burial will be held at a later date at Sacred Heart Catholic Church in Adams, Minn., with interment in Sacred Heart Cemetery.
Surviving are her five children, Meli Pennington, Allex Johnson, Sarah Karim-Alford, Gary O'Connell and Rick O'Connell; 10 grandchildren; one great-grandchild; three sisters, Patricia DeMay, Susan Warmka and Joyce Bergan; three brothers, William, Paul and Randal Mullenbach; and her cat, Haven. She was preceded in death by her parents.
Agnes Ann Mullenbach was born March 30, 1944, in Osage, Iowa. She was the daughter of Roman and Helen Koenigs Mullenbach. Agnes attended the Sacred Heart grade school and graduated from high school in Adams, Minn., in 1962. She continued her education at Mankato State in Minnesota, Northern State University in Aberdeen, S.D., and then at the University of Minnesota, receiving her Bachelor of Science degree in biology and chemistry.
On Feb. 2, 1967, she married Reza-ul Karim. They lived in Aberdeen, S.D., where Agnes was the unit secretary at the hospital. She later moved to the Adams, Minn., area, where she married Richard O'Connell in Mansfield, S.D., in 1976. She taught biology at Waldorf College in Forest City, Iowa, and then worked at the University of Iowa in the pathology lab. For more than 20 years she worked for Systems Unlimited in Monticello, where she was known as 'Miss Aggie" until her retirement in 2017.
Agnes enjoyed reading, working on puzzles, going out to eat with friends, crafting with her grandchildren, and quilting.