Week in Iowa: Recap of news from across the state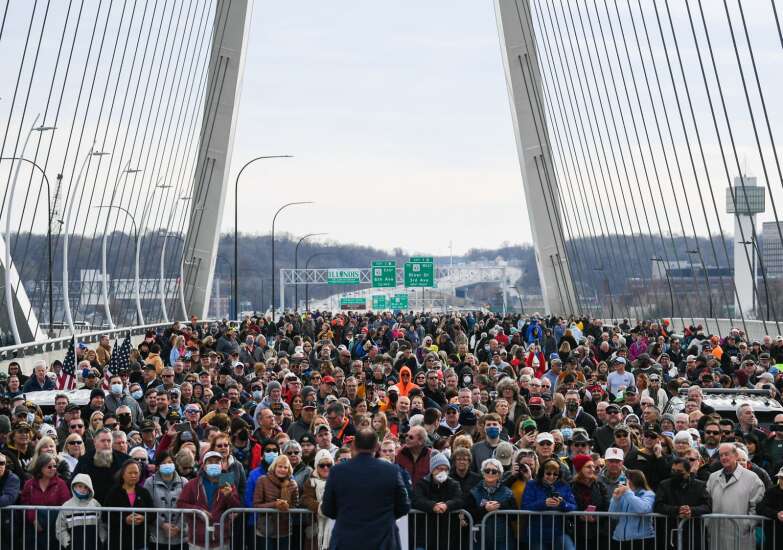 In the news
COVID hospitalizations surging again: Iowa hospitalizations from the coronavirus reached a high for this year with 721 people being treated in hospitals, according to data reported by state public health officials. The last time hospitalizations reached that level was mid-December 2020 when the state was coming down from the historic peak of COVID-19 activity in November. Hospitalizations peaked at more than 1,500 patients in mid-November 2020. Iowa Department of Public Health data indicates 10 children age 11 or younger are in the hospital. All are unvaccinated. An additional unvaccinated child between 12 and 17 is hospitalized.
Mandate blocked: A federal judge blocked President Joe Biden's administration from enforcing a coronavirus vaccine mandate on thousands of health care workers in 10 states — including Iowa — that had brought the first legal challenge against the requirement.
COVID impact: A routine annual audit report of the Iowa State Fair by the state auditor's office showed the fair authority's operating revenue declined 90 percent in fiscal 2020 from the previous year, due largely to the cancellation of the 2020 fair.
Guard vaccinations: As of Nov. 30, 91 percent of Air National Guard members and 80 percent of Iowa Army National Guard members had been vaccinated, an Iowa Guard spokesman said. Earlier this fall, the U.S. Department of Defense made COVID-19 vaccines mandatory.
They said …
"People will come from all over to visit us here (and) walk or bike the bridge."
— Bettendorf Mayor Bob Gallagher on the new, $1 billion I-74 bridge
"It is trying times."
— Rudd-Rockford-Marble Rock Community School District secondary principal Nick Johnson on teacher and staffing shortages
Odds and ends
Vaccine campaign: Iowa Department of Public Health and Iowa Alcoholic Beverages Division officials said six semi-trailers with messaging encouraging Iowans to get vaccinated for the flu and COVID-19 now are circulating the state.
Plea entered: Two southeastern Iowa teenagers pleaded not guilty Monday to killing their high school Spanish teacher, whose body was found in November in a park where she took daily walks.
Mobile licenses: State officials have launched a pilot project aimed at making digital driver's licenses, or "mobile ID," available for download via Apple and Android smartphone apps sometime next year.
Water cooler
Whitver moving: Senate Majority Leader Jack Whitver, R-Ankeny, announced he will run for re-election in a new legislative district: the new Senate District 23, which includes much of northern Polk County.
Board leader: Zach Goodrich, legal counsel for the Iowa Public Information Board, was selected to serve as the Iowa Ethics and Campaign Disclosure Board's next executive director and legal counsel.
Powerball finalists: Rob Long, of Waterloo, and Shari Beenken, of Titonka, are two of five nationwide finalists for a $1 million Powerball prize that will be drawn just after 11 p.m. on New Year's Eve.
More in the news
Agencies eliminate rape kit backlog: Iowa law enforcement officials, prosecutors and victims' advocates have worked together to eliminate a backlog of untested sexual assault evidence kits and streamline processing now to eight weeks — a "monumental" accomplishment that has aided in bringing criminals to justice and benefited the injured with the help of better training, officials said. Iowa Attorney General Tom Miller and state Public Safety Commissioner Stephan Bayens said they joined forces and resources in a six-year effort to address the problem of untested rape kits, which led to four criminal charges so far.
Combating trafficking: Lodging providers in Iowa will be required to have all their employees successfully complete certified human trafficking prevention training in order to receive public funds as payment for services under a new law that takes effect Jan. 1, state officials said.
Teacher arrested: Council Bluffs police arrested Katrina Phelan, 37, of Council Bluffs, a former high school math teacher accused of writing and planting notes threatening gun violence at the school. Phelan is charged with three counts of making terroristic threats.
Cancer diagnosis: Iowa State University Athletic Director Jamie Pollard announced in an open letter to Cyclones fans his diagnosis of testicular cancer. In the letter released on the school's website, Pollard said his diagnosis began with groin pain about four weeks ago.