Week in Iowa: Recap of news from across the state
Gazette Des Moines Bureau
Nov. 21, 2021 6:00 am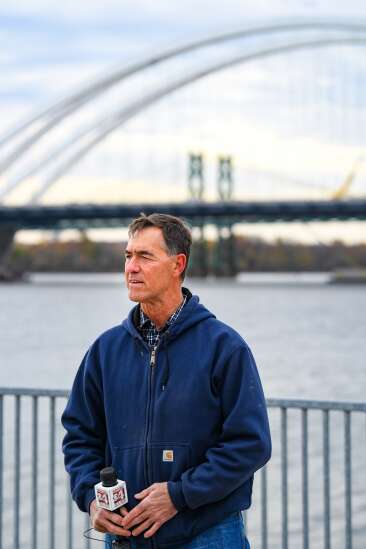 In the news
Union vote ends Deere strike: The UAW voted to ratify the latest offer from Deere & Co., ending a strike that lasted just more than a month. Other than minor changes to Deere's Continuous Improvement Pay Program, the company's third offer presented the same benefits as a second agreement turned away Nov. 2. This time, union members approved the deal overwhelmingly, 61 percent to 39 percent. The ratification vote marks the end of a strike that "captured the mood of a nation" in search of better benefits, UAW spokesman Brian Rothenberg said in a news release.
Salaries questioned: A state audit report on government spending accused Iowa Gov. Kim Reynolds of using nearly $450,000 in federal coronavirus relief funds to pay salaries for 21 staff members for three months last year and concealing the spending by passing it through another state department.
Axne's decision: Cindy Axne, the lone Democrat in Iowa's congressional delegation, announced that she plans to seek re-election in Iowa's 3rd District next year. Axne previously also considered running for the U.S. Senate or Iowa governor in 2022.
Branstad post: Terry Branstad, the former Iowa governor who held the post longer than any state chief executive in the nation's history and more recently was the U.S. ambassador to China, will serve as an ambassador in residence at Drake University.
They said …
"We really think that a key to success for all of us moving forward is to promote reasonable immigration reform."
— Joe Murphy, executive director of the Iowa Business Council, on addressing Iowa's slow population growth
"I was in total shock that they selected my photo of the American Queen docked."
— David Sebben, of Rock Island, Ill., whose photo will represent Iowa on stamps in the U.S. Postal Service's Mighty Mississippi series
Odds and ends
Officer death: An Iowa State Patrol Trooper died last month in a crash after he swerved to avoid a deer while speeding to respond to a call, the patrol said.
Commutations denied: Gov. Kim Reynolds has denied four of the five recommended commutations for Iowa prison inmates serving life prison terms that were forwarded to her by the state Board of Parole.
COVID rising: The Iowa Department of Corrections reported an increase in COVID-19 cases at three state prisons, where 66 inmates and 44 staff members tested positive for the coronavirus.
The water cooler
Crime database: The Iowa Department of Public Safety has launched a new state crime database, I-CRIME, which serves as the central repository for crime and arrest data across all of Iowa law enforcement.
State website: State government's upgraded web portal, GovConnectIowa, is now available for Iowa business owners and business tax filers, according to the Iowa Department of Revenue.
Deer hunting: The first of Iowa's two shotgun deer seasons begins Dec. 4, when an expected 55,000 to 60,000 orange-clad hunters head to the timber for the annual late fall tradition.
More in the news
$5B to Iowa for infrastructure: New federal funding for roads, bridges and other infrastructure projects will provide a revenue boost similar to when the state of Iowa raised its fuel tax in 2015, the state's transportation director says. Iowa will receive roughly $5 billion over five years in new federal funding for infrastructure projects, according to the White House. Stuart Anderson, director of the Iowa Department of Transportation, said the funding boost represents a 25 percent increase in the first year, and increases to a 35 percent boost by the fifth year.
Mohawks gone: Mason City schools will drop the mascot "Mohawks" in favor of a brand that doesn't exploit Native American tribal symbols and imagery. The Mason City Board of Education voted to retire the "Mohawk" name and mascot and begin the search for a new mascot in January.
Bridge open: The new twin spans of the Interstate 74 bridge between Iowa and Illinois are being delivered more than a year late and $74 million over bid. A public celebration is planned for Dec. 1, and the Quad Cities bridge will open to traffic in the days following the event, Iowa Department of Transportation officials said.
Loophole issue: A "loophole in the law" that local authorities hope to close has prevented the Johnson County Attorney's Office from pressing serious charges against the man identified as shooting a projectile into the head of a passing Marine and badly injuring him.