University of Iowa to pay high school students for good grades, playing sports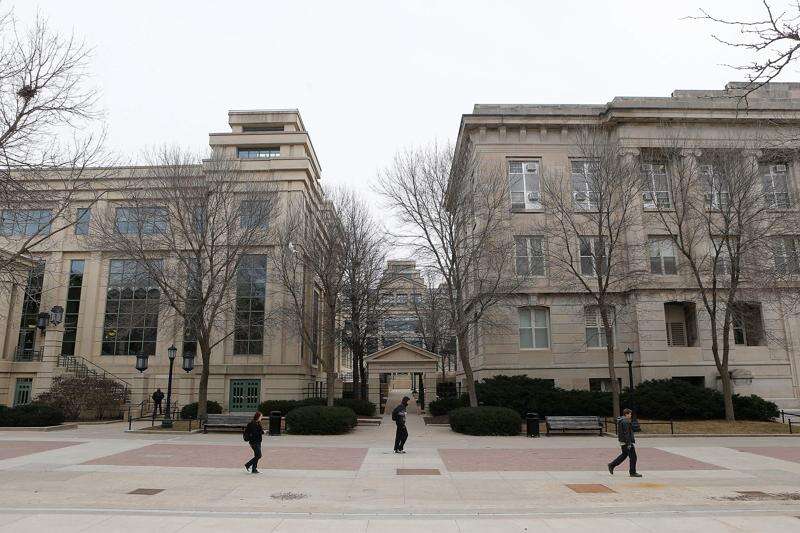 The prospect of getting paid for good grades, extracurricular involvement, perfect attendance, and even participation in a sport now is reality for thousands of Iowa high schoolers - and not just those with parents willing to dish it out.
The University of Iowa on Wednesday joined five private colleges across the state and more than 100 institutions nationally in offering 'micro-scholarships" through Raise.me, an online platform allowing students as early as 9th grade to earn money for academic and extracurricular achievements.
The university's four-year pilot agreement with Raise.me enables students to earn up to $1,200 toward UI tuition through a series of accomplishments - $25 for getting at least a B in algebra I or $100 for taking four years of the same foreign language, for example.
Not all Iowa high school students can participate in the UI offer. Rather, administrators identified as eligible just the school districts in each of Iowa's 99 counties with the highest rate of students who qualify for free- and reduced-lunch.
That includes the Cedar Rapids, Davenport, Sioux City and Des Moines Independent community school districts.
And UI administrators were scattered in those larger districts statewide Wednesday to roll out the Raise.me partnership, which officials said is being funded through general UI scholarship dollars.
UI President Bruce Harreld was at East High School in Des Moines for the announcement, Vice President of Student Life Tom Rocklin was at Jefferson High School in Cedar Rapids, and others were stationed in Waterloo, Sioux City, and Council Bluffs.
'The initiative is designed to encourage and improve college readiness for high school students across Iowa," Rocklin told a crowd of Jefferson students and staff Wednesday.
Raise.me approached the University of Iowa to participate in the program, Rocklin said, and administrators will assess its success after the first four-year pilot phase.
'If it works well, we will expand it," Rocklin said.
Students who logon and start racking up scholarship dollars - in many cases for achievements they've already attained - could use their dollars toward other participating schools, as long as they qualify. But each institution has varying requirements and award values, and if participating students don't go to a participating school, they lose the money they've earned.
Still, officials said Wednesday, the program aims to benefit every student who uses it - regardless of if they take the money - by encouraging them to take rigorous courses and get involved in school activities.
'The activities for which Raise.me provides scholarship money are activities that we know lead to success in college and are things that students sometimes don't do," Rocklin said.
Like taking that next year of math, he said.
'Big help in college," Rocklin said. 'And Raise.me is going to keep you on the track to take those courses."
Courses that earn money for students aren't necessarily advanced-placement or college-preparation courses, but Rocklin said Raise.me does emphasis math, science and foreign language.
'So even if a student ultimately decides not to attend the University of Iowa, they will be better prepared for success at any postsecondary institution," he said. 'That is our No. 1 goal."
The UI pilot project is available to students in grades 9 to 12, and it doesn't prevent students from applying for and receiving other scholarships. Earning Raise.me dollars doesn't ensure admission to UI, but officials said students who attend an Iowa community college and earn an associate degree can use the Raise.me dollars if they transfer to Iowa.
After Wednesday's announcement, some Jefferson students immediately jumped online and signed up - racking up hundreds of quick dollars through courses they've already taken and activities they've already participated in.
'I'm signing up right now," Jefferson junior Taleah Birkicht, 16, said. 'A lot of it we've already done. And it seems easy enough."
Hailey Everhart, 16, also is a junior at Jefferson and said she plans to sign up for the program even though she's not sold on attending the University of Iowa.
'I had it on a list as an option but I'm kind of on the fence about if I want to go there or not," she said. 'If I do end up going there, this would be nice to have."
Jefferson junior Connor Wooff, 16, and several of his peers, said $1,200 in the bank at UI could sway their decision on where to attend. And junior Madison Barmore, 17, said she's hopeful another year in high school will open up options for using the scholarship funds.
'It would be nice if other larger universities got involved with it too," she said.
Iowa State University looked at the program but 'opted not to participate at this time," said John McCarroll, executive director of University Relations.
'We concluded that while it has some good aspects, it doesn't fit our strategies for recruitment and financial aid," he said in an email to The Gazette.
UNI Financial Aid and Scholarships Director Joyce Morrow called the prospect 'intriguing."
'We are looking at the possibilities for future years," she told The Gazette in an email. 'Money is always an issue and we are looking at the resources available to UNI in order to participate."
The other private schools in Iowa offering micro-scholarships include Cornell College in Mount Vernon, Drake University in Des Moines, Clarke University in Dubuque, Dordt College in Sioux Center, and Buena Vista University in Storm Lake.