University of Iowa student's family recants claims of hate crime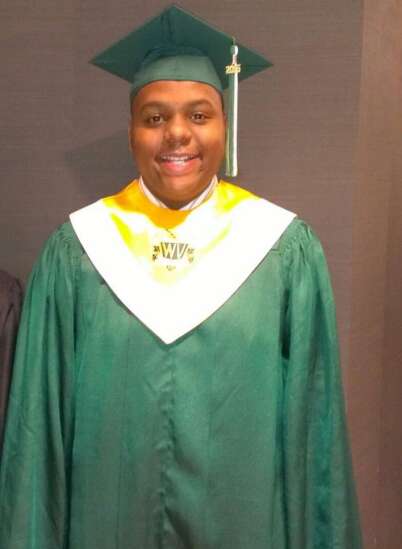 IOWA CITY — Marcus Owens, the black University of Iowa student whose family claimed he was the victim of a hate crime and racial slurs at the hands of three white men, has issued a public apology after an Iowa City police investigation showed him to be involved in three fights during the hours the assault was alleged to have occurred.
'Upon learning more details of the case, and while racial slurs served to fuel the violence, Marcus now knows that his account of events was inconsistent with police findings,' a statement from Owens and his family reads, 'in part due to alcohol being involved, his embarrassment at his behavior, as well as injuries he sustained.'
Owens' family concedes that the events, which began in the late hours of April 30 and continued into the early morning hours of May 1, were not a hate crime as they originally told a Chicago TV station. Iowa City police, who investigated the crime, referred the case to the FBI. The FBI determined the actions of that night did not meet the criteria to be labeled a hate crime.
No charges are expected to be filed, the police department said in a news release.
'All evidence gathered supports that this was an isolated incident that stemmed from an ongoing disagreement,' the release states.
Owens originally reported to Iowa City police on May 2 that he had been assaulted by three white men in the alley way of the 200 block of Iowa Avenue on April 30. Owens told police the attack happened between 10 and 11 p.m. Owens suffered several injuries, including broken teeth, during the fight.
Iowa City police began their investigation into Owens' allegations on May 2. Investigators were able to interview multiple witnesses and used video surveillance footage to piece together what took place.
According to police:
Owens, 19, a freshman at UI, entered Eden Lounge at 11:43 p.m. on April 30. Video footage shows Owens involved in a fight at Eden Lounge at 1:32 a.m. on May 1. Two minutes later, video footage shows Owens pushing and punching another person. He was removed from the bar by staff one minute later.
At 1:36 a.m., Owens attempted to re-enter the bar, but he was kept out by bar staff.
Additional video footage shows Owens being involved in another fight at Iowa Avenue and Linn Street, a short distance from Eden Lounge, at 1:41 a.m. Four minutes later, Owens was involved in a third fight, police said. Witnesses told officers Owens grabbed another subject and attempted to hit him.
Following the third altercation, a University of Iowa police officer came upon the scene and Owens walked home.
Multiple witnesses told police Owens was worried about how he would explain his injuries to his family.
Police said the fights appeared to have stemmed from disagreements involving Owens, who is a pledge member of the Pi Kappa Alpha fraternity, and a member of the Kappa Sigma fraternity. Both fraternities cooperated with the investigation and described the matter as an 'isolated incident,' that began inside Eden Lounge, police said.
Police said a racial slur was used during the second altercation, but that alone did not meet the criteria to label the matter a hate crime.
News of the incident first reached the Iowa City community after a news report aired on a Chicago TV station on May 3. The allegations triggered a backlash on campus, with some — using the hashtag #ExplainIowa — demanding to know why a Hawk Alert wasn't issued. UI officials said they learned of the incident only after the TV report aired.
Owens met with UI President Bruce Harreld, who vowed to review UI police protocol, after it was determined Owens was turned away at police headquarters when it was determined the assault occurred off campus.
'We now recognize this as a failure in current UI protocol and will be working with many campus and community partners, including UIPD, to improve reporting mechanisms for the future,' Harreld said May 4 in a statement delivered to the campus community. 'The University of Iowa is working to create a climate of inclusion, and this hate crime demonstrates we have a great deal of work left to do.'
A news conference on the investigation is scheduled to take place today at City Hall.
l Comments: (319) 398-8238; lee.hermiston@thegazette.com