University of Iowa Health Care eyes 'fast track' medical degrees, more research funding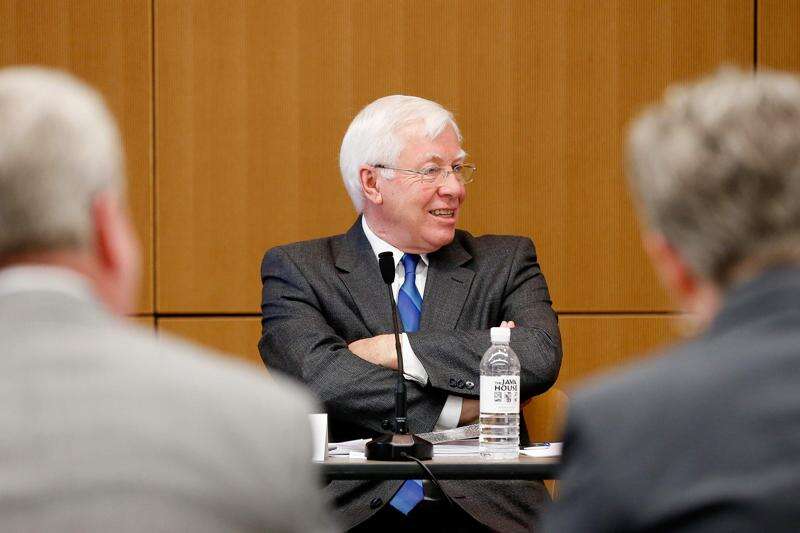 IOWA CITY - Innovation is central to the University of Iowa Health Care enterprise - not only in areas of research, but in policy, practice, and education.
Jean Robillard, UI vice president for medical affairs, on Tuesday said it must stay that way and become even more paramount to the health care system's mission as it moves into the future.
'If we want to differentiate ourselves from our competitors, grow our research enterprise, and continue to lead as one of the top academic health centers in this country, we need new strategies, new approaches, new structures, new resources, and new relationships," Robillard said during his state of the enterprise speech. 'We need to reinvent ourselves."
To do this, Robillard said, UI Health Care must ensure it gets its 'fair share" of funding from the National Institutes of Health, which has reduced current and constant dollars for research by about 25 percent since 2003. It also must find unique ways to collaborate, recruit new esteemed faculty members, and efficiently and effectively train the next generation of health care providers.
'Can we offer a combined bachelor's and MD degree in six or seven years?" Robillard said.
Moving from student to practicing clinician traditionally takes at least 11 years, Robillard said, leaving graduates with an average of more than $160,000 in debt. The traditional 11 years includes four years of undergraduate education, four years of medical school, and three years of residency training - and some paths take longer.
But Robillard on Tuesday challenged the College of Medicine to investigate ways to 'shrink this long lead time from education to active practice" while also maintaining quality. He said some medical schools across the country are successfully operating six- or seven-year medical programs. Some remove the requirement for four years of undergraduate education before entering medical school, while others might offer condensed graduate school programs, for example.
Robillard said medical schools require four years of training based on a recommendation made in 1910.
'Can we do better, or at least offer to our students some choices?" he said. 'Some studies have suggested that, in fact, the average duration of medical training could be safely reduced without a negative impact on educational outcomes."
Fewer than a dozen of the country's 124 medical schools are currently offering or considering three-year programs by, for example, eliminating some electives and including summer sessions.
Robillard asked whether UI could move from a time-based curriculum to a competency-based program with more flexible and individual learning plans. And he suggested rethinking residency and fellowship programs, possibly shortening them for students more interested in practicing than research.
He suggested using technology to accelerate medical education - enabling virtual learning that can be more flexible.
'I believe we should seriously consider these 'fast track' alternatives," Robillard said. 'And I am eager to work with the leadership of the College of Medicine to explore the possibilities."
Following Robillard's presentation Tuesday, Debra Schwinn, dean of the College of Medicine, said the organization is rolling out a new curriculum, and officials are looking into the possibility of developing abbreviated degree options.
'No decisions have been made, but it's a possible opportunity," she said. 'We are open to all kinds of things - whatever we can do to make sure students are prepared for the future."
On the research side of the UI Health Care enterprise, Robillard on Tuesday said he wants to be equally aggressive. Research is the way forward, he said, but it's not a self-supporting endeavor. It requires internal support, philanthropic aid, and a dramatic increase in federal funding.
To that end, he announced UI Health Care will be investing $20 million a year over the next five years - or $100 million total - to support advances in research. The money will be used to recruit new faculty, collaborate with other centers and institutes, and increase funding from the National Institutes of Health.
New faculty could receive research-related packages of between $2 million and $4 million over a five-year period - although researchers bringing teams of scientists could receive special consideration, Robillard said.
The goal, he said, is to establish a new generation of 'world-class researchers" at UI and build on a broad foundation of innovation across an array of specialties. One example of the UI's research foundation came shortly before Robillard's presentation Tuesday when the Institute of Medicine released a report on statistics and survival rates of cardiac arrest in the United States.
Dianne Atkins, a UI pediatric cardiologist, was a primary author on the 370-page report, which also assessed existing lifesaving techniques and recommended strategies to improve survival rates.