Tuition hike in Iowa could be just the beginning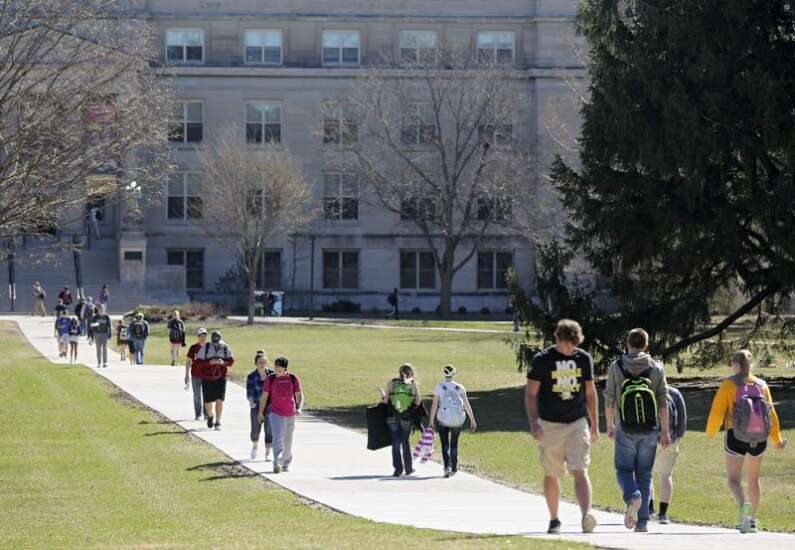 CEDAR FALLS — The Board of Regents surprised no one Thursday when it unanimously agreed to a larger-than-planned tuition increase starting this fall in response to dramatic cuts in state support.
But the board also started a conversation that could lead to even sharper increases on some campuses in the years to come, and to wider gaps between the three state universities in resident undergraduate tuition rates.
With the action at a meeting here, the increase for resident undergrad students at the University of Iowa, Iowa State University and the University of Northern Iowa this fall comes to $358 more than last fall — a 5 percent bump.
Other categories of students — graduate and professional students, those from outside Iowa and students in more costly programs — will see steeper hikes.
That rate differentiation, as well as across-the-board increases, are expected to continue as the board kicked off the larger discussion of crafting five-year plans.
Those tuition plans could stair-step rates annually — bringing the campuses on par with higher-priced peer universities around the nation and equipping them with more resources to better compete for top faculty and researchers.
New tuition plans also could widen the undergrad residential rate gap between the three universities, which for decades has been narrow to non-existent.
'There is a general trend that we do want to allow the universities to maybe make some adjustments based on their own needs,' board President Mike Richards said. 'Have the presidents of the universities run the universities, and we'll support what they do.'
UI President Bruce Harreld, who has been arguing for more campus control, said Thursday that reprioritizing the budget enabled the UI to raise salary averages to 95 percent of the peer group median.
'Let me be clear, this is just the first step,' he said. 'As this just gets us to a competitive level based on last year's salary information. Not this year. Thus, while we have begun the process of digging out of our salary hole, we still have several more rungs to climb on this ladder.'
But some have raised concerns about increasing tuition too much.
'Our Republican-led state government has not done its part to keep the door to college open for average Iowans,' state Sen. Herman Quirmbach, D-Ames, said in response to the rate hikes. 'We must do everything we can to ensure that average kids are not priced out of an education or burdened with crushing student debt that prevents them from ever getting ahead.'
Regent Larry McKibben pressed Harreld on his plan for taking care of first-generation students and low-income applicants. Without backing off his push for more increases, Harreld acknowledged a larger financial burden 'on an awful lot of people.'
'So as we take that up, consistent with that increase, we also need to be increasing our student financial aid — both merit as well as need-based,' Harreld said.
To kick off the task force, the board Thursday heard from Robert Toutkoushian, a higher education professor with the Institute for Higher Education at the University of Georgia.
He named Iowa's strengths — including a strong interest in public higher education and an anticipated moderate growth in high school graduates. He also called out weaknesses, including the shrinking state support and insufficient tuition revenue.
Toutkoushian showed evidence that the UI and ISU are at the bottom of their peer groups in tuition and fees. For instance, the UI, which reports a tuition and fees total of $8,676, was nearly half the group's highest rate — $15,698 at the University of Illinois.
This fall's increases — and those that could come — align with national trends shifting the cost of public higher education from state coffers to students and parents.
In Iowa, the portion of the public institutions' general fund revenue that comes from state appropriations has gone from 77 percent in the 1980s to 32 percent now.
As recently as December, when the board approved a 2 percent increase to resident undergrad rates, then-board President Bruce Rastetter said that would not go up as long as lawmakers came through with a 2 percent increase in appropriations.
But the Legislature fell far short. Faced with a state budget shortfall, lawmakers clawed back $20.8 million from the universities in the current budget that ends June 30, and cut another $9.6 million from 2018.