Tornado tears through northern Linn County, hitting Prairieburg
By Gazette staff
Jun. 28, 2017 10:52 pm, Updated: Jun. 29, 2017 10:32 am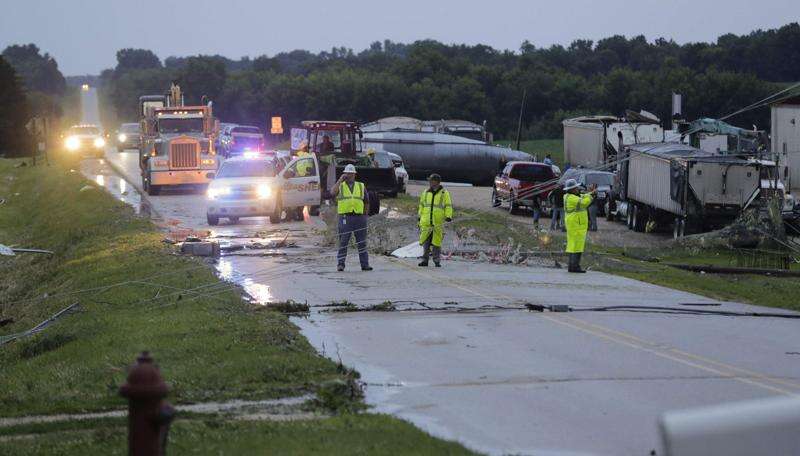 PRAIRIEBURG — One woman was injured, several buildings were damaged, and downed power lines left much of the town dark after a tornado swept through Prairieburg Wednesday evening.
According to Lt. Greg McGivern of the Linn County Sheriff's Office, the woman suffered non-life-threatening injuries when the garage at her home on the south side of the city collapsed on her.
McGivern said Prairieburg received the most damage from the tornado that originated near Central City around 6:50 p.m. and headed northeast through Prairieburg, which has a population of about 175 people.
The tornado heavily damaged a grain elevator on the south side of Prairieburg, knocked down power lines and damaged several farm buildings as it continued its path out of town.
McGivern said that power for much of the town was out, and Alliant Energy was on its way to help Wednesday night.
'It's going to be dark for a while,' McGivern said. 'We're going to have as many cars in here lighting it up as possible.'
As the tornado made its way out of town it also hit the farm of Justin Plein, 39.
Plein's brother Josh, 37, of Cedar Rapids, traveled up to help deal with the aftermath, as the tornado demolished the farm's horse and pole barns, pulled the roof off a garage and also damaged the farmhouse.
In addition to the damage to buildings, Josh Plein said the tornado killed one of the three horses at the farm, with the other two horses receiving treatment for injuries by a veterinarian on scene.
Josh Plein said his brother was not at the farm at the time the storm hit, but his sister-in-law and her two children, ages 1 and 4, huddled for safety in the basement.
'They're shook up. I think the kids are less shook up than she is,' Josh Plein said, adding others from around town had begun to congregate to pitch in picking up the pieces Wednesday night.
'I don't know half these people to be honest,' he said.
Tom Kluesner, 39, who was in his basement with his wife and young children when the tornado hit, said he has faith residents will help each other clean up in the coming days.
'We are all good enough neighbors, we'll find a home for everybody,' he said.
The tornado crumpled an old grain bin right outside Kluesner's home.
'It was kind of eerie how quiet it was,' he said.
Though he lost some out buildings, trees and has damage to the trim on his house, Kluesner said the property was largely untouched.
'Our house was made in 1888 and I'm surprised it's still standing,' he said. 'We got other people's property in our yard and our property in other peoples yard but we are OK.'
The tornado touched down in Prairieburg, shortly after a tornado warning was issued for Linn County at 6:36 p.m. Wednesday, said Andy Ervin, a meteorologist for the National Weather Service in Iowa.
He said the National Weather Service received several reports and photographs of funnel clouds across the state, including areas southwest of Des Moines and in Eastern Iowa.
He said numerous spotters were able to see the tornado that hit Prairieburg.
'We won't know totals for several days,' said Ervin. 'We'll conduct storm surveys starting tomorrow and days after that.'
Ervin said storms moved east across the state Wednesday at variable speeds, some reaching 35 mph and others 50 mph or more. He said the storms produced hail as big as a quarter and, in some cases, as big as a baseball.
Many of those attending opening day at the Linn County Fair in Central City on Wednesday were in the grandstand when the storm hit.
Cellphones began buzzing when the National Weather Service issued the tornado warning.
Among those in attendance was Jennie Clemens, who said she ran up the hill from the grandstand to the presentation building with her youngest son.
'I saw the side of (the presentation building) cave in a little bit,' Clemens said. 'So we had to move to a different building.'
Her husband and other son did not follow Jennie to the presentation building.
'I didn't know where they were at, so I was scared,' Clemens said.
After the all-clear was given, Clemens went back to the grandstand to find her other family members. Her stepdaughter surprised her by running and hugging her as tears streamed down both their faces.
'She lives in Alburnett,' Clemens said. 'She said she could see it over the fairgrounds, so she was scared.'
As a second storm cell approached the area a short time later, the fairgrounds were evacuated.
Ervin, of the National Weather Service, said Eastern Iowa residents should continue to monitor the weather on Friday because more storms are expected.
'We have another chance of thunderstorms in the afternoon and evening,' Ervin said. 'The main severe weather threat appears to be south of Interstate 80, but it's still a day where we'll have to keep an eye to the sky.'
The forecast on Saturday and Sunday calls for mostly sunny skies with a 20-percent chance of thunderstorms both days.
— Michaela Ramm, Makayla Tendall and Sarah Muller of The Gazette contributed to this report.