To selfie stick, or not to selfie stick?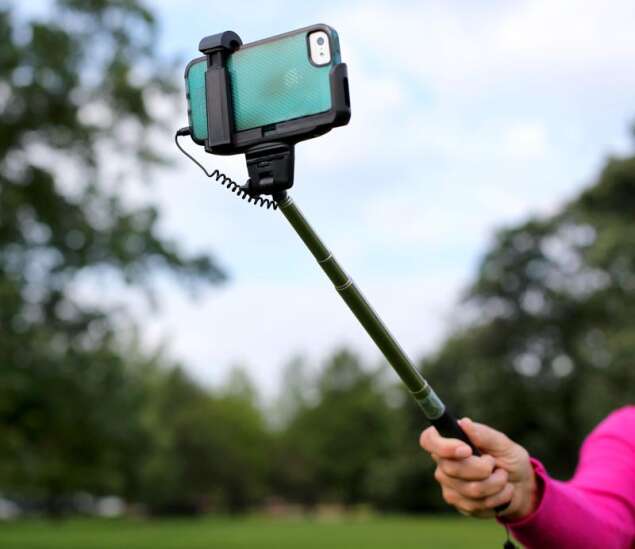 It can be really challenging to squeeze your entire posse into the self-portrait you're trying to snap with just an arm's length between you and your camera or smartphone.
Hence the selfie stick - a revolutionary monopod that has transformed the self-portrait scene over the past few years by capitalizing on the continued rise in popularity of the 'selfie" - defined as 'an image of oneself, taken by oneself, using a digital camera especially for posting on social networks."
Yes, 'selfie" officially made it into Merriam-Webster's Collegiate Dictionary last year - the vocabulary equivalent of 'making it big."
But it's not been all trending, going viral, and #awesome for selfie sticks.
Walt Disney World - aka 'the Happiest Place On Earth" - recently rejected the trendy stick, banning it from all four theme parks in Florida, its two Disneyland parks in California, its water parks, and from Disneyland Paris and Hong Kong Disney.
Eric Olson, Iowa State University event management professor and former Disney employee, said he expects more venues and event organizers to follow suit. Like Des Moines's AdVentureland, for example, which just this month banned selfie sticks in the park and Adventure Bay for 'safety reasons."
'I do think, in the industry, you are going to start seeing more of these bans," Olson said. 'And I think rightfully so."
For starters, Olson said, the three-foot-long sticks pose safety threats. Disney first forbid selfie sticks only on bigger rides after some guests whipped them out while aboard, causing concerns for nearby riders and prompting operators to halt the attractions.
But then distraction concerns emerged as well for guests attending shows and parades near selfie-snapping stick users.
And the sticks got the ax.
Molly Vincent, AdVentureland spokeswoman, said the theme park didn't see any selfie-stick injuries before instituting the ban July 3, although officials were worried they might. They did field some complaints from guests who had their views obstructed during shows and performances, however.
'People are using them and not paying attention to their surroundings …
and people behind and around them are being disrupted," Vincent said. 'We want the best guest experience for everyone."
AdVentureland didn't initially ban selfie sticks because they weren't seeing much use. But she said that has changed this season, and a 'fair number of people" have tried to pull them out on thrill rides or during shows.
'So we decided to follow suit," she said.
The Iowa State Fair, scheduled from Aug. 13 to 23, has not changed its selfie-stick policy - meaning they still are allowed. But fair spokeswoman Mindy Williamson said officials discussed it - along with other members of the International Association of Fairs and Expos.
'It's on our radar for sure," she said. 'As popularity grows, I'm sure it will pop up more in conversations."
Two sides
Musical festivals such as Coachella in California and Lollapalooza in Chicago announced selfie-stick bans for this year's events.
But there are two sides to the selfie-stick debate, said Olson, who worked as an operations manager for Disney from 1999 to 2005 before landing at Iowa State.
Although they can be a distraction and a danger, Olson said, selfies and the sticks that enable them also can be a great way to promote a park or event - free - through social media use. The Des Moines Arts Festival, for example, had a selfie promotion.
'Word of mouth can be very beneficial," Olson said. 'A lot of festivals want to encourage the use of social media …
. But the stick just presents a larger issue."
As for psychological and societal implications and repercussions from the surge in selfies, ISU psychology professor Zlatan Krizan said, he thinks there are few. Sharing stories and experiences is an ancient practice, he said, even if methods and means have changed.
And taking photos of oneself - or at least getting in photos someone else is taking - has been a common practice for generations. It's only now getting more attention thanks to the trendy 'selfie" term, Krizan said.
Even sharing those photos is nothing new, he said. It just happens faster now - within seconds - thanks to social media.
'I think there is some level of narcissism, but it's a level that has become socially acceptable and expected and, by that, kind of changes it and makes it less narcissistic," he said. 'Everything has shifted about how we self-present."
One technology-driven change that has had broader societal implications, according to Krizan, is the acceptance of widespread phone use.
'It seems like there is this feeling that it's OK to take your phone out almost anywhere," he said.
That, according to Krizan, is driving some of the new regulations - such as those involving selfie sticks.
'I'm sure the bans around this will continue," he said.