TIMELAPSE: Volunteers help reassemble Paramount Theatre seats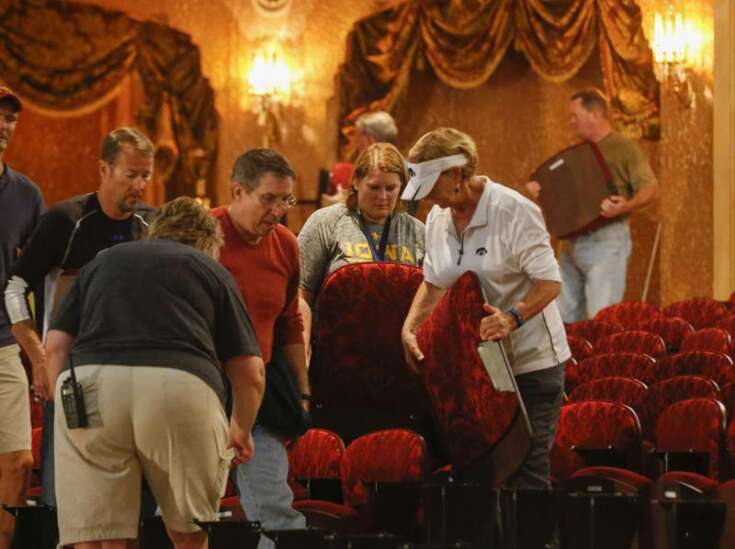 CEDAR RAPIDS — More than 50 volunteers marched up and down the stairs of the Paramount Theatre in downtown Cedar Rapids Saturday, toting the backs of chairs and seat cushions from the top floors of the theater into the main room.
Workers and volunteers were putting the venue back together after the seats were taken apart the previous Sunday and stored on upper levels to avoid water damage that could have been caused by the flood. Paramount is hosting a Celtic Thunder concert Sunday at 7:30.
Volunteers were lined up outside the theater when it opened at 8 a.m. Saturday, said Jessica Cornett, employee with VenuWorks, the company that manages Paramount events.
Though the theater escaped flooding this year, damage done to the building in 2008 caused the theater to be closed for four years.
That memory was enough to bring out Alice Hoffmeier, 81, who has volunteered with Cedar Rapids Symphony and Orchestra Iowa since the 1960s. Hoffmeier, from Cedar Rapids, climbed up and down the stairs of the theater, holding seat cushions with one hand.
'It's a wonderful testimony to the camaraderie of Cedar Rapids,' Hoffmeier said of the volunteer efforts. 'Cedar Rapids is the City of Five Seasons and the fifth season is the one to enjoy. So we enjoy coming to the theater, and we have to get it back up. It's a treasure.'
Tina Stewart of Marion and her daughter, Natalie, 11, said they are thankful the theater was only closed for about a week, Tina and Natalie were at the last performance before Paramount closed last week.
'I was really worried the Paramount would go under because I was devastated when it flooded in (2008), and waiting for years for it to come back was like forever,' Tina said. Theater 'kind of takes you away from everything.'
Sharon Cummins, VenuWorks executive director, said she has the volunteers and city to thank for the lack of damage in the building.
'We couldn't do it without these volunteers,' Cummins said. 'It just shows how important the Paramount Theatre is to the community. I think it's because since 1928, the theater has hosted a huge, diverse kind of programming. Whether you're a young child or a senior citizen, there is programming throughout the year that couldn't be hosted in Cedar Rapids if the Paramount wasn't here.'