Time to get ready for 2015-16 for RoughRiders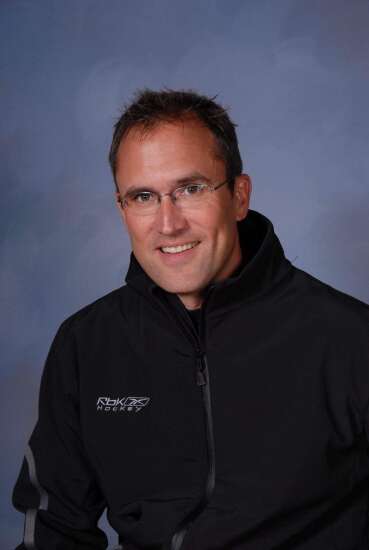 CEDAR RAPIDS - Mark Carlson apologized for being especially intense Monday afternoon.
The season is over for his Cedar Rapids RoughRiders, but there are a lot of things going on for the head coach/general manager.
He had one final meeting scheduled later in the day with his 2014-15 team. He had just had a meeting with assistant coaches Doug Leaverton and Shane Connelly about putting together a team for 2015-16.
The man had reason to be especially intense.
'Now it's one thing to focus on," he said. 'All year, we've been focused, obviously, on practices and game plans and games and scouting. We've really been at this (scouting) since last June, so a lot of our work is done already. Now we are double checking on everything, phone work, research and conversations with families and players and all those kinds of things."
The first phase of the United States Hockey League draft is May 3, with the second phase the following day. Phase One is for players under 17 years old, with the RoughRiders already using their first pick in that draft by tendering forward Liam Walsh of the Victory Honda program in suburban Detroit.
The second phase is for any other available player. The RoughRiders will conduct tryout camp June 4-7 at the Cedar Rapids Ice Arena.
'We have some good potential returners up front and some guys we really like on our futures list who will try to make the team," Carlson said. 'We should be off to a good start there, and now we've got to build on that."
Carlson hesitated to gives names of guys on the team's affiliate list of younger players that could provide impacts next season. Defenseman Alec Semandel played a couple of games this season as an emergency injury fill in.
He and Jacob Hayhurst, Tyler Jeanson, Jack Ahcan and Matt Filipe are guys RoughRiders fans should probably get to know. The list of possible returning players is 12: goaltenders Ben Blacker and Ryan Larkin, defensemen Derek Daschke, Bryce Hatten, Matt O'Donnell, Mitch Reinke and Logan Von Ruden, and forwards Hugh McGing, Casey Jerry, Zach Court, Cal Burke and Ross Colton.
Burke had 20 goals and 20 assists this season, Colton 18 goals and 15 assists. The top three scorers will move on to college or professional hockey: Erik Foley (27 goals, 27 assists), Andrew Oglevie (21 goals, 32 assists) and Jiri Fronk (29 goals, 21 assists).
Foley and Fronk will likely be taken this summer in the 2015 National Hockey League draft.
'We like both of our goalies, but, not to nitpick, I don't want to use the word 'comforting' when it comes to any of our guys, any of our positions on our team right now," Carlson said. 'Everyone has got to train, everybody has got to do everything they are supposed to do (in the offseason)."
The RoughRiders finished second in the Eastern Conference in the regular season with a 39-21-0 record and 78 standings points. They began the season white hot at 20-3, going 19-21 the rest of the way, including being swept in three straight games by Dubuque in the first round of the playoffs.
'I thought it was a tremendous team. I really enjoyed them," Carlson said. 'I thought they were a real tight team that worked hard and the majority of the time put the team first. They had an excellent year. Everybody needs to learn things from what we went through in the playoffs.
'The thing that very easily gets lost in this whole thing is, for me, winning is great, you strive to win and you want to do all those things. But when it's all said and done ... Improving as players, improving off the ice with leadership and teamwork and all those things, in the end, that's really what it's all about. That's what really makes you proud as a coach. Yes, we want to win a championship. Yes, we want to make better runs in the playoffs. No question about that. At the same time, those other things are extremely, extremely important and special, in my opinion."
l Comments: (319) 398-8259; jeff.johnson@thegazette.com