Time Machine: Italian race car finds its way to Cedar Rapids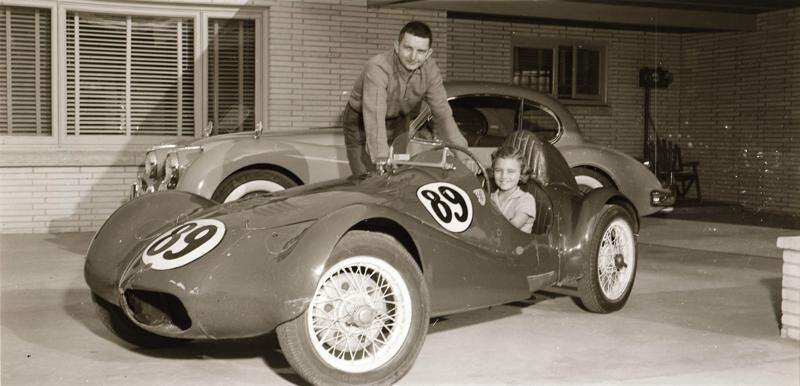 The Giaur Lancia Moretti, a rare Italian race car, was being built for Italian Formula One driver Felice Bonetto, who planned to race it in 1953 in the Mille Miglia (thousand mile) road race in Italy. But when Bonetto was killed in November 1953, in the Carrera Panamericana race in Silao, Mexico, work on the car stopped.
Paul Gougelman bought the Giaur, had it finished, shipped it to the United States and raced it. In 1956, it was sold to sports car owner Sandy MacArthur of Lake Forest, Ill. MacArthur, who liked Mercury engines, drove it more than a dozen times that year before selling it in 1957 to John Wessale, partner in Cedar Rapids' Waconia Sorghum Co.
John Oswald Wessale moved to Cedar Rapids with his family in 1926, graduating from Grant High School in 1935. He earned his mechanical engineering degree in 1939 from the University of Iowa and an aeronautical engineering degree in 1940 from the California Institute of Technology. Not only was Wessale an avid pilot from the age of 17, he loved building and racing sports cars.
Wessale had seen the Giaur in 1955 at an Iowa City race. When he bought it in 1957, he believed it was one of only two in the United States. The other was owned by a Texan.
The 780-pound car was created from components of several cars, Wessale said, but most of the running parts were from Fiat. Typically, the Giaur was built with a modified 750-cc Fiat engine, but this car's engine was a two-cycle, 50 horsepower Mercury outboard motor installed on its side. It was capable of 10,000 rpm and was one of the noisiest cars in the Class H sports category.
'If I can get a muffler to quiet the motor enough, I might license it for highway driving," Wessale said in a 1957 Gazette interview. Racing or highway driving had to wait while the engine was overhauled. Wessale took the car apart and examined each piece. It then was repainted.
Wessale also had to figure out a modification to allow his 6-foot-2-inch frame to fit in the sports car.
The Wessale family lived in a house near the sorghum mill, south of Hawkeye Downs. The Giaur shared a garage with the family car, a Jaquar XK140.
Waconia was the country's largest producer of sorghum syrup. It was started in 1880 by John Wessale's grandfather, also named John, who made sorghum on his farm in Waconia, Minn. He built a factory there in 1900, but the business had grown substantially by 1925, and the company decided to build a new plant in Cedar Rapids. Three sons, Frank, Edward and George, inherited the plant. John was the third generation of Wessales and was Frank's son. He shared responsibility for the plant with his brother Bob and cousins Lyle and Glenn.
Wessale drove the Giaur in Sports Car Club of America races in the Midwest from June 1958 until September 1963.
As for Waconia Sorghum, its 10-acre site was acquired by Archer Daniels Midland in January 1980. ADM razed all of Waconia's buildings to make room for an office and parking space for Corn Sweeteners. John Wessale had already retired from the company and John's nephew, David Wessale, then vice president of Waconia, said the sale meant the end of the firm, one of the last to produce sorghum syrup in the United States.
John Wessale died Dec. 17, 2004, in Bethesda, Md.