The latest on the polar vortex in Eastern Iowa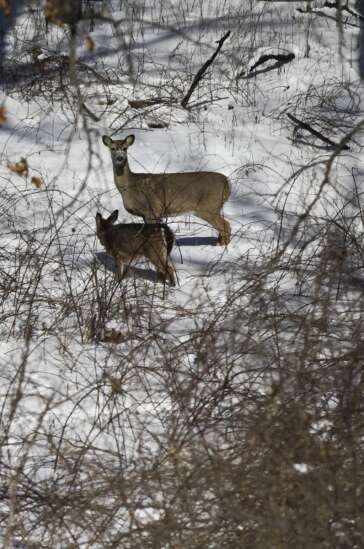 Hang in there Iowa - it will be Friday before we see temperatures above zero in the Corridor, but Saturday will be above freezing.
The subzero temperatures suspended mail delivery, and closed schools and businesses - even Quaker Oats and Collins Aerospace in Cedar Rapids told employees to stay home Wednesday. Air temperatures are expected to dip to 30 below zero Wednesday, and wind chills are worse, between minus 45 and as low as 60 below.
Schools throughout Eastern Iowa canceled classes Wednesday and Thursday. Iowa City schools had already announced Thursday closings, and Cedar Rapids, College Community, Linn-Mar, Marion Independent, Clear Creek Amana, Solon and Mount Vernon districts and Xavier Catholic announced Wednesday afternoon that classes will be canceled Thursday, too. State universities and other area colleges will resume classes by midday Thursday.
Temperatures broke records in the Cedar Rapids area Wednesday, hitting 25 below zero, besting the record of 22 below set in 1951. National Weather Service meteorologist Mike McClure in the Quad Cities said temperatures could drop even more before midnight Wednesday.
Record lows also are expected Thursday, with temperatures predicted to reach 29 below, which would beat the record low of minus 21 set on the same day in 1996. If temperatures reach 29 below, that would tie the coldest temperature on record for January, set on Jan. 15, 2009. The weather service records only go back to 1893.
A windchill warning is in effect until 10 a.m. Thursday.
Weather service and local officials say to stay indoors, but if you must go outside, pile on layers and cover exposed skin - in these temperatures, frostbite can happen in five minutes or less.
For more tips on how to manage the cold weather and information on where to go to stay warm, read The Gazette's FAQ: How to make it through the Polar Vortex 2019.
Cedar Rapids officials are not anticipating ice jam-related problems at this time, but they are continually monitoring the river level, weather conditions and dam settings.
'Should any difficulties arise, water division staff are ready to respond," said Philip Platz, a spokesman for the public works department.
Ice jam-related flooding on the Cedar River caused damages in the Time Check neighborhood in 2013. Indian Creek saw ice jams in 2015.
Jon Nania, U.S. Geological Survey hydrologist, told The Gazette in 2014 ice jams typically occur during fast-thawing events that cause the ice to break up and float down the river until it reaches a point where it contracts, or there is a bend in the river, and the ice gets stuck. Because water continues to flow, an ice jam can cause water to pile up behind the ice - which in turn can cause flooding - until it can break loose.
Cedar Rapids is expected to see a 73-degree swing in temperatures by this weekend from 24 early below zero Thursday morning to 49 degrees on Sunday.
Meanwhile, public works staff plan to conduct visual inspections of bridges following the cold temperatures, but significant damage is not anticipated, said Emily Breen, another spokesperson for public works.