The Gazette's Good News Review of 2022
Bright spots in the lives of Eastern Iowans
While life has its ups and downs, let's take a moment to remember some of the successes, milestones and celebrations featured in The Gazette this year.
10-year-old cancer "warrior" completes cancer treatment
Bella Saul, 10, was first diagnosed with cancer at age 3. At first, it was rhabdomyrosarcoma, a soft tissue cancer. After completing radiation therapy, Saul lived cancer free for five years. In March 2022 she was diagnosed with osteosarcoma. This is a story of resilience and bravery that ends with classmates celebrating Saul's 'graduation' from cancer treatment.
Flood control arrives in Cedar Rapids
A $1 million floodgate installation in downtown Cedar Rapids a milestone in flood mitigation in Iowa. The floodgate is designed to roll across First Avenue and lock in place to protect downtown from flooding. Cedar Rapids government reporter Marissa Payne reports a similar gate is planned for the west side of the Cedar River. Meanwhile, Congress passed Cedar Rapids flood control legislation that is expected to be signed by President Joe Biden.
Veterans honored with Washington, D.C. flight
This year, Eastern Iowa Honor Flight took hundreds of Iowa veterans to the nation's capitol for sightseeing and thanksgiving. The Gazette joined two Eastern Iowa Honor Flights to tell the stories of our vets. Watch Bailey Cichon's video story above and read Elijah Decious's chronicling of veterans' stories.
Vinton-Shellsburg Middle School recognized by U.S. Department of Education
Vinton-Shellsburg Middle School was named a Blue Ribbon School by the U.S. Department of Education. This award was given to just five Iowa schools and Vinton-Shellsburg was the only middle school recognized. Teachers say extended learning opportunities are the key to student success. Some of those opportunities include auto shop, photography, and yoga classes.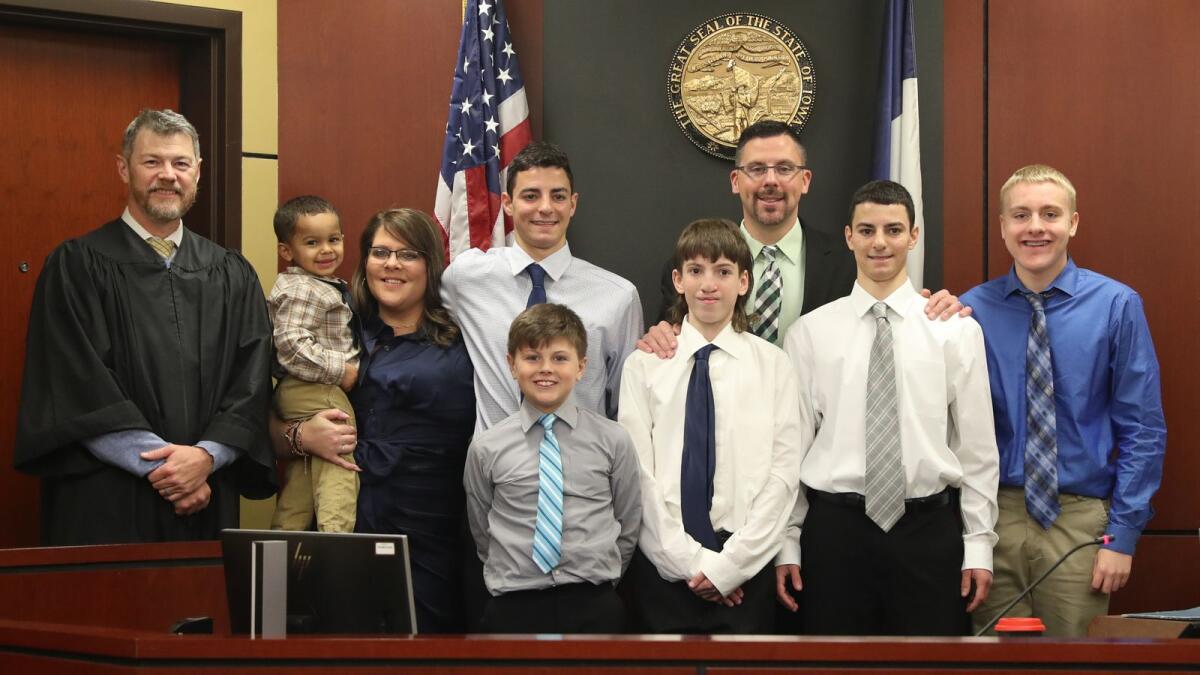 An adoption three years in the making
A Hiawatha family's years-long journey to adopt Ukrainian children Bogdan, Ilya and Kolya ended November 18. The process, which was supposed to take nine months, began before Russia's invasion of Ukraine.
CRPD and Animal Care and Control receive Humane Society award
Cedar Rapids Police Department and Animal Care and Control have been recognized for humane enforcement of animal protection laws. The Humane Enforcement Award was presented by Iowa state Director of the Humane Society of the United States Preston Moore. Subsequently, Mayor Tiffany O'Donnell declared the week of Dec. 26, 2022 to Jan. 2, 2023 "Humane Treatment to Animals Week."
Iowa City student creates pollution-reducing invention
Iowa City West High School student Shanza Sami, 14, is working to stop climate change. Sami invented an air filtration device that could reduce emissions from cars. It's called Pura Aerem and it won third place at the 3M Young Scientist Challenge in St. Paul, Minnesota.
Beekeeping instills patience, pride
The Anchor Center for Women is a space of healing. There, women learn to rehabilitate out of the criminal justice system — and raise bees. ,
Comments: bailey.cichon@thegazette.com