Tait Purk murder trial in the hands of jury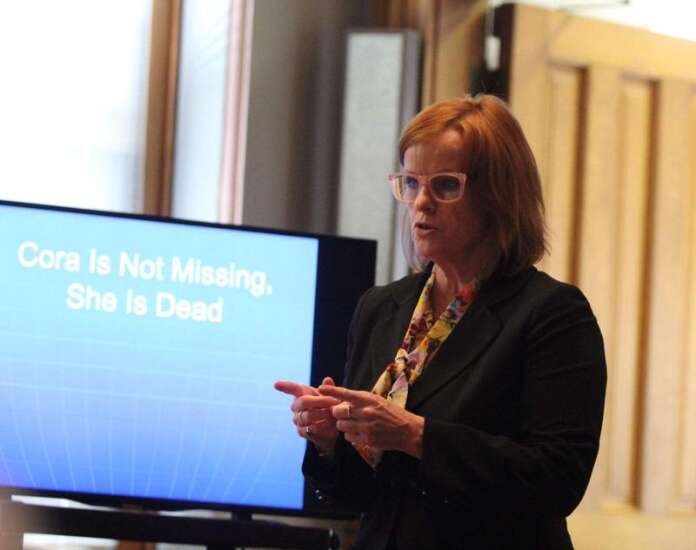 MARENGO - The fate of a Tama man accused of killing his fiancée 17 years ago is now in the hands of a jury.
Jurors began deliberations around 3:35 p.m. Tuesday in the first-degree murder trial of Tait Purk, 50, who is charged with killing Cora Okonski, 23, who disappeared on April 16, 2000, after leaving the couple's home. After about 90 minutes of considering the case, the jury went home for the day and is to resume deliberations on Wednesday.
Prosecutors allege Purk killed Okonski and buried her in a remote area. The defense argues there is no proof Okonski is even dead as her body has never been found.
'She isn't missing. She's dead," Assistant Iowa Attorney General Laura Roan told jurors Tuesday morning in offering closing arguments.
Standing directly in front of the defense table, Roan leveled both her index fingers at Purk and continued, 'the defendant killed her."
She noted that Okonski, who had mental health issues and substance abuse problems, never picked up her Social Security disability checks after April and never gave the government a forwarding address for the checks.
Purk, who said Okonski simply left and never returned, had told authorities they had been arguing about possibly postponing their pending wedding, according to testimony.
The state's crucial evidence came from two witnesses - a man who said Purk had told him he killed his girlfriend because she was going to go to authorities about his involvement with a stolen truck and a store burglary, and a man who had been in prison with Purk who said Purk told him he had 'choke slammed" Okonski and then buried her.
Roan said the fatal attack wasn't an accident. She said Purk knew how much pressure was needed to incapacitate Okonski because witnesses had seen him do it before. This time it was different, she said.
'What happened wasn't an accident. What happened wasn't in the heat of passion," Roan said.
She also noted that Okonski had told a neighbor that Purk had threatened to kill her that day.
'He said he was going to do it, and he did it," Roan said.
Defense attorney Scott Hunter, in his closing arguments, reiterated there is no evidence Okonski is even dead.
'They don't have any witnesses who can testify they saw it happen. They are guessing, they are speculating and they are bringing in witnesses with rumors and hearsay and inconsistent statements," Hunter said.
Hunter characterized the state's main witnesses as 'case jumpers" - people who went to authorities with information about Purk in an attempt to take care of their own legal troubles.
Even if jurors accept the account for the former inmate who said Purk recounted how he 'choke slammed" Okonski following an argument, Hunter said the state also lacked any evidence that Purk intended to kill Okonski.
'Their best evidence, if you believe it, is an accident," Hunter said.
In an attempt to pick apart the account of a witness who said Purk had described burying Okonski in a hole so deep he needed steps to climb out, Hunter said the effort would have taken several hours - hours Purk didn't have before heading into work.
Hunter said investigators ignored accounts of people who had reported seeing Okonski after she allegedly died, including a Tama bartender who reported seeing her at his establishment around 11 p.m. that night, two Chicago truck stop employees who identified her through a photo and a Chicago resident who knew Okonski and reported talking with her.
Hunter also read excerpts from intake notes from care workers who worked with Okonski in the months leading up to her disappearance. They painted a picture of chaos involving daily bouts with anxiety and outright panic attacks and abuse at the hands of a prior boyfriend. Purk was the person who helped her obtain a lawyer to fight for custody of her then 18-month-old son, they said.