Study finds few GED grads go on to college
Patrick Hogan
Jun. 19, 2012 6:30 am, Updated: Sep. 27, 2022 3:22 pm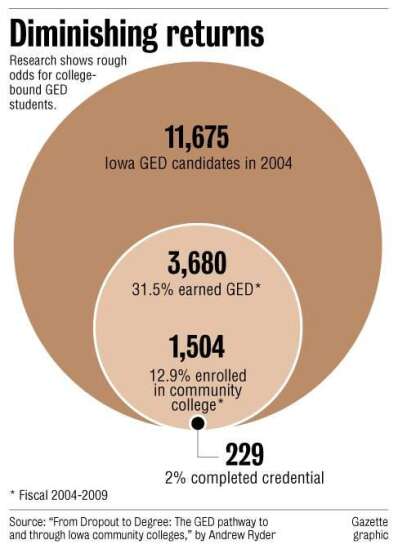 For high school dropouts trying to complete their education, the GED test may seem like the final step.
The reality is it's probably closer to the middle, said Marcel Kielkucki, who directs high school completion programs at Kirkwood Community College.
"If you look both at Iowa and nationally, you see a lot of agreement that the GED has to be changed in the mindset of people, from the end-all-be-all to just the next step," he said.
It's a step where many Iowans struggle. An Iowa State University study shows a minority of students complete the GED program, with even fewer going on to college.
ISU researcher Andrew Ryder tracked the progress of all candidates entering a GED program from fiscal 2004 through fiscal 2009 - about 11,675 students. Only 31 percent of that class earned high school equivalency degrees, with 13 percent moving on to community college and 2 percent receiving a degree or certificate.
The results align with Kielkucki's experiences at Kirkwood. Most GED candidates are capable learners, but the family or personal issues that caused many of them to leave high school in the first place can resurface, he said.
"Not having a GED isn't a problem until I lose my job and I can't get another one because I don't have it," he said. "So I'll work on the GED until another job opens up and then that takes precedence."
Kirkwood is trying new methods of GED prep that include a strong focus on training beyond the test. The school recently piloted a GED Academy that includes classes on career skills and gives students an opportunity to take non-credit welding classes.
Scott Shover, a 33-year-old Anamosa native, felt the Kirkwood Monticello Center drove home the importance of looking beyond the GED when he started its program. He dropped out of high school at 16 because of problems with other students and declining grades, but his instructors helped put him back on track. He completed the GED in 1995.
"I don't know where I would've been if I didn't get that," he said.
Shover went on to get a degree in automotive technology from Western Iowa Tech Community College in Sioux City and is working on starting a new business in Marion.
He is also in a minority group among people who pass the GED and go on to college: men.
Ryder's data shows both genders enter and graduate from GED programs at an equal rate, but only 37 percent of those who go on to college are men. Numbers are even lower among those receiving postsecondary degrees - only 29 percent male.
Ryder attributes this to a perception among many men that jobs in areas such as manufacturing and construction don't require further training, when a community college credential can be the difference between a temporary job and a career.
"Everyone from Bill Gates to small-business owners will tell you that's the problem with middle education," he said. "We have a lot of jobs you don't necessarily need a bachelor's degree, but still are technologically complex and require more training."
Data from Iowa Workforce Development says 18 percent of the state's jobs are low-skilled, while 38 percent of the state's workers fall into that category. Half of the state's jobs require middle skills with some postsecondary training, but only 33 percent of the work force is qualified.
There is something students can do to improve their chances of passing the GED test and making it into college: Set a goal. The ISU study found that GED candidates with the stated goal of passing the test and moving on to college had a higher probability of seeing things through.
"If we have folks in GED prep and people managing GED transition who can help them with those goals, I think that's where you're going to see a significant difference," said Ryder.
Goal-setting is an important aspect of Kirkwood's GED program, said Kielkucki. The approach worked for Shover, who attributes much of his success to instructors who helped him think about his long-term future.
"When you get people who really do care, it really helps," he said.