Students demand public forum with new University of Iowa president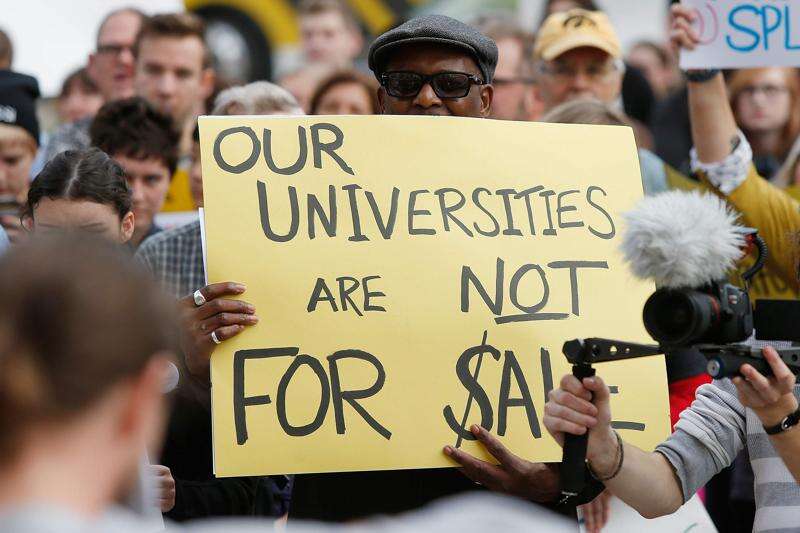 IOWA CITY - A group of University of Iowa students is demanding the institution's new president hold a public forum to 'enable every concerned member of this campus community to have their voice heard and questions answered."
The university's graduate student union - Campaign to Organize Graduate Students, or COGS - is leading the push for a forum with Bruce Harreld, who started as UI's 21st president last week after being chosen by the state Board of Regents on Sept. 3.
COGS - in partnership with Iowans Defending Our Universities, a group formed after Harreld's hire to protest what it calls the 'illegitimate search" that produced an 'illegitimate UI president" - has planned a news conference Monday to announce upcoming actions in response to the appointment.
Iowans Defending Our Universities will sponsor a public assembly Tuesday night for all UI community members wanting 'to learn about the Harreld appointment and what it means for them, and to discuss how they can get involved in the fight to defend public education in Iowa."
In response to the students' demand for a public forum, UI spokesman Jeneane Beck said Harreld has met with student leaders on multiple occasions and joined student veterans for lunch on his first day.
'Some students he's meeting one on one. Others are in groups," she said, adding that Harreld over the next few weeks plans to meet with the Black Student Advisory Committee, Student Advisory Committee on sexual misconduct and Student Philanthropy Group.
'These small groups tend to allow for a more open and constructive conversation, and it's a pattern he'd like to continue," Beck said. 'At this point, President Harreld is doing more listening than talking."
Ruth Bryant, a spokeswoman for COGS, told The Gazette she emailed Harreld directly late Tuesday asking him to 'respond openly to our concerns" at a public forum.
'What concerns?" Harreld wrote back within 15 minutes, according to emails provided to The Gazette.
Bryant didn't list any specific concerns, saying she cannot speak for the 'entire university community," and she again pressed him on whether he'd participate in a forum.
'Hard to have forum when we don't have a topic," Harreld replied at 1:26 a.m. Wednesday.
Bryant told Harreld the forum would allow community members to raise whatever questions or concerns they have.
'All it would entail is you announcing a forum, showing up, and engaging with those whom you were appointed to lead," she wrote. 'Would that be too difficult?"
Harreld said he'd be 'glad to sit with you one on one to discuss this." But Bryant said she'd agree to that only if she can invite the entire campus community and do it in a public place.
'Barring that, I'm not interested," she wrote. 'It's not what I asked for. Secret meetings have caused enough trouble for this university."
Bryant, among the hundreds who protested Harreld's hire during the Board of Regents meeting last month and on the UI campus during his first day last week, said she believes Harreld is being 'incredibly evasive."
'At this point, he hasn't made himself publicly available to his constituents," she said. 'As a new president, it's really unacceptable."
Harreld, who has a largely business background with experience at the top of IBM, Boston Market Co. and Kraft General Foods, said he's spent the weeks since being named UI president reaching out to and meeting with campus administrators, faculty, staff and students.
He also has had conversations with community organizations and leaders, requested extensive amounts of data, and put together a preliminary plan on 'faculty vitality" aimed at recruiting and retaining top educators.
On Tuesday, following a taping of 'Iowa Press" for Iowa Public Television, Harreld said the protests and pushback have not been fun. But, he said, many community members have been supportive and helpful during his first days in office.
Bryant told The Gazette many students and faculty are concerned about 'privatization of public institutions" and what the appointment of a businessman means in that regard. But she said the concerns go deeper than Harreld - to the Board of Regents and the governor's office.
'They are the disease," she said. 'Harreld is the symptom."
Bryant also cited student concerns around rising fees and tuition rates and vague information about how the university is using that money. She said students have questions on social issues they want to run past Harreld.
'Bruce has only responded with word salad," Bryant said. 'A meaningless jumble of words that doesn't address the concerns of those on campus."