Sen. Chuck Grassley looking for White House action, not legislation, to resolve ethanol waiver problem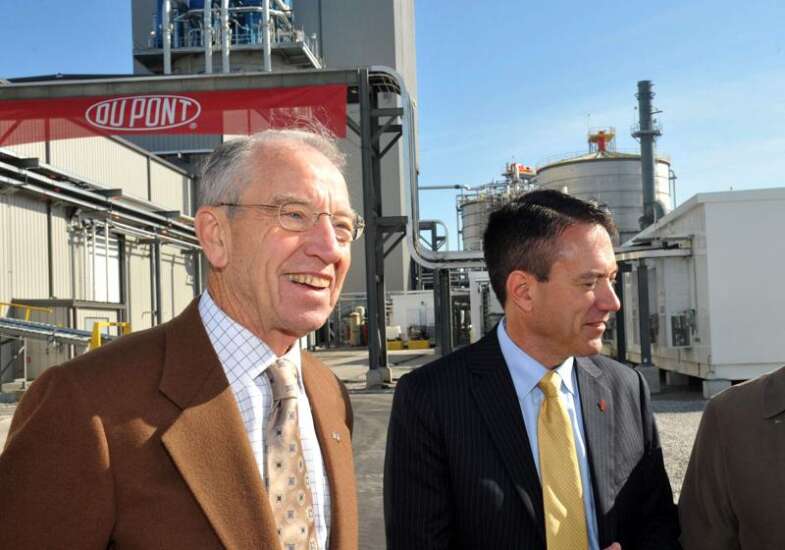 Both Sen. Chuck Grassley and Iowa Gov. Kim Reynolds are hoping the president soon will announce a resolution to the problems faced by ethanol and biodiesel producers after the Environmental Protection Agency granted 31 waivers to oil refiners.
Grassley said he's had a 'positive feeling" since leaving a meeting last week with President Donald Trump and farm state senators.
'I think we've got something that the industry and I, as a senator, can support. But I'm not going to say absolutely until I see it on paper because I figure Big Oil has a big influence on the EPA," Grassley said during his weekly conference call with Iowa reporters.
Iowa Gov. Kim Reynolds said on Wednesday that she, too, is waiting to see details 'in writing."
'We would like it sooner rather than later because that will go a long ways to provide the certainty that (Iowa's ethanol and biofuels industries) are looking for," Reynolds said by phone from Washington, D.C., where she is attending meetings of the American Workforce Policy Advisory Board.
'We're seeing ethanol and biofuels plants idled kind of on a weekly basis so we know that the timing is critical," she said.
Trump is to meet Thursday with senators to discuss biofuels policy in an attempt to negotiate a deal over how much ethanol should be blended into the national gasoline, according to the Reuters news agency.
Trump has inserted himself into the negotiations between the rival oil and corn industries to try to appease both groups, which helped win him the presidency in 2016 and could play a key role in his 2020 re-election bid.
If a deal is achieved, some observers expect Trump will come to Iowa to announce the solution to the ethanol waivers problems. Those waivers led some ethanol producers, including two or three in Iowa, to close.
Reynolds said she believes a balance can be achieved that meets the federally mandated 15 billion gallons of ethanol under the 2007 Renewable Fuel Standard - a federal law that requires refineries to blend corn-based ethanol into their gasoline or buy credits from those that do.
The law allowed EPA officials to grant waivers to distressed oil refineries but reallocates the blending requirements to other, larger refineries so ethanol and biofuel production is not jeopardized.
'What we're saying is you can still issue exemptions (to small refineries), but then the other larger refineries have to make that up because we have to get to the net 15 billion gallons," the Iowa governor said. 'It has to be net 15 billion gallons. The others have to make that up. That is the law."
Grassley said it's possible for Trump to achieve a 'win-win" for the ethanol and petroleum industries.
Congress could address the situation legislatively, but Grassley warned there might be more to lose than to be gained from that approach, adding he was concerned lawmakers' lack of knowledge of ethanol and the influence of the petroleum industry could make matters worse.
'I wouldn't want to say there's anti-ethanol feeling prevalent throughout Congress, but there's an ignorance of ethanol," Grassley said. 'If we had to rely on getting a bill up to correct these problems, I would be fearful that it could be amended, and we might not have an RFS. So I don't want to deal with it legislatively."
Reynolds said she is 'more than happy" to host Trump in Iowa if the agreement turns out to be what was verbally agreed to last week when Iowa elected officials and the biofuels industry presented a 'unified" message on how they expect the Renewable Fuel Standard to be implemented.
The governor said she spoke with Vice President Mike Pence Tuesday evening and was told 'as far as he knew, things were moving forward."