Rooftop spaces adding to downtown Iowa City experience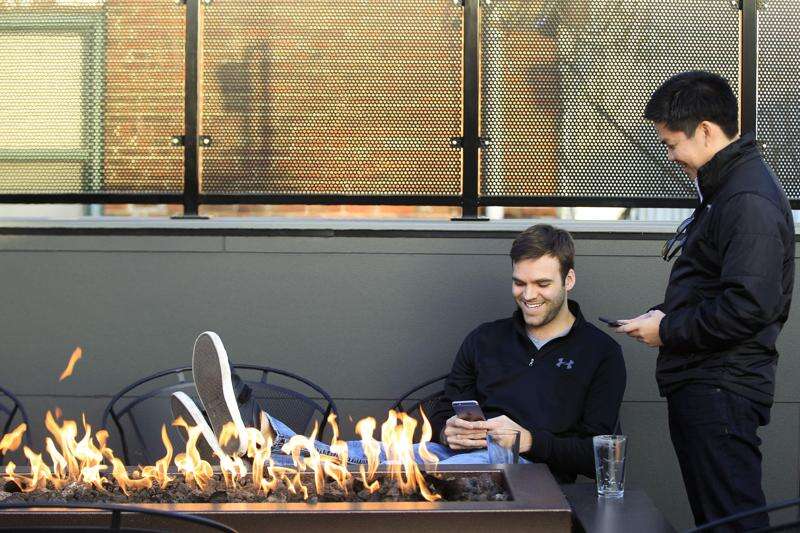 IOWA CITY - James Chounramany and Tyler McDermott sat on a rooftop patio in downtown Iowa City on Wednesday evening enjoying a cold beer and the last hour or so of daylight.
The men said Joe's Place, 115 Iowa Ave., has a reputation as a graduate student bar and, as such, has become a favorite watering hole. Both are students at the University of Iowa College of Medicine. Chounramany and McDermott said they were both excited when they heard Joe's Place would be adding a rooftop bar to the business and said Wednesday they are impressed with the outcome.
'I think it's a good addition to downtown Iowa City," McDermott said.
And, citing restaurants and bars like Big Grove in Iowa City and 30 Hop in Coralville, the men said there's just something about being able to have a drink outdoors. It's something they said they'd like to see more of in Iowa City.
'There's not too many places to go hang out outside in downtown Iowa City," Chounramany said.
High Interest
The Joe's Place rooftop bar opened earlier this month and The Vue, a bar and restaurant atop the Hilton Garden Inn just south of downtown opened this week. City leaders said there's an interest in adding more rooftop features in Iowa City and new regulations are in place to make that an option.
Iowa City Manager Geoff Fruin said city officials were getting a lot of inquiries about rooftop spaces when Joe's Place owner Brian Flynn approached them to see about adding his rooftop bar. Fruin said representatives from bars, restaurants and apartment buildings had asked about different rooftop uses. Other businesses in the city already have taken advantage of their roof areas, including FilmScene, which hosts outdoor movie screenings; and hotelVetro, which uses an elevated patio for special events.
'Joe's Place wasn't the first inquiry we received," Fruin said. 'We were starting to see a significant amount of interest and still have interest that comes forward. It really forced us as a staff to think about what are the appropriate uses of rooftops and how do we mitigate any concerns that come from their use?"
'Something Special'
Using Joe's Place as a test case, the city made code changes to allow for the rooftop bar. The regulations require an elevator to make the rooftop areas accessible, setbacks to prevent drinks or other items from falling onto the sidewalk below, light and noise mitigation efforts and a provision requiring food service.
The Joe's Place rooftop bar features a firepit, televisions, tables and chairs, heating devices and the bar itself. Flynn said the bar was built out of a second floor apartment that he previously used as an office.
'Basically, I took the old windows and doors out and made it into an actual, accessible bar," Flynn said.
To address the food issue, Flynn opened PiZan, a quick-service pizza joint next door and cut a hole in his first floor wall, allowing pizza to be served from next door.
Flynn said he spent 'a lot" on the rooftop renovations, but believes it will be a worthwhile investment.
'It's a good complement to my business currently," he said. 'It gives us something a little different. The first guy that tries something usually spends the most time and money doing it."
Nancy Bird, executive director of the Iowa City Downtown District, said a rooftop venue is a 'huge attractor" for the downtown.
'They really do provide something special and new to the downtown," Bird said.
Property evaluation
Both Bird and Fruin said making use of rooftop space is not something that will be viable for every business, particularly existing buildings that would have to meet the same regulations as Joe's Place. John Yapp, development services coordinator for the city, said some existing buildings simply weren't built to handle that kind of weight.
'It would take extensive remodeling and shoring up to be able to do it," Yapp said.
That said, Bird said the Downtown District does have a property evaluation program that helps business owners assess their spaces to see what areas - including rooftops - might be underutilized. Information about the property evaluation program can be found on the Downtown District's website at downtowniowacity.com.
'We always explore whether or not there can be a balcony or rooftop experience," Bird said, noting examples like a rooftop garden.
Fruin said the city doesn't expect to see a lot of existing properties converting their rooftops into usable spaces, citing the costs and regulations. But, new properties could implement those elements. Fruin said RISE at Riverfront Crossings, a student apartment building, will have a rooftop area for tenants.
'I think we're seeing more and more of it, particularly in newer development," Fruin said. 'We may see a little bit of an increase in existing properties."
He added, 'I think it adds something different to the area. ... It helps us continue to build the image and appeal of downtown Iowa City."
l Comments: (319) 398-8238; lee.hermiston@thegazette.com