Researchers: Why companies need to address workplace violence, bullying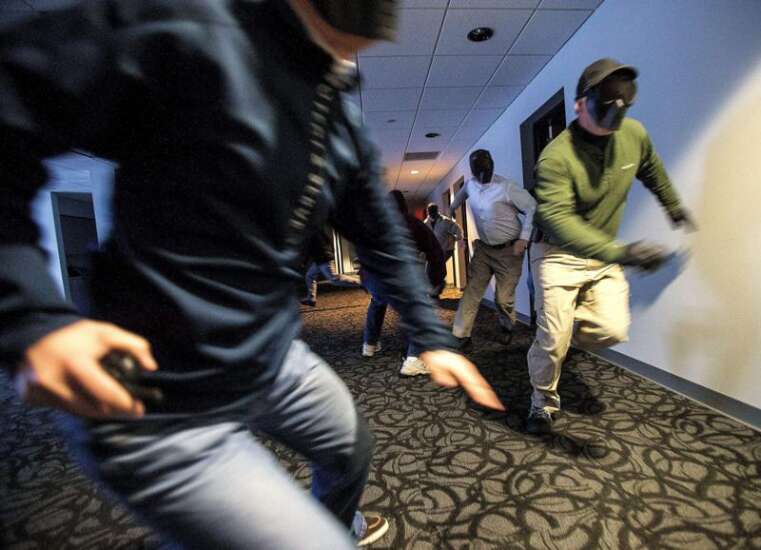 Better communication, support for victims and increased training are the keys to reduce workplace bullying and violence, according to two researchers in Iowa.
While active shooter situations receive more attention, those are not the only, or the most common, types of workplace violence, said Carri Casteel, associate professor of occupational and environmental health at the University of Iowa, who has studied workplace violence prevention.
'The thing that gets highlighted in the media a lot are the types of violence that tend to be rarer," Casteel said.
Incidents that have snared national headlines in recent years have included shootings at Sandy Hook Elementary School in Newtown, Conn., in 2012, at a potluck in San Bernardino, Calif., in 2015 and at Orlando's Pulse nightclub last June.
In fact, more than 13 percent of the 4,836 fatal workplace injuries in 2015 nationwide were caused by intentional injuries from an individual, according to federal data. Those numbers include 417 homicides and 229 suicides.
Of workplace homicides involving female victims, 43 percent were fatally assaulted by a relative or domestic partner, compared to 2 percent for male victims.
'What we're recognizing more and more, from a national perspective, the percentage of deaths due to workplace violence that are due to an intimate partner are increasing and have been increasing over the past couple of decades," Casteel added.
To help reduce violent incidents, Casteel said companies should make sure their entire staff is trained on violence prevention policies. The type of training can vary depending on employee responsibilities, but everyone should be aware of how to handle a violent situation.
While not as sensational, bullying in the workplace is far more common. A 2014 survey by the Workplace Bullying Institute found that 27 percent of respondents have had 'experience with abusive conduct at work" and 72 percent said they were 'aware" of workplace bullying.
Workplace bullying is more than just a 'playground problem," said Stacy Tye-Williams, assistant professor of communication studies at Iowa State University.
'Managers need to become skilled at being able to help people navigate these situations so that it just doesn't sort of spread like a cancer and create problems like turnover and bad attitude," Tye-Williams said.
In a recent survey, Tye-Williams found that victims are often given unhelpful advice on how to address bullying. Often victims were told to quit their jobs, stand-up to the bully or just to deal with it - steps that may do nothing to alleviate the situation.
As victims are left with that advice, Tye-Williams said, they can pass it on to other co-workers.
'I think that when you're in the situation, you often feel stuck and, honestly, if you knew a good alternative that worked you probably would have used it," she said. 'This same advice keeps getting cycled because the people who are in these situations aren't able to come up with advice that is helpful."
Left unchecked, bullying can cause a 'trickle effect" throughout the workplace, she said.
'This isn't just that it's between a bully and the target. Everyone else in the organization is aware that something is going on whether or not they choose to address it," Tye-Williams said.
Collective resistance, or co-workers standing together against a bully, is one of the most effective ways to stop bullying, Tye-Williams said. Families and co-workers should listen to a victim without judgment.
If they hear a complaint, human resources staff need to ask enough questions to get all the facts of a situation, she said. Victims, even if they are emotional about being bullied, should try to present their story in a straightforward and factual manner, Tye-Williams said.
'If you go to HR, go in there with your story planned out because they're listening for certain things," Tye-Williams said.
While companies have a duty to create a safe work environment, Tye-Williams and Casteel pointed out that ignoring problems can cut into businesses' bottom lines.
'From a company perspective these types of events affect their bottom line, it increases medical claim costs, it reduces worker productivity, it reduces worker retention, morale is affected, job satisfaction is affected," Casteel said.
If an employee makes the company aware of a bullying situation and no action is taken, Tye-Williams said, the organization can become liable.
l Comments: (319) 398-8366; matthew.patane@thegazette.com