RAGBRAI heads through Coralville — both celebrating anniversaries
July 22-29 bike ride starts in Sioux City, ends in Davenport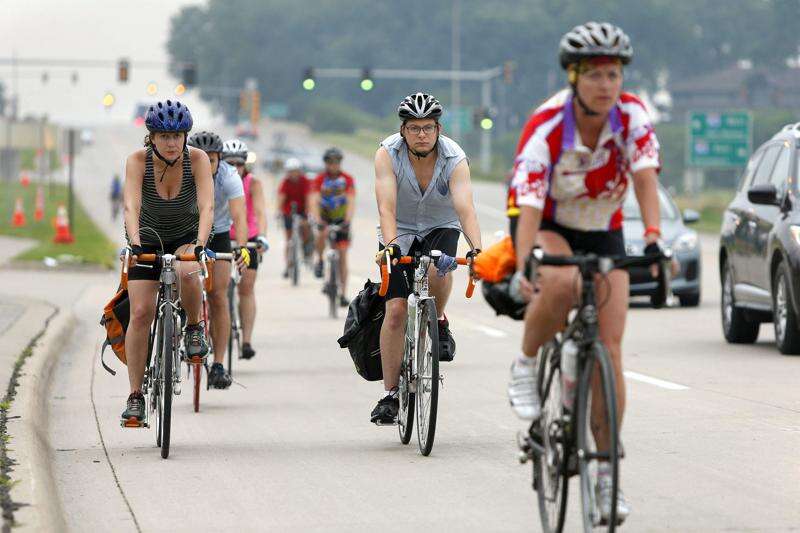 For its 50th year this summer, RAGBRAI will head back to Coralville as one of its overnight stops on the 500-mile ride.
Since a pair of newspapermen challenged each other to ride their bikes across the state in 1973, what has evolved into the internationally-known Register's Annual Great Bicycle Ride Across Iowa has included Johnson County among its overnight stops on eight occasions.
But Coralville officials felt especially compelled to bid for a featured role in this year's July 22-29 route — given the 50th year of RAGBRAI aligns with a meaningful occasion for the city: its 150th anniversary.
"It's something that we really look forward to and hoped that we could make work," Coralville City Administrator Kelly Hayworth told The Gazette. "The 50th anniversary of RAGBRAI is obviously very special, and RAGBRAI has been very special to Coralville."
The city got its wish Saturday when RAGBRAI announced its 2023 route will weave through Coralville on July 28 — marking the city's sixth time as an overnight host.
The full RAGBRAI route will start July 22 along the Missouri River in Sioux City and head 77 miles northeast to Storm Lake — mirroring the first two stops on the original 1973 ride across Iowa.
From Storm Lake, this year's route will head 62 miles south to Carroll and then 82 miles straight east to Ames. Riders then will head 50 miles south to Des Moines before taking on a 82-mile trek to Tama-Toledo.
Tama precedes Coralville on the route, meaning riders will have to overcome 80 miles to partake in the festivities celebrating both the 50th and 150th anniversaries.
The route's final day of 66 miles will take riders to Davenport and its banks of the Mississippi River on July 29 — the same place the first cross-state expedition wrapped five decades ago.
"I'm going to ride part of it," said Hayworth, who's done 28 RAGBRAIs — but acknowledged the massive undertaking hosting the ride entails. "I haven't determined how many days that I will be able to do. But I will definitely be starting in Sioux City."
Coralville already is organizing its hosting responsibilities, putting together 20-plus committees to help coordinate entertainment, housing, food and cleanup.
"They have what they call the Bible of what you need to do to be successful," Hayworth said of RAGBRAI's host-city guide. "We intend to follow that to the T."
The effort will require 500 to 600 volunteers, he said, including community members willing to house riders or feed them or clean up after them, for example. That effort ties into the city's history, Hayworth said.
"Back in the 50s, 60s and 70s, the Coralville chamber at that time, their motto was 'the hub of hospitality,' and I think that carries over to today," he said. "Hospitality is important to our economy. It's important to our community. And this falls right into that."
Hayworth said he expects this year's RAGBRAI to generate peak participation — given the anniversary and easing of COVID-19 concerns, with vaccines and treatments more widely available.
Big numbers could be an economic boon to the area, said Josh Schamberger, president of Think Iowa City, the Iowa City/Coralville area convention and visitors bureau that helped land the event.
"RAGBRAI definitely creates a positive economic impact, there's no question," he said. "More than anything else, you're provided the opportunity to showcase your community to people truly from around the world."
This year's event already has registrants from all 50 states and more than 15 countries, Schamberger said. But rolling out the welcome mat can be costly too — and community leaders banded together several years ago to advocate for more support from RAGBRAI for overnight towns.
As part of a renewed partnership between RAGBRAI and the Iowa Destination Marketing Alliance, ride organizers in 2020 unveiled a list of commitments including:
Increasing contributions to its eight overnight towns from $8,500 to $15,000;
Providing the seven "meeting towns" in between with $10,000;
Promising a donation of at least $15,000 to an overnight town's charity of choice;
And setting an annual fundraising goal of $1 million for each year's route communities.
"More investment is being made into the overnight towns," Schamberger said. "They're starting to cover the costs of entertainment, which is a substantial amount of any overnight budget. … It's been a really good deal, and it's made it more attractive for overnights to go and bid on RAGBRAI."
RAGBRAI organizers said this year's route will be the sixth longest and sixth steepest in its history. The remainder of the route, including the meetup towns, will be announced later.
Early registration for the ride continues through May, then the prices increase. For now, it costs $45 for daily riders and $200 for weeklong riders. For registration information and to see answers to frequently asked questions, visit ragbrai.com.
Take the quiz!
RAGBRAI history in the Corridor
Years RAGBRAI has stayed overnight in Johnson County:
1976 — Iowa City
1995 — Coralville
2001 — Coralville
2006 — Coralville
2008 — North Liberty
2011 — Coralville
2015 — Coralville
2018 — Iowa City
Years RAGBRAI has stayed overnight in Linn County:
1978 — Mount Vernon
1990 — Cedar Rapids
1994 — Marion
2004 — Hiawatha
2012 — Cedar Rapids
2015 — Hiawatha