Public gets first look and the sights and sounds of the new Hancher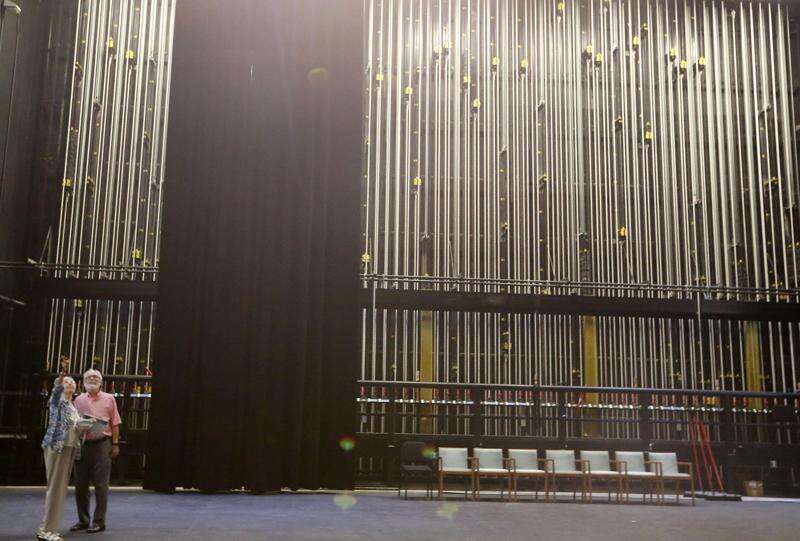 IOWA CITY — 'Hancher is for everybody,' Executive Director Chuck Swanson told more than 1,000 eager audience members attending the ribbon-cutting ceremony Friday afternoonfor the shining new star on the University of Iowa arts campus.
And the festivities included a little something for everybody, beginning with jugglers and stylish performers strolling on stilts or posing in avant-garde garb — all in dazzling white. These members of the exotic Quixotic Cirque Nouveau from Kansas City created a chic carnival atmosphere beckoning the public into the $176 million building up the hill from where the original 1972 Hancher sat before floodwaters destroyed it in 2008.
'We're absolutely thrilled. This is our first time here, my husband and I,' said Barbara Kutzko, who has lived in Iowa City since 1987 and attended shows in the former facility. 'We just think it's a gorgeous building. We're looking forward to many performances this upcoming year. It looks great.'
That sentiment echoed through the oohs and aahs as throngs wandered the halls, sat at window-side tables, stopped to hear the barbershop harmonies of the Old Capitol Chorus, posed for photos on the stage, browsed the gift shop and explored the building's nooks and crannies.
The 90-minute formal ceremony inside the auditorium showcased speeches from dignitaries, including Iowa Gov. Terry Branstad, UI President Bruce Harreld and Beth Freeman, regional director for the Federal Emergency Management Agency — which played a major role in flood recovery on the campus and beyond — as well as Swanson and key Hancher partners and supporters.
But for all the warmth and well-wishes, nothing spoke more eloquently than when Iowa City natives Rinde Eckert and pianist Conor Hanick finished their solo sets and joined forces on 'The Impossible Dream.' A quest eight years in the making has finally come to fruition, and at the end of their performance, the audience rose for the second standing ovation of the day.
The first came when Harreld encouraged everyone to stand in honor of the building itself, its people and the effort it took to reach this milestone.
'Thank you all for joining us on this most exciting and amazing day,' he told the crowd. 'From theater to music to dance and beyond, the University of Iowa has been a national leader in fine arts and pushing the creative side of our world further and further along.'
He spoke of the university's legacy in extolling the arts and pledge to take the performing arts 'even higher than before' in this new building.
Branstad called the new state-of-the-art facility 'a cultural beacon for the entire state of Iowa,' named after Virgil Hancher, 13th president of the UI and a champion of the arts. 'I'm very confident this new Hancher facility will help develop cultural leaders, and it will host performances that will enhance the stature of the university and nurture the creative spirit that is an important component of university life.
' ... Today's ribbon-cutting is a tribute to the persistence of Iowans and the determination of the University of Iowa and its community leaders,' Branstad said. 'For those of you who played a part in seeing Hancher rise once again, you should be proud of the legacy that you leave your fellow citizens and future generations. Hancher performances are known for their great artists and great audiences.'
At least three of the people in the spotlight grew up mesmerized by Hancher shows.
'Hancher laid the world at our feet,' Eckert said as he joined up with Hanick, who added that he remembers every Hancher performance he ever saw. And earlier in the program, Julius Carter of Chicago choked up as he recounted the way Hancher changed his life — a young boy who grew up poor in Des Moines, but became so transfixed by a dance concert he saw at Hancher that he became a dancer and actor who performed in four Broadway shows before recently becoming a lawyer.
'Hancher allowed me to have a dream,' Carter said.
Those stories hit home for Jeff Chelesvig, president and CEO of the Des Moines Civic Center.
'I love what Hancher means to this community,' he said afterward. 'The more world-class facilities we have, the more opportunities they create for people to experience the arts.
'Our biggest competition is people staying home, and so when you have a great place like this where you can come and feel welcome, it's just terrific. We all work together.'
The day has been a long time coming for everyone, especially the Hancher staff that scrambled to keep Hancher programming going and growing without a home. Swanson was beaming as he took the last turn at the podium.
'Well here we are at last, and all the players are present,' he said. 'The house is almost full. It doesn't get any better than this. But wait until the Hancher season starts, and then hang onto your seats.'
If you go ...
What: Hancher opening events
Where: 141 E. Park Rd., Iowa City
Open house: 2 to 5 p.m. Sunday; self-guided tours; free admission
Outdoor concert: Sept. 16, Hancher Green, free admission, bring seating; family-friendly Tailgate Ramble in the Hancher parking lot, with food trucks and activities at 5 p.m., followed by New Orleans sounds old and new from Preservation Hall Jazz Band at 7:30 p.m. and Trombone Shorty & Orleans Avenue at 9 p.m.
Gala: SOLD OUT: 7:30 p.m. show by Steve Martin and Martin Short
Information on the comings season: https://hancher.uiowa.edu/upcoming-events