Private wells untested, unregulated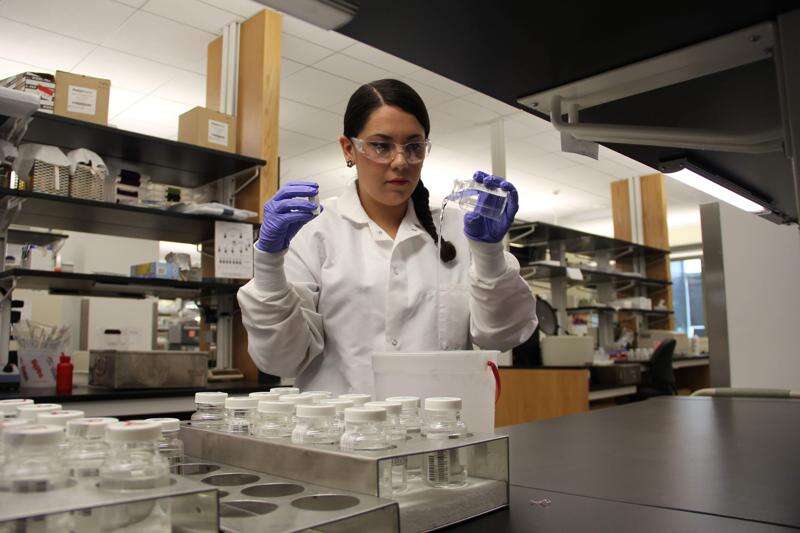 Part 2 in a series on water safety in Iowa. Read Part 1.
Iowa's riskiest drinking water comes from private wells, experts say.
'We have lots of regulations governing the safety of every other source, but private wells are pretty much unregulated,' said David Osterberg, a professor in the University of Iowa's Department of Occupational and Environmental Health.
Private wells are not only unregulated but often untested and untreated, added Peter Weyer, director of the UI Center for Health Effects of Environmental Contamination.
The older and shallower the well, the more vulnerable it is to contamination, according to Osterberg. Wells less than 50 feet deep are much more likely to have contaminants in their water, he said.
An estimated 288,000 Iowans — about 9 percent of the state's population — drink from private wells, according to Russell Tell, a senior environmental specialist with the Department of Natural Resources.
A landmark survey of rural wells conducted from 2006 to 2008 found, as expected, continuing high levels of nitrate and bacterial contamination but also that a high percentage of Iowa wells are contaminated with arsenic.
Weyer, the study's lead investigator, said that 48 percent of the 473 wells sampled had some level of arsenic and that 8 percent had a level that could be considered a health concern.
The survey — a follow-up to the original Statewide Rural Water Well survey conducted from 1988 to 1989 — found that 43 percent of the samples had total coliform bacteria and that 49 percent had nitrate, with 12 percent exceeding the 10 parts per million safe drinking water standard.
Hardly any cases of waterborne ailments come to the attention of the Iowa Department of Public Health.
In 2014, the most recent year for which information is available, the agency's database recorded two cases of methemoglobinemia, a disorder caused when nitrite interacts with the hemoglobin in red blood cells, reducing the ability to carry sufficient oxygen to individual body cells.
Infants are the primary population at risk for the condition known as 'blue baby syndrome.' Neither 2014 case involved an infant.
In 2014, the database also included three cases of arsenic poisoning, one case of cadmium poisoning and three cases of mercury poisoning.
State toxicologist Stuart Schmitz said the health department does not track general gastrointestinal ailments, which have many causes including bacterial contamination in water.
It's hard to tell whether contaminants are increasing in Iowa well water because most well tests lack sufficient continuity to identify trends. However, there were 116 wells in common in the two Statewide Rural Water Well surveys conducted from 1988 to 1989 and from 2006 to 2008.
A comparison of those findings shows that total coliform bacteria detections increased slightly from 41 percent to 44 percent of the 116 samples; that nitrate detections were more common in the earlier study (58 percent to 47 percent); and that nitrate concentrations above the safe drinking water standard were also more common in the earlier study (18 percent to 12 percent).
The State Hygienic Laboratory advises private well owners to test their water annually for nitrate and total coliform bacteria at least once for arsenic.
Arsenic, a metal that occurs naturally in water, is found in wells across the state and in some 'hot spots' such as Cerro Gordo County, according to Michael Wichman, associate director of environmental health programs at the University of Iowa.
Testing
The Grants to Counties Program, established by the Legislature in 1987, provides funds to county health departments to pay for well water testing.
From 2004 through 2013, the number of private wells tested averaged 5,238 and the number of nitrate exceedances — nitrates above the 10 ppm safe drinking water standard — averaged 673, or 12.8 percent of the samples tested.
In 2014, with 5,261 samples tested, the number of nitrate exceedances surged to 1,518, or 28.9 percent of the samples tested.
What that means, if anything, is difficult to determine, according to Tim Wickam, a community health consultant with the Iowa Department of Public health.
'It could be just real physical differences in the individual wells tested, which are not the same from year to year,' Wickam said.
Tell said the number of small Iowa towns whose residents depend upon private wells is declining as communities either establish their own municipal water systems — as Palo and Hills have done recently — or hook up to rural water systems.
Palo, a Linn County town with 1,026 residents at the last census, established its own water system after the 2008 flood compromised many of the private wells in town, according to City Clerk Trisca Dix.
The Johnson County town of Hills, with about 800 residents, relied on private wells for 109 years before its municipal water plant went on line last September.
Residents of many Eastern Iowa communities — including Quasqueton, Rowley, Aurora, Dundee, Littleton and Greeley — now drink regularly tested water provided by the Central Iowa Water Association, rather than haphazardly monitored water from their own wells.
Most of Central Iowa's 14,500 customers switched from unregulated private wells, according to Kristie Wildung, the association's special projects manager.
About one-third of the wells submitted for voluntary testing each year have a water quality problem in need of treatment — most commonly nitrates or coliform bacteria, the DNR's Tell said.
Total coliform bacteria, which includes both fecal and non-fecal strains, is the most commonly reported health-related water quality problem in Iowa. Water containing coliform bacteria should not be consumed unless it has been properly disinfected by boiling or chemical treatment.
Nitrate occurs naturally in soil, but concentrations above 10 parts per million often indicate pollution from fertilized crop fields or human or animal waste disposal sites.
Where our water comes from
More than 80 percent of Iowans drink from wells, and most of that water is provided by regulated public utilities that ensure its safety.
The water consumed by Cedar Rapids residents does not come from wells drilled into a traditional deep aquifer or directly from the Cedar River. It's drawn from alluvial wells near the river, according to Utilities Director Steve Hershner.
Its source is the river, but it moves through 50 to 70 feet of sand and gravel into the alluvial wells from which it's drawn, he said.
For a city that consumes more than 30 million gallons on a typical day with occasional 50 million gallon peaks, 'the challenge is balancing safety, abundance and cost-effectiveness,' Hershner said.
Ron Cunningham, a project manager for Shawver Well of Fredericksburg, one of the state's leading well contractors, said private wells generally provide good quality water.
'Nitrate levels have probably increased over the years, but general water quality has remained stable at safe levels,' he said.
Founded in 1937, Shawver Well has about 15,000 wells in its database, which provides 'good insights into the quality of water in the areas we drill,' Cunningham said.
The quality of well water, he said, depends greatly on well construction.
The well casing, a metal or plastic sheath that lines the hole in the ground, is an important line of defense against contamination, Cunningham said.
'Bacterial contamination generally occurs in the first 50 feet of the well. We prevent that with casing, which we carefully seal, and guarantee our wells to be free of bacteria,' he said.
Though Cunningham said he thinks most well water is safe to drink, Shawver Well strongly recommends annual testing, he said.
The tests provide peace of mind while establishing a record that can be useful in diagnosing problems should they ever arise, he said.