Power to the Printers: Feminist press of the '60s, '70s, '80s on display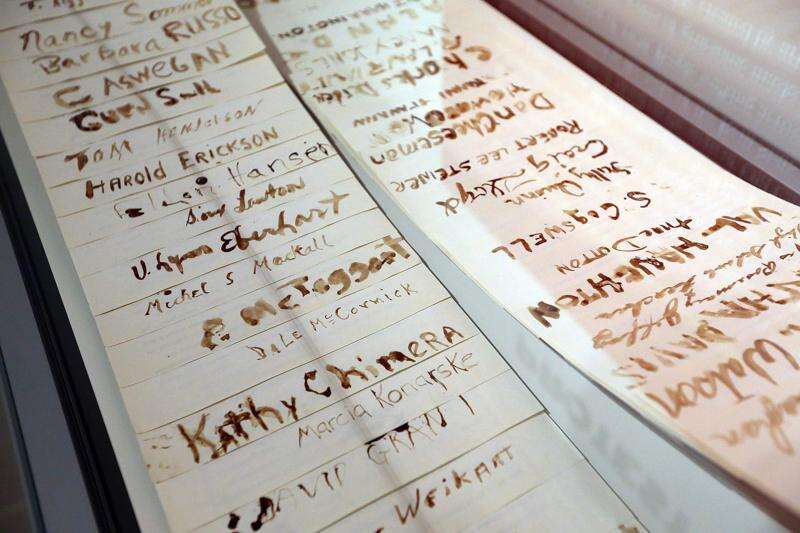 Dale McCormick, 70, remembers the day she signed her name in blood very well.
It was 1967, and she was protesting military recruitment on the University of Iowa campus during the Vietnam War. About 200 students and community members signed their names in human blood on petitions delivered to the UI president's office. Some used their own blood; others used blood collected by nursing students at an impromptu donation station set up in the basement of the English-Philosophy Building.
In addition to the bloody signatures, McCormick remembers a whirlwind of screaming students, who lined the levels of a parking garage across the street from the Iowa Memorial Union, where the military recruiters were talking to students, while other students yelled in a counter-protest in support of the war.
'It was a canyon of activity and protest," she said.
She decided to take further action and sat in front of the door to where the recruiters were, trying to block people from going in to talk with them. Almost immediately police arrested her for civil disobedience.
'It was probably one of the most important things I did as a student at the University of Iowa, and one of the most educational," she said. 'Signing in blood seems like a moderate response to what was going on."
Those signatures - and other protest action preserved on paper - are on display in 'Power to the Printers: The Alternative Press in Iowa City, 1965-1985," an exhibit at the University of Iowa Main Library's gallery.
Along with the anti-war materials, the exhibit contains material printed during the period in support of feminism, Chicana and Chicano liberation, black power, gay and lesbian rights and more.
'The 1970s saw a significant development of independent press in Iowa City," said University Archivist David McCartney.
Increased access to mimeographs, which made making copies of publications much easier, allowed more people to take up printing, and 'zines and alternative publications flourished on and off campus. Action Studies, a community center offering free courses to anyone who wanted to attend, served as a printing center for many. People with something to say no longer had to get approval from an established publisher to spread their message.
'If you have the means of printing, you have power," said Karen Mason, curator of the Iowa Women's Archives, which contributed much of the material on display.
When Iowa City-based feminist group the Iowa Women's Liberation Front wanted to print photos showing how women could do self-gynecological exams, the printer they approached balked, calling the photos lewd. So the women decided to take matters into their own hands. They established a printing collective that became the Iowa City Women's Press, which operated from 1973 to 1985. Work they produced, including the newsletters 'Ain't I a Woman" and 'Better Homes and Dykes" are on display in the exhibit, along with books they printed books such as a collection of poetry by women on campus and carpentry and car repair guides for women.
Along with the printing collective, the women formed other collectives dedicated to issues like child care and health care. Their efforts led to the formation of the Emma Goldman Clinic and the Women's Resource and Action Center, both still in operation today.
Many of the issues they campaigned for are still being fought over, said Barb Wieser, 69, a founding member of Iowa City Women's Press. Still, she said she thinks their efforts made a difference.
'There still isn't equal pay, there still isn't day care, reproductive health care is under attack, but they're not seen as radical anymore," she said. 'I think for young women, there's so much more of a future they can have. When I grew up as a middle class white woman, my future was getting married. I never really thought I would have a career; now that's not a question. Progress has happened, and we still have farther to go."
She, McCormick and others are organizing a 'Feminist Reunion" in Iowa City in July, which will be part of yearlong celebrations for the 25th anniversary year of the Iowa Women's Archives. Preserving work like that produced by the feminist press collective is a perfect example of why the Iowa Women's Archives was formed, Mason said.
'Archives have tended to be men's places, preserving the papers and work of the elite," she said. 'We needed to consciously collect the papers of women, Latinos, black, groups that have been marginalized. History is power."
If you go
'Power to the Printers: The Alternative Press in Iowa City, 1965-1985"
' Where: Main Library Gallery, University of Iowa Main Library, 120 Iowa Ave., Iowa City
' When: Through Aug. 25
' Details: lib.uiowa.edu/gallery
Related events:
' What: Exhibit open house with cookies and button making
' When: 7 p.m. to 8:30 p.m. June 27
' What: Iowa City Feminist Reunion
' When: July 14 to 16
' Details and registration: http://bit.ly/2rpmvDT
' '25 Collections for 25 Years: Selections from the Iowa Women's Archives" Main Library gallery exhibit
' When: Sept. 11 to Dec. 29
' Details: lib.uiowa.edu/iwa/25-years
l Comments: (319) 398-8434; alison.gowans@thegazette.com