Police say it's 'mind-boggling' witnesses aren't helping in murder investigation
Jeff Raasch
Aug. 7, 2009 3:06 pm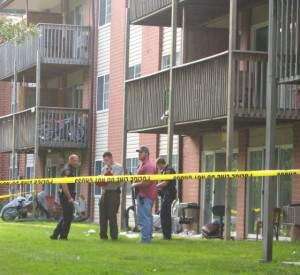 Cedar Rapids investigators plan to re-canvass the apartment complex where a man was shot and killed following a dice game in June.
Sgt. Matt Welsh said police will visit Cedarwood Hills Apartments, 2030 Glass Rd. NE, soon to ask more questions about the death of Dominique Mosby, 22, of South Chicago and Cedar Rapids. Welsh said they are hoping some residents who left the area have returned.
No arrests have been made in the case.
Police believe at least four - possibly up to nine - people saw Mosby get shot near Apartment 105 on June 26. Consistent names have come up in the course of interviews, Welsh said, but police remain unable to prove much beyond a reasonable doubt.
Welsh said it is "mind-boggling" that more witnesses aren't helping police.
"A lot of these things will take time," Welsh said. "The frustrating thing is that there were people we know that have witnessed this thing and they've refused to come forward."
According to search warrants filed in Linn County District Court, a witness told police the man who shot Mosby was handed a plastic bag containing a gun by two other men moments before the shooting. The witness said the suspect was handed the bag in a wooded area along Glass Road NE before he walked across the street, approached the group of men playing dice and started shooting in their direction.
Police have said at least five shots were fired, and Mosby was struck by more than one. Mosby was not a tenant at the apartment complex.
The suspect was described as a black male with dreadlocks wearing a white T-shirt, long blue jean shorts and white shoes, according to the search warrant. Anyone with information is asked to call 1-800-CR-CRIME or the police department investigative division at (319) 286-5400.