Philanthropy of Henry Tippie aids Belle Plaine, University of Iowa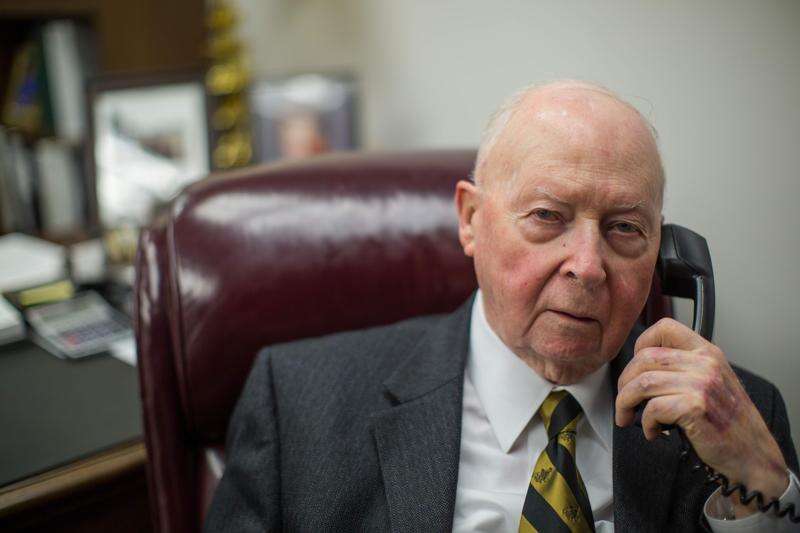 Henry Tippie said he is proud of his Iowa past, growing up dirt poor on his parent's Benton County dairy farm.
He almost died when he fell into an abandoned well as a toddler and was saved when a piece of wire caught the back of his overalls.
'Some people don't like to be connected with where they're from,' he said. 'I'm very proud of the fact that I was born in Iowa, lived on a farm in a small town and went to a one-room school.
'Physically, I haven't (lived) in Iowa for many years, but spiritually I don't think I ever left.'
He has achieved financial and personal success through hard work and devotion to simple business principles, but Tippie has never forgotten those roots as an Iowa farm boy.
Tippie, who was born 90 years ago on Jan. 5, has given million of dollars to educational institutions in Iowa and Pennsylvania as well as to students and a library and museum in his hometown of Belle Plaine.
He considers his philanthropy to be 'repayment for benefits received,' as he has said on other occasions.
'At the University of Iowa, I got a foundation to build on and expand my horizons,' said Tippie, who was able to attend college on the G.I. Bill and earned a bachelor of science degree in a record 24 months. 'I have received a lot of benefits over the years, so this is how I have tried to make repayment.'
On Dec. 22, 1953, Tippie began giving back when he wrote a $5 check for the Chester F. Phillips Scholarship Fund at the UI. From 1953 to 2015, his contributions to educational institutions grew substantially as his personal financial circumstances improved.
In addition to UI, Tippie has made financial commitments to Kirkwood Community College in Cedar Rapids and Belle Plaine, Coe College in Cedar Rapids — where he attended school as a U.S. Army Air Corps cadet in World War II — and Allegheny College in Meadville, Pa., the alma mater of his wife, Patricia.
In the spring 1999, he made a $30 million pledge to the University of Iowa, recognized at the time as the largest single gift by an individual in the university's history. UI renamed its College of Business Administration the Henry B. Tippie College of Business, the first time that an academic division was named in honor of an individual.
Sarah Fisher Gardial, named dean of the Henry B. Tippie College of Business in 2012, said Tippie often shows up unannounced and walk the halls in the same quiet, unassuming way that he did as a student decades ago.
'There are lots of colleges that are named for people who are not alive, but I have the extreme fortune of having a donor who is alive and so involved in the life of the college,' Gardial said in an interview last month.
'When he stops in, it doesn't take long for the students to recognize him and word spreads quickly through the building as they begin texting on their phones. It quickly becomes, 'Elvis is in the building.'
'Before long, there are lines of students waiting to meet him and have a selfie taken with him. He takes time to talk with every one of them and they adore him because he is so accessible.'
Gary Fethke, former dean of the UI College of Business Administration, said Tippie's contributions go well beyond money.
'I met Henry and Pat Tippie in the early 1980s, when Henry agreed to serve as a charter member of the business college's Board of Visitors, Fethke said. 'He provided me with invaluable advice when we worked through the construction of the new building (John Pappajohn Business Building) in the early 1990s.
'His suggestions, I believe, were key in helping us to bring that building to completion well below our budget projections. Our almost complete lack of change orders for that building and subsequent buildings was the result of Henry's sound caution about their adverse financial implications.'
What Fethke finds amazing about Tippie is his ability to focus completely on an extremely wide range of ongoing business and philanthropic activities.
'He knows the 'facts' of all these activities and keeps track of everything using the simplest set of tools, usually a pad of paper,' Fethke said. 'When Henry specifies a contractual relationship, he will follow it to the letter, and he expects the same treatment from others.
'Henry can be counted on to keep his word.'
'Good moral character'
Tippie made his money through investing in stocks, his salary as a corporate executive for Rollins Inc. — which owns Orkin LLC — and other companies, and selling the assets of Tippie Communications in Austin, Texas, in the fall of 1996 'for considerable monies.'
Just two years before, in 1994, Tippie and Henry Royer, former chairman and president of Merchants National Bank in Cedar Rapids (now U.S. Bank), created the Henry Fund, a 'real money' investment fund run by MBA students that has grown to more than $5 million in assets. It supports annual scholarships for MBA students and scholarships for UI football players who are business students.
The Henry Fund also has managed an account for the University of Iowa Foundation since 2007.
Tippie's support for his hometown goes back to 1967 when he endowed a $500 annual scholarship for Belle Plaine High School students who wanted to attend one of the three Regent universities. The scholarships were awarded to one boy and one girl of 'good moral character,' but not necessarily the highest grade-point average.
Tippie's own high school grades were not the best, prompting him to say that UI 'took a chance on me' when it admitted him on probation as a returning war veteran.
Mitch Malcolm, president of the Belle Plaine Historical Society, said the scholarships — which have grown to $12,000 annually for two students to attend UI — have produced a long list of successful graduates.
'We have rocket scientists, musicians, lawyers and others who have become very successful,' Malcolm said. 'Part of that is good family upbringing, but a good part of it also is Henry's desire to give back.
'He helped finance the new library and the Kirkwood Tippie-Mansfield Center. He was very instrumental in helping get the new Belle Plaine Area Museum and the Henry B Tippie Annex, which contains memorabilia recounting his life story in Belle Plaine.
'That could have gone to the University of Iowa, Kirkwood or a lot of different places, but he and his wife wanted it to be in Belle Plaine.'
Tippie and his wife, Pat, live on Tippie Ranch, a 35,000-acre cattle ranch in Prairie Hill, outside of Waco, Texas. He purchased the land piecemeal over the years in 150 transactions, making him the largest single landowner in central Texas.
Fethke said Tippie, a recipient of the Horatio Alger award, is equally comfortable in cowboy boots or a tuxedo.
'I've been with Henry in small, rural courthouses near Waco, splendid meetings of the famous and great (like the Horatio Alger recognition event with Henry Kissinger sitting at the next table), at Iowa football games, at NASCAR racing events, and in small and large meetings at several colleges and universities,' Fethke said. 'He seems comfortable, at ease, and unaffected in all these very different situations.'
The University of Iowa is planning a Jan. 27 celebration to mark Tippie's 90th birthday. The dinner is invitation only, but a public reception will be held from 1:30 to 2:30 p.m. that day in the Howe Galleria of the Pappajohn Business Building.