Pat Grassley proposes capping Iowa tax credits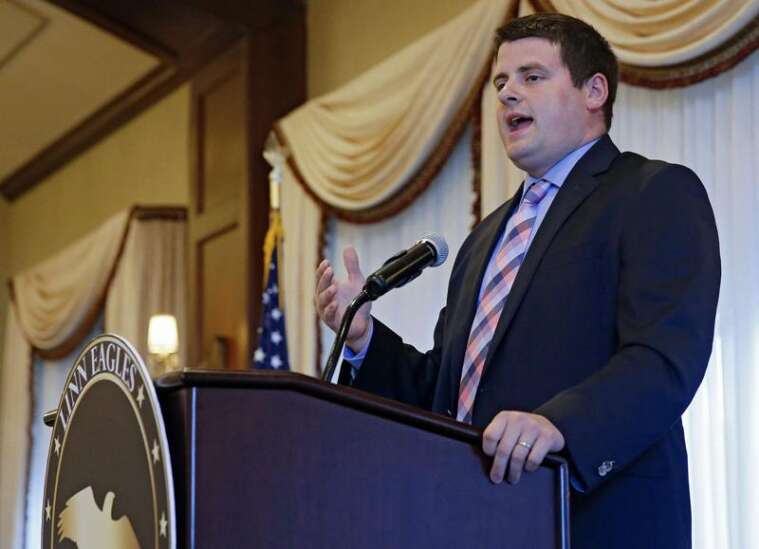 DES MOINES - A week after hearing a presentation on the state's $426 million tax credit liability, House Appropriations Committee Chairman Pat Grassley has introduced legislation to reduce the value of credits available to Iowa businesses, industries and individuals and eliminate tax credit refunds when there is no tax liability.
House Study Bill 187 would cap 'contingent liabilities" tax credits at $400 million in the fiscal year beginning July, then lower them $10 million a year to $370 million. That cap is the most significant element of his plan, Grassley said, because it would let lawmakers as well as the Revenue Estimating Conference know the state's liability rather than work off projections.
'It's hard to build an estimate off an estimate," the New Hartford Republican said Tuesday. 'The state should really know what we are going to be on the hook for every year when it comes to tax credits."
Grassley, who submitted HSB 187 on Tuesday morning, already has received pushback, including from economic development interests. But he defended putting all tax credits on the table.
'If you start removing those from the list, are you really taking a serious look at tax credits? In my mind, you wouldn't be," he said.
Senate Appropriations Committee Chairman Charles Schneider, R-West Des Moines, agreed capping credits would help with planning.
'Having that certainty would be a good idea," he said, but added he has not seen Grassley's bill. Schneider expects other proposals to limit tax credits or include them in overall tax reform.
Former House Ways and Means Committee Chairman Tom Sands, president of the business community-based Iowa Taxpayers Association, warned that tinkering with tax credits could make it harder for Iowa to attract and retain business and industry.
'Iowa has the highest marginal corporate tax rate in the country and one of the highest marginal rates for individual filers," he said.
However, Sands did allow that Grassley's proposal may start a conversation about the need for income tax reform.
'By doing income tax reform, we work with businesses across this great state so the private sector can create more jobs, be more competitive with our neighboring states and move this state forward," he said.
David Swenson, who teaches economics at Iowa State University, has questioned whether those tax credits accomplish what lawmakers intended. He called Grassley's proposal 'energetic and well-intentioned," but incomplete.
'Overall, I'd give it a B-," Swenson said. 'Better than average thinking coupled with an attempt at comprehensiveness, but not a lot of thought put in regarding the overall desirability of the many, many tax expenditure categories."
Removing tax credit refundability is 'primarily a good thing," especially on the corporate side because it could shift money from large companies like John Deere and Rockwell Collins to smaller Iowa manufacturers.
The Iowa Policy Project, a left-leaning think tank, warned against of the 'false equivalency" of treating all tax credits alike.
Refundable credits for low-income Iowans lessen tax inequities and poverty and contribute to the economy because the recipients spend their money, Executive Director Mike Owen said. Refundable credits for businesses are subsidies outside the budget.
The business recipients 'for the most part do not need the assistance, and no public purpose is typically demonstrated," Owen said.
Gov. Terry Branstad won't comment on the legislation until he sees it on his desk, but he does 'generally support" examining tax credits to make sure that Iowans are 'getting the best deal possible," spokesman Ben Hammes said.
Swenson also cautioned that capping and reducing the overall amount of tax credits could, due to inflation, reduce the percentage of the state budget available for tax credits.
Grassley conceded a cap could create competition for tax credits. But his overall goal would be to fund savings to do tax reform 'that would affect every Iowan instead of money just going into these specific credits."