Northbound Interstate 380 near North Liberty reopens after crash
admin
Aug. 15, 2011 4:05 pm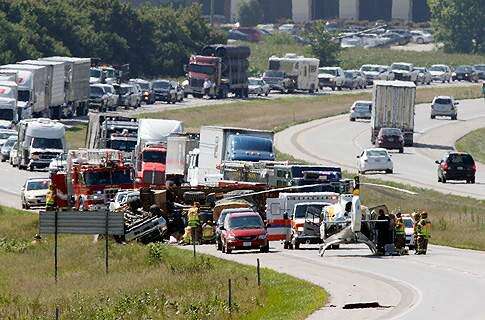 UPDATE: A 32-year-old West Des Moines man was airlifted to the University of Iowa Hospitals and Clinics after being involved in an accident on Interstate 380 in Johnson County slightly after 10:00 a.m. this morning.
Iowa State Patrol reports indicate that Timothy W. Cantwell was driving a Ford 350 truck that was pulling a double axle trailer with a backhoe on it in the right northbound lane near mile marker five.
The trailer behind the truck fishtailed and rolled onto its side, causing the truck to come to a rest on its top. Air Care landed on the interstate roadway and left the scene at approximately 10:40 a.m.
On-scene authorities said that a passenger was also in Cantwell's vehicle, but was uninjured during the accident. Cantwell's current condition is unknown.
Traffic was at a near standstill as the northbound lanes of I-380 were temporarily closed as crews worked to remove the wreckage.