New Senate Democratic leader Zach Wahls critical of Iowa's coronavirus strategy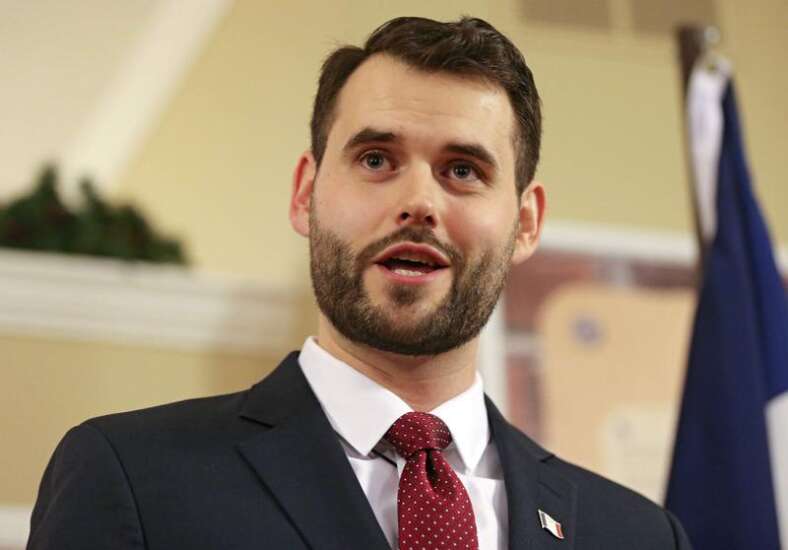 First-term state Sen. Zach Wahls of Coralville has been chosen by his Senate Democratic colleagues as minority leader for the 2021 legislative session.
Wahls, 29, perhaps the youngest lawmaker to lead Senate Democrats, said 'defeating coronavirus with decisive action supporting essential workers, protecting Iowa families and assisting small businesses" will be at the top of the minority party's caucus.
He rejected Gov. Kim Reynolds' argument that the election results in Iowa validated her COVID-19 strategy, but signaled willingness to work with the GOP governor and the Republican majority in the Senate and House.
'I don't think you could look at what's currently happening across the state in terms of record-breaking hospitalization, ICU, new cases and feel like this is a success," Wahls said Sunday afternoon after being elected minority leader by the 18-member Democratic caucus in a virtual meeting.
Defeating COVID-19 is a 'bipartisan concern," but Wahls thinks Democrats have taken the guidance of the Centers for Disease Control and Prevention more seriously than Republicans.
House, Senate Democrats work on unified message
'We're in a really difficult situation as a state, (and) it looks like it will continue to get more difficult," he said.
House and Senate Democrats are working to have a unified message going into the session, which is scheduled to begin Jan. 11. They will focus on ensuring universal access to COVID-19 testing, contact tracing and personal protective equipment.
'It's completely unacceptable for our front-line medical workers, who have been dealing with this now for almost, what, eight months now, that they wouldn't have adequate supplies of PPE," Wahls said.
Wahls willing to work across the aisle
He also is willing to work with Republicans on child care issues. The House GOP has a package of bills addressing issues related to child care, including the so-called cliff effect that occurs when a pay raise at work triggers a disproportionate loss of government assistance, and tax credits for parents with children in care and businesses that provide child care.
'The coronavirus pandemic has really underscored the importance of child care and how many folks depend on child care," he said. As a result of many parents keeping their children home during the pandemic, 'we know that a lot of child care providers are hurting (because) they're seeing their revenues go down."
Democratic Party 'has some work to do'
Wahls also addressed Democrats' failure to increase their numbers in the Senate. They flipped a GOP-held seat in western Des Moines, but lost a Democratic seat in Henry and Lee counties.
'It's clear that the Democratic Party has some work to do in terms of rebuilding our institutions and winning some tough races," Wahls said. 'So even though we held even as a team, you were really focused on making sure that we can get back to our majority and we have a government that's working for everyday Iowans."
Wahls is a first-term legislator
Wahls succeeds Sen. Janet Petersen of Des Moines, who did not seek re-election to the leadership post. He won an open-seat race in 2018 to succeed longtime Sen. Bob Dvorsky of Coralville. Senate District 37 includes eastern Johnson County as well as Cedar County and small part of Muscatine County.
Wahls, a vice president at GreenState Credit Union, lives in Coralville with his fiancee, Chloe Angyal.
Other new leaders elected
Senate Democrats also elected Amanda Ragan of Mason City as whip and elected five assistant leaders: Nate Boulton of Des Moines, Bill Dotzler of Waterloo, Pam Jochum of Dubuque, Herman Quirmbach of Ames and Jackie Smith of Sioux City.
Comments: (319) 398-8375; james.lynch@thegazette.com