New Hancher Auditorium takes shape in Iowa City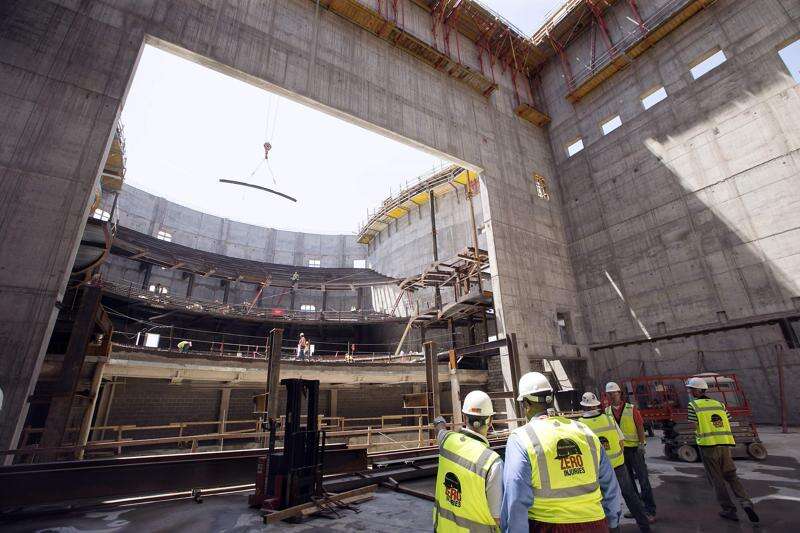 At the construction site of the new Hancher Auditorium, the bases for two balconies and the tiered rows that will hold 1,800 seats are being lowered into place, piece by piece, from a crane towering over City Park in Iowa City.
Almost six years since the Flood of 2008 inundated the original Hancher, the University of Iowa's new performing arts center is taking shape.
With a scheduled fall 2015 construction finish date, the work is about one third of the way done, said project manager Joe Troness of Mortenson Construction. Almost 200,000 hours of work have been put in so far.
The building is slated to open in fall 2016. After the construction, budgeted at $132 million, is finished, work will be done on acoustic finishing and other interior details. The entire project is expected to cost roughly $175 million.
Troness led a tour of the site Wednesday for media and Hancher executive director Chuck Swanson.
Since this is a performing arts institution, jazz trombonist Wycliffe Gordon also joined the tour. He and physical comedian Tomas Kubinek spent the lunch hour entertaining the site's construction workers over a picnic lunch.
Swanson said Hancher hosted the lunch to say thank you to the workers who kept the building's progress going throughout the grueling winter. At times crews were working 24 hours a day in subzero weather to keep the construction on schedule.
'I especially thank you for your perseverance this winter; the weather you've had to endure," Swanson told the workers. 'Nothing stopped you."
Next winter's construction should be somewhat easier - temporary heat will hopefully be turned on in October after the ceiling is placed over the stage and auditorium area.
When completed, the building will be just over 100 feet tall, with a total area of just under 190,000 square feet. In addition to the auditorium, it also will house theater operations and administrative staff offices. Functions formerly housed in the Voxman Music Building, including the scene shop, costume shop and performing arts production unit offices, are also included.
The project is being paid for from a combination of flood insurance proceeds, funding from the Federal Emergency Management Agency, academic building revenue bond proceeds and university gifts and earnings.
Comments: (319) 398-8434; alison.gowans@sourcemedia.net