My Biz: Cedar Rapids business owner turns art into a career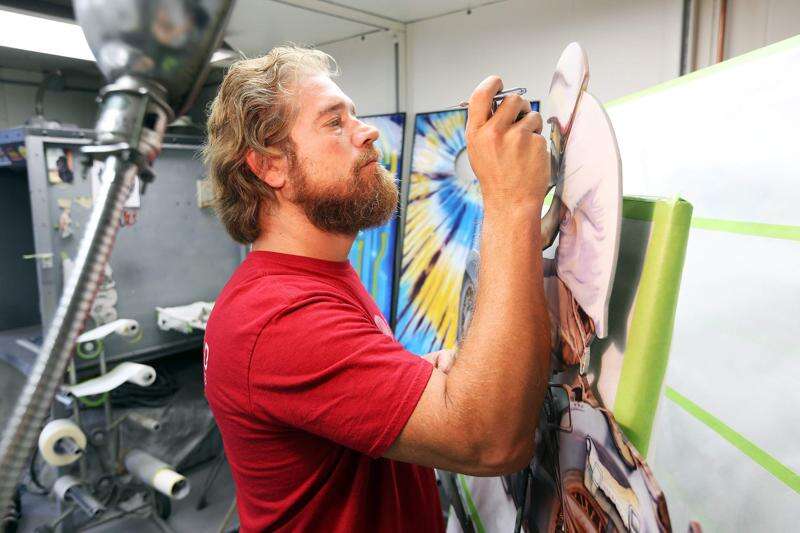 CEDAR RAPIDS - Scott Takes has painted everything from portraits and business signage to large scale murals, tractors and motorcycles.
As owner of Underground Studios in Cedar Rapids, Takes is commissioned by individuals and businesses from across the country to use his artistic talents to bring a variety of projects to life.
'In high school, my art teacher let me do independent study, which was a neat opportunity for me as a young man to say, 'What would I do if I could do whatever I choose.' I decided then that I wanted to learn more about the airbrush tool," Takes recalls of getting his start as an illustrator.
'I'm not self-taught because I've had mentors along the way, but I just started to play with the airbrush. I started to learn about it and try the different applications." Takes took commercial art classes at Hawkeye Institute before diving right into doing commissioned work and opening his own studio. It's pretty much the only work he's known for his adult life, he said.
'A lot of what I did at first was on apparel," he said, noting that custom painted jean jackets were a big thing when he got started. 'I was able to get recognized by some other companies out in L.A. It was back in fax machine days. I would get a fax order for different portraits on jackets - rock icons or sports icons - and I would design the jacket, a one-of-a-kind original, then I would hand paint it and ship it. I did that for quite a few years."
Takes' interests then turned to motorcycles.
'I had a lot of people asking me if I would paint their bike, which was a big segue for me," he said. That led to significant amounts of motorcycle painting, so much so that it's what he said he is most often recognized for. 'The motorcycle part of my work just exploded. I was in all the national motorcycle magazines and was on a couple of TV shows with different celebrities."
And while Takes appreciated and still enjoys doing motorcycle painting, he likes to make sure others know that's not all he can do.
'I love to do that work, but that industry has changed quite a bit and it's evolving all the time. All along, I've always been called upon to do other commission work; that has been from day one since high school. I started commissioning my art work at a very young age and that's pretty much all I've done." Takes has painted murals for local businesses and private residences.
Takes also wants to make sure he has a work/life balance, noting that it's important to spend time with his wife and three children. 'Growing this business as a young man I worked constantly, around the clock. I was a typical artist working a lot of late hours. Now I'm very structured because my family needs to know when I'll be headed home."
His art continues to evolve as well.
'Lately, I have been taking ideas and putting them onto aluminum, which I cut and paint and sometimes I mix with other materials, like wood." He just completed a large cross project for St. Matthew Elementary School where his children are enrolled.
Like many small business owners, Takes said he most enjoys working with a variety of people.
'I like the work; I like the craft. But it's the people I like the most," he said. 'I really love that each one of these projects comes with a different personality. I really enjoy that process of getting information from somebody and turning it into artwork for them. It's pretty awesome when you see someone's excitement about something and you know you have the talent to help pull it off."
AT A GLANCE
Owner: Scott Takes
Company: Underground Studios
Address: 608 Second Ave. SE, Cedar Rapids
Phone: (319) 362-1254
Website: undergroundartstudios.com
l Know a business in operation for more than a year that would make a good 'My Biz?" Contact michaelchevy.castranova@thegazette.com