Mount Vernon preschool students paint Stars of Hope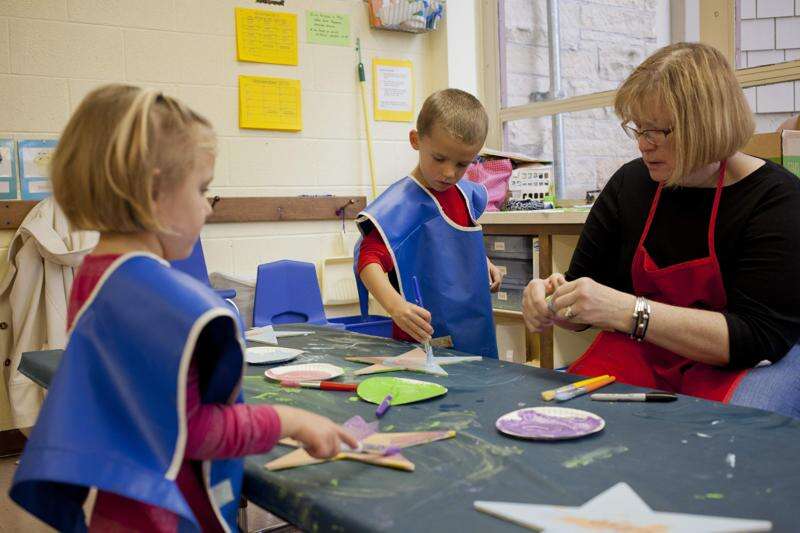 MOUNT VERNON - In 2007, tragedy came to Greensburg, Kan.
'This little town in Kansas was 95 destroyed by an E-F5 tornado," said Janeve West, an associate professor of theater at Cornell College, who is a native of Greensburg.
As she drove around town, she said she noticed 'little beautiful stars" made out of wood and painted with words such as hope, faith and family.
West learned the stars were put there by volunteers organized by Jeff Parness, founder and chairman of the New York Says Thank You Foundation, which was developed after the 9/11 terror attacks.
The goal is for the stars to 'help them rebuild, help them find hope, help them come together again," she said.
Since 2007, children, adults and organizations have painted the stars and either kept them within their communities or sent them elsewhere. Greensburg children in 2011 painted stars and sent them to Sendai, Japan, after that community was hit by a tsunami.
West received a box of materials to make the stars from her mother, Janet, who still lives in Greensburg. She told Denise White, director of the Mount Vernon Community Preschool, about the program and asked if the school would be interested in participating.
'We're getting into the holiday time, and we've been talking to the children about being thankful for things," White said. 'We've been really talking a lot about what it means to give thanks and this just kind of partnered with that."
West said she still is deciding where to send the Mount Vernon childrens' stars.
'What I love about the Stars of Hope is that it encourages the smallest one, the children, to consider how they can be involved in either the rebuilding of their community or another community," she said.